Film & TV
Dope Triumphs on the Big Screen
Summer-Loving Goose Chase of a Movie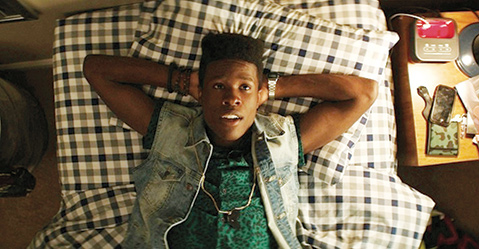 In Dope, pals Malcolm (Shameik Moore), Diggy (Kiersey Clemons), and Jib (Tony Revolori) teeter on the edge of their post-high-school summer. They're all wickedly smart, play punk music, adore '90s hip-hop, and they don't fit in. Malcolm is bullied for not being the right kind of black, neither to the tough gangs who prowl the halls nor to the college admissions counselors who want more tales of low-income tragedy out of his personal essay. And when the smart and sensitive Malcolm charms his way into an exclusive underground party, he inadvertently draws himself and his two friends into a madcap adventure of guns, drugs, and drama, all at the risk of his Harvard dreams.
Dope is a lot of fun, maintaining throughout a light spirit and happy heart. The movie is awash in bright Californian hues, soundtracked with equal parts hip-hop and geeky punk, zipping ahead with speedy panache. The lead characters are all lovable, played with pluck and charismatic cool by Moore, Clemons, and Revolori. It's a very fresh and funny nerdom-to-manhood tale encrypted with millennial markers of the times, like Bitcoins, school security patrols, SAT stress-outs, and embarrassing, vomitous drug binges that go viral. Reality-police may find some of the coincidences and contrivances too convenient to take seriously, but think of it as a feel-good, Ferris Bueller–esque escapade, where the hero breaks all manner of rules, the school's and otherwise, and still comes out on top.
And though many movies of this kind have the same message — be yourself — Dope makes a point on how complicated a task it can be for young men like Malcolm as well as teenagers generally. When boys like him have recently been needlessly shot over the assumed content of their character or their pockets, or when a phrase as idiotic as "pants up, don't loot" temporarily gained traction as a counter-protest slogan, Malcolm and co.'s identity struggles ring especially true to the times. Dope is a goofy, summer-loving goose chase, but it's more than that. It's a movie that finds the joke in limited expectations and the triumph in exceeding them.