Opinion
Big Oil, Big Brother
No One Will Own Unified Command's Journalist Selection Memo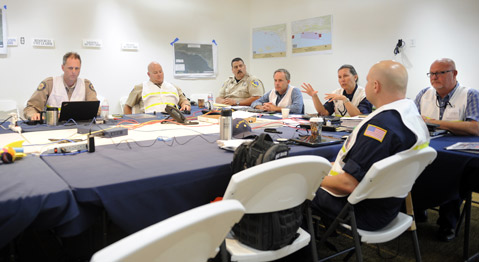 NO PULITZER: You've got to hand it to the Texans running Plains All American Pipeline. They not only besmirched our beaches but seem to be doing their best to sneakily manipulate the resulting news coverage.
If Plains were a newspaper, it would never win a Pulitzer by trying to put a positive spin on an ecological mess. Big Oil meets Big Brother meets Brave New World.
In a secret memo leaked to The Santa Barbara Independent, Plains, along with representatives of the U.S. EPA, Coast Guard, California Fish & Wildlife, and Santa Barbara County's Office of Emergency Management signed off approving the targeting of six journalists and invited them to a private press conference in apparent hopes of generating positive coverage of the May 19 Refugio Oil Spill.
As soon as a critical commentary on the sub rosa scheme written by The Independent's Kelsey Brugger hit our website last week, county tempers raged.
Janet Wolf, 2nd District Supervisor, called me to report that the county had pulled out of the United Command's Joint Information Center and called for the county to divorce itself of the tainted United Command group that's in charge of the spill cleanup.
Both Wolf and 3rd District Supervisor Doreen Farr told me that they felt it wrong for Plains, as perpetrator, to be part of the United Command's decision-making and information dissemination.
"My confidence is not enhanced" when you have Plains "embedded" in the United Command structure, Wolf said. She found the secret selection scheme "horrible" and "degrading to reporters." Wolf also said she found it "very disturbing" that a retired county fire official signed the memo while filling in with the Office of Emergency Management.
Representatives of Plains and the other public agencies all signed their names approving the dubious scheme, but who actually wrote the memo remains a mystery.
Whose idea was it to evaluate various journalists, select the six, produce one-page bios and photos of each, and recommend them? Someone went to a lot of trouble to do all this.
But so far, no one is claiming authorship. When I asked Chief Petty Officer Kip Wadlow of the Coast Guard, PIO out at the United Command's Joint Information Center (JIC), he said it was "a combined effort," developed by various members of the JIC.
In other words, it's a whorehouse bastard where many had a hand in the conception but all shrink back from signing the birth certificate. In my experience, signed governmental memos do not write themselves.
Wadlow may not know exactly who spawned the child. But there it sits, crapping all over the place. He didn't sign the memo, but the question remains:
Where does Plains, the EPA, Coast Guard, state Fish & Wildlife, and the county rep get off putting their stamp of approval on this transparent effort to target journalists for a controlled, invitation-only press conference and whatever else they have in mind?
When I asked, Wadlow said the six were selected based on who had requested the most information about the spill. Really? Sorry, Kip, but I do not buy this.
"Our goal is to be as transparent as possible," Wadlow said. If so, why have a private press session with a limited few, carefully vetted journalists? Why not invite all the media in and let the questions freely fly?
Kelsey Brugger is a fine young reporter and a straight shooter. When she learned of the memo, she wrote a commentary ("In da Club," June 18, independent.com/RefugioTarget) exposing the entire sleazy selection episode. If anyone gets a Pulitzer, it should be Kelsey. Also on the invitee list was Independent photographer Paul Wellman, also a solid journalist.
Supervisor Farr emailed me, "I think one of the core issues we have had with Unified Command is having the 'responsible party,' Plains, always sitting at the table as though they are a partner with the county, state, and federal agencies when decisions are being made about anything, including the dissemination of information.
"This is the first time that I know of where an oil company as a member of the 'regulated' community gets to help make decisions with the government agencies which are the 'regulators' of the operations. That just seems wrong to me."
Maybe all these games are standard when Big Oil gets in trouble, but with Plains' credibility in question due to this fiasco, it would do better to straighten up and fly right.