Columns
Isla Vista Moves It Out!
From Underwear to Tupperware, Students Kick It to the Curb
Isla Vista goes through a transformation in June. Most of the students who live in the area during the school year move out, leaving a feeling of peace and cleansing in their wake. Before the calm sets in, however, things tend to get messy. There is a week designated for move out in which anything and everything ends up on the curb or in the middle of the street.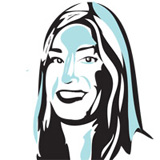 In the past, move-out week has been a chance to find a treasure amidst the trash. Two years ago, I picked up two desks and a bureau in good condition. My husband found a Jacuzzi, mini refrigerator, a vacuum cleaner, and bikes. Unfortunately, this year's curbside offerings weren't noteworthy. I'm not sure if this was due to people leaving in waves (some people's leases ended at the beginning of June, others just last week), the fact that students have finally gotten wise to the fact that they could save money by carting their furniture with them, or that people had decided to give unwanted items to the UCSB GIVE Sale, an annual event. Whatever the reason, I drove up and down the streets looking for a find but was disappointed. When I worked at the GIVE Sale, however, I saw a lot to pique my interest.
Giving to the GIVE Sale
For the past 25 years, the GIVE sale has provided a way for students to discard unwanted items, and the community a way to recycle and reuse them. It also serves another purpose as well. It lessens the chance that an unwanted sofa or mattress will become a nighttime bonfire for a group of local residents. When a neighbor cleared out his rental and dumped a mountain of trash, including sofas and mattresses out on the street, he immediately called someone to pick it up. He knew that the mountain of discarded items could quickly become a lighted pyre.
GIVE Sale representatives also make it easy for students to get rid of whatever they want. Trucks come around to pick up large items, and there are convenient drop off locations both on and off campus. In addition, they will take almost anything. When I worked at the sale this year, I sorted through socks, underwear, designer clothes, Tupperware containers, Halloween costumes, and more. You name it, and I saw it. Items are weighed and the total amount tabulated to show how many tons of discarded items were diverted from the landfill.
This year, my mother, daughter, and son came with me to help. It is hard work. Sorting through trash bags full of clothes in the summer heat can be brutal. In some cases there is an ick factor, especially when you have to touch someone's underwear. Other times, you find designer jeans or a shirt that you would love to have. After a few hours of work, we were all exhausted.
But it is definitely worth it in many ways. The GIVE Sale donates proceeds to a variety of local organizations, including Isla Vista Elementary School Science Camp Fund. People who work at the sale earn about $25 an hour that goes directly toward their camp fund. Many Isla Vista parents take advantage of this great way to raise money for the overnight trips students go on in fifth and sixth grades. Last year my work at the GIVE Sale paid for my son's trip. I even had $98 left to go toward this year's trip to the Catalina Island Marine Institute.
What Makes I.V. Great
Like most places, I.V. has a positive and negative side. The fact that students discard tons of unwanted items each year is not a great thing. It is wasteful, can be an eyesore, and become a hazard. The good thing about this tradition, however, is that there is a system set in place to take advantage of this practice. The GIVE Sale is a win/win for the community. People can buy desired items at a reasonable price and local organizations can reap the benefits of their volunteers' hard work.