Film & TV
Magic Mike XXL Is a Lighthearted Road Trip
Channing Tatum, Joe Manganiello Star in Sequel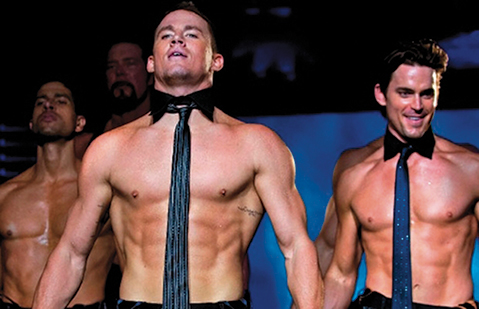 The men of Magic Mike return in this road-trip sequel to reclaim their mojo. The group's former leader Dallas (Matthew McConaughey, in absentia) has departed the picture, leaving the remaining Kings of Tampa to resurrect their fading pasts and return to the stage for "one last ride" at a stripper convention in Myrtle Beach. We follow them as they engage in various hijinks across the southern states in a sequel that's both more slapstick and sensitive than its predecessor, but less interesting, too.
In Magic Mike XXL, the characters are given more depth and are more demonstrative of their emotional sides. Whereas male stripping was framed in the first movie as an entryway into druggy dangers and depravity, here the entertainers discuss what women want and see themselves as empowering wish fulfillers. They take drugs, but the results are fun, like when the whole busload takes molly and lovingly soul-searches together. The gang embraces drag shows and black culture and lifts the spirits of downtrodden middle-aged women in a series of a friendly affirmations — and gyrations — toward the many male admirers who may attend the film. It has a sex-positive, body-positive sensitivity infrequently seen in the first, with an extra boost from strong performances by series newcomers Amber Heard and Donald Glover.
But the sequel misses much of the vivifying energy of the original, with only a handful of major dance numbers to perk up the thin plot. How much you enjoy this movie will likely depend on how much you wondered what the Kings of Tampa got up to and how tender their hearts became. The dancing happens in three or four fabulously shot, fabulously erotic sequences, but the best, in a Savannah pleasure mansion, happens midway, and the stretches in between feel plodding. As XXL extends the roles of Magic Mike's characters, the dramatic tensions shrink; nothing's really at stake here. Rejoin the boys if you'd like to share a goofy and lighthearted road trip with them, but otherwise, it's not really a performance worth throwing money at.