Film & TV
Minions Doesn't Live Up to the Hype
he Film Relies on Slapstick Rather Than Clever Plotting and Satire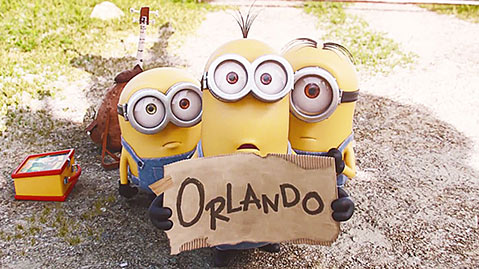 In theme park rides, sometimes there are yardsticks with signs that read, "You must be this high to get on this ride." Someone needs to apply this same standard to children's movies. You must be this good to be released into theaters where families have to pay hard-earned dough to make their children happy for hours in the dark on a nice summer's day.
Minions would not pass such a test. There's too much of a good thing here, it turns out. Didn't you believe that the best part of the two Despicable Me movies were the pill-shaped sidekick creatures speaking a decipherable nonsense language like Charlie Chaplin in The Great Dictator? And further, that they might prove triumphant in little witty skits of their own wherein botched attempts to conquer the world accidentally work? But the movie based on them released now is completely witless, a lot of predictable slapstick substituting for clever plotting, and even the satire — the teasing of the English royalty, fish in a barrel — is obvious and dull, although the cartoon caricature of a young Queen Elizabeth is skillfully rendered.
No jokes the grownups might enjoy lurk here. The story, narrated by Geoffrey Rush trying hard to be the voice that led us through Monty Python's Holy Grail, recites the evolution of the little subservient villain critters before launching into a dumb plot about snatching the English Crown. Set in 1968, there are some parent-pleasing cameos, including four mop tops from Liverpool crossing Abbey Road while a Minion head pokes up from a manhole.
Basically a prequel, the movie gains momentum at the end, though it would be wrong to tell you why. A big superhero finale is good with a twist of a joke, but most of the film's fun occurs during the final credits, in which everybody gets trotted out to show off. And there it is at last, the smart funny stuff that was inherently promised by the premise. But the movie itself never measures up to a fun ride.