Theater
On the Verge Opens
Santa Barbara Summer Repertory Festival Premieres Original Plays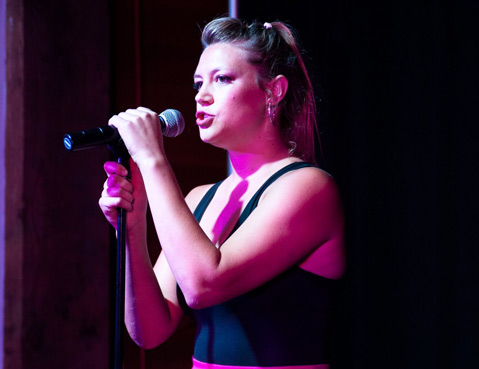 It was easy to miss the Narrative Loft, a creative studio and event space and the intimate setting of the Santa Barbara Summer Repertory Festival, which featured performances part of On the Verge theater company's summer festival.
On the Verge featured a wide array of talent from area artists, actors, and playwrights in both the Santa Barbara and greater Los Angeles areas. Sponsored by the Elements Theatre Collective (also in Santa Barbara), On the Verge artistic director Kate Bergstrom introduced the first performances of her company's festival Thursday, July 16, with a double-feature premiere of two very distinct but equally intriguing plays. The company's emphasis focuses on "Re-imagining Female Narratives," a unique theme that was clearly evident in both of playwright Roxie Perkins's Caylee's First Big Show!!! and Sweet Child.
In Caylee's First Big Show!!!, small town Arizona native-turned aspiring musician Caylee James (played by Riley Berris) graced the small stage with the appropriate pop star persona, minus the pop star experience (and talent). Despite Caylee's unprofessionalism onstage whilst performing original songs like "Shots" and "Sorry I'm Not Sorry," Berris's portrayal of the self-proclaimed "Queen of Fun" was anything but.
Although Caylee's songs were (intentionally) a cringe-worthy mixture of Lady Gaga beats, juvenile Ke$sha-type lyrics, and sung in the monotonous style of Rebecca Black, Caylee's reliance on audience participation for affirmation was humorous. Her use of the stage as a therapy couch made her insecurities somewhat relatable as she revisited her Arizona life, grocery bagging career and less-than-chivalrous ex-lover, Mark Bronson (played by Andy Cowell).
Sweet Child was a stark contrast from the first play. Krystal (Allison Lewis Towbes), an almost 18-year-old with an unhealthy obsession with armed forces enlistment maintains a militaristic lifestyle that negatively impacts the lives of those around her. Desperate to find her missing father said to be on a top-secret military mission, Krystal must also shield her younger brother (Mathew Goldsholl) from their drug addict mother's (Shannon Saleh) phone calls and downplay her curiosity in Jonathan Stanhope Bell (Ryan Sweeney), a soldier who's returned home.
Tension continued to run strong with Mireya (Terry Li), Krystal's former childhood friend who forces Krystal to come to terms with the truth behind her father's disappearance and the brokenness that materialized in Krystal's life in her attempt to keep it as rigid as a soldier.
Sweet Child engaged the audience in a different way than Caylee's First Big Show!!! in that it forced viewers to consider the psychological impact of trauma, as demonstrated by each actor's impressive performance.
According to On the Verge's mission statement, the company's goals are "producing bold theatrical pieces" and "taking relevant artistic risks," goals that all performers and artists involved unarguably met. Although the next set of the festival's premiering plays will be different from this first weekend, prospective audience members will unlikely leave still in wanting.