Opinion
Secret Treasures of Our Threatened Chaparral Forest
This Amazing Environment Faces Clear-Cutting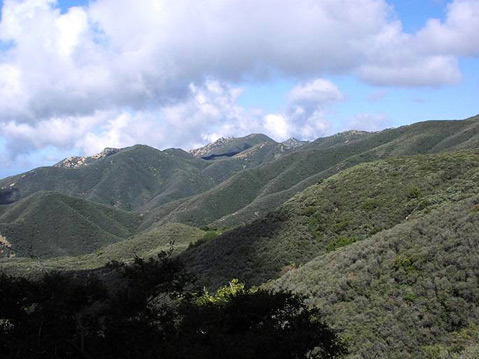 Rising majestically above Santa Barbara, Goleta and Montecito, the Santa Ynez Mountains form the scenic evergreen backdrop that frames the stunning natural beauty and enriches the quality of life in our communities. These rich, green, chaparral-covered hills overlooking the vast blue Pacific Ocean create the postcard-like setting that gives Santa Barbara its Mediterranean feel.
But this amazing environment is threatened. The deep-rooted chaparral woodlands that hold our mountainsides together during rainstorms are being clear-cut at an alarming and increasing rate, without regard for the wildlife or rare plants that live there. Over a dozen recent clear-cuts have been identified in a 2014 report by the Environmental Defense Center (EDC). Hundreds of acres have been felled, and more land is being clear-cut each day leaving visible scars on the mountainside. Many of these clearings are in remote, natural areas. Tragically, the county currently has no effective policies or ordinances to protect the hillsides, wildlife habitats, and people living downhill from steep, clear-cut mountainsides.
The EDC, Santa Barbara Urban Creeks Council (UCC), Sierra Club, and the groups in the Santa Barbara County Chaparral Coalition are leading efforts to protect the chaparral forest while also addressing important fire safety issues in mountain communities and wildland urban interfaces.
Chaparral is a beneficial native plant community in Santa Barbara County. Chaparral occurs only in some Mediterranean climates and only on less than 2 percent of the Earth's surface. While many of us here on the south central coast may not give these types of woodlands much thought, this is in fact one of the rarest habitats on Earth.
Local chaparral forests harbor many unique species. Some, like the Santa Ynez walking stick, are found nowhere else in the world. Santa Barbara's chaparral community harbors at least 50 rare species including side-blotched lizard, late-flowered mariposa lily, silvery legless lizard, American badger, coast patch-nosed snake, Santa Barbara honeysuckle, California newt, and the elusive ringtail cat.
Benefits of Protecting Chaparral
Chaparral has uniquely evolved over time to provide an almost unmatched benefit for our communities and region. It supports hundreds of plant species that control erosion and protect people from landslides and flooding — something to keep in mind, because even as there is no rain in sight, when it does rain along the south central coast, the rains will be powerful. Until that time, chaparral plants also capture what raindrops there are and allow them to trickle into the soil, recharging our groundwater basins with precious water during droughts.
Chaparral often occurs high up on ridges, above streams, yet species that live in our creeks, including the endangered steelhead trout, also benefit from chaparral. Creeks would be filled with mud and debris without these woodlands that protect steep slopes against erosion. Without the chaparral that captures rain, stream flows would dwindle, and fish, frogs, turtles, and other creatures would quickly disappear. As our understanding has grown of the important benefits of protecting creatures from throughout the food web, it has become clear that chaparral is an essential habitat and sustains such a diversity of life.
In addition, chaparral actually helps reduce fire hazards. When chaparral is cleared, it opens up spaces for exotic, flammable weeds such as thistle to invade. This exacerbates fire hazards. This conversion of chaparral to weeds is already occurring in Santa Barbara County and throughout southern California. Maintaining a healthy chaparral forest is an important step towards preventing wildfire ignition.
While chaparral provides many benefits to people, Santa Barbara County regulations offer little protection. The County's 30-year old Brush Removal Ordinance allows widespread chaparral clear-cuts and has never triggered any environmental protection measures. Serious impacts — like increased flooding and loss of habitat for endangered wildlife — should be addressed.
The county is considering increasing protection for chaparral in the Eastern Goleta Valley, where many of the clear-cuts have occurred. Currently, however, sensitive chaparral habitats are being removed with no public notification, no county review, no protection against erosion and landslides, and no concern for the rare plants and animals that call chaparral home.
Fire Safety in Chaparral Areas
Chaparral should be cleared to create defensible space around homes for wildfire protection. This protects people and homes from fires and can halt the spread of a house fire. When directed by the Fire Department, clearing for fire protection is appropriately exempt from the Brush Removal Ordinance, and the Fire Department is exempt from all county land use regulations. These exemptions help ensure fire safety and should continue into the future.
Maximizing fire safety in mountain neighborhoods and the wildland-urban interface is of the greatest importance. The most effective way to protect homes in chaparral is by fireproofing homes and creating defensible space — not clearcutting large areas of chaparral. For more on protecting homes from wildfire see this website.
Communities such as Mission Canyon and Montecito have prepared or are preparing Community Wildfire Protection Plans (CWPPs). CWPPs are great opportunities to plan ahead to protect our neighborhoods while conserving valuable resources like chaparral.
Chaparral may appear almost indestructible but is quite vulnerable and threatened. Even as many people don't give this important, diverse assemblage of trees, shrubs, and wildflowers a second thought, it is a habitat uniquely developed for our region and one that provides tremendous benefits to wildlife, water, erosion and flood control and fire safety. As such, the county should update its planning tools to ensure protection of chaparral as a valuable public resource, and to ensure that fire safety measures protect the public's right to healthy watersheds. This would further important community interests including fire safety and protection for the many birds and wildlife species that reside in our beautiful but threatened chaparral woodlands.
The County Planning Commission meets at 9 a.m. on Wednesday, July 22, to discuss the Eastern Goleta Valley Community Plan and protections for chaparral. The meeting is at 123 East Anapamu Street. Members of the public are encouraged to attend and testify.
Brian Trautwein is an environmental analyst with the Environmental Defense Center. Eddie Harris is president of the Santa Barbara Urban Creeks Council and a retired county firefighter. For more information, contact Eddie Harris at (805) 962-8260 or Brian Trautwein at (805) 963-1622.