News
King of the Cruisers
Rex Stephens Builds Bikes and Community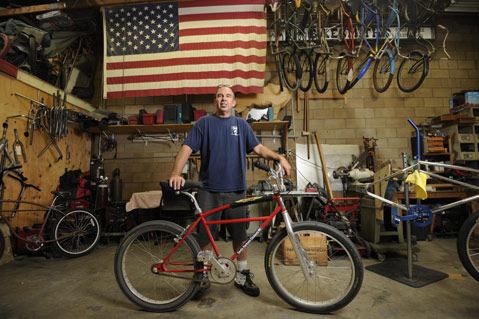 When he was in the 4th grade, Rex Stephens plopped his BMX bike into a shopping cart and rolled it over to a machine shop called Meeker's Tweekers near his home in Concord, California. Once there, he told the guys at the shop that he wanted them to chop the bike in two and weld the front half to the cart so that he and his friends would have a new contraption on which to bomb the biggest hill in town.
"Did they do it?" I asked him a couple of weeks ago as we sipped coffee at Muddy Waters, just across Haley Street from his own fabrication studio, the home of Santa Barbara Cruisers, where he and fellow craftsman Shawn Ramirez crank out single-speed sculptures. It's also the location of a juried cruiser show prior to the annual Fiesta Cruiser Run, the unofficial closing ceremony of Fiesta weekend where hundreds of revelers on one-speed bikes with 26-inch wheels head off from Stearns Wharf and ride to Goleta Beach.
"Yes," he replied, and we both cracked up laughing. Stephens is a throwback to an era when we hadn't yet become so alienated from our material world that we needed to invent a term like "DIY." Doing it yourself is just what you did.
Especially when it came to bicycles. Now, the cycling industry peddles products for every subniche imaginable. Stephens, however, grew up during ​— ​and participated in ​— ​a distinct history where those who wished to push bike technology's capability to conquer new terrain had no choice but to experiment with home-cooked modifications.
This was especially true for downhill mountain biking, Stephens's second love after BMX racing. In order to fly down slopes in the Santa Barbara backcountry ​— ​by some accounts the birthplace of the term "mountain bike" ​— ​Stephens and his cohort would affix motorcycle handlebars to their bikes, swap in moped shocks, or heat tires in ovens to change their durometer (which refers to hardness).
The first geared offering from Santa Barbara Cruisers, available in the fall, will pay homage to the Frankenstein-like "klunkers" cobbled together in the '70s by mountain biking pioneers in Marin County who attached road-bike derailleurs to pre-WWII newsboy bikes.
Stephens's experimentation with bike frames flourished when he began hanging out at Bikesmiths (then in Santa Barbara but now in Carpinteria) in the early '90s. Owner Jim Hopperstad would let Stephens use his welding equipment, joking that "I was there to clean up his mess." The two still collaborate on projects, and recently, Hopperstad gifted Stephens a Kennedy toolbox that includes, among other mechanical artifacts, the acetylene torch once wielded by Henry "Hap" Hazard, founder of Santa Barbara's first bike store.
Recognizing this history, Stephens often refers to himself as "we" to emphasize that he is but one link in a long tradition of Santa Barbara craftsmen and bike builders. A refreshingly analog human in an increasingly digital world, Stephens ​— ​who does all his renderings on a chalkboard ​— ​likes that his bikes create community. Cruising allows "face-to-face" interaction, he said, "where you can see your bros." There's "an exchange of energy," he said, "when my art is out on the road."
Until seven years ago, building bikes was just a sideline hobby for Stephens, who originally came to Santa Barbara to play football at Santa Barbara City College. Four months in, however, an ankle injury sidelined his career as a lineman. He continued to take courses in what are now called the "industrial arts," and that education set him off on a successful 20-year career as a furniture craftsman. During that time, he also became a perpetually spinning cog in the Santa Barbara community. A World War II reenactor and history buff, he has long been a participant in the Spirit of '76 Fourth of July parade, either marching or, as he does now, helping to plan the shindig.
When his furniture orders started to dry up with the onset of the Great Recession, he decided to follow his dream of fabricating cruisers from the frame up. A multicultural mash-up of lowrider, BMX, and beach culture, the cruiser scene is a distinctly California phenomenon. As Stephens watched the Cruiser Run grow in popularity every year ​— ​he first joined in on the fun during iteration 13 of the 36-year-old tradition ​— ​he came to believe that quality cruisers provided an untapped market.
Santa Barbara Cruisers' burgeoning operation offers unfinished frames for $650 and chromed or painted frames and forks for $1,000, an unqualified steal in the world of handmade bikes. Stephens has diversified into multiple frame designs, including a women's step-through model, as well as beautifully finished components like stems and handlebars.
Last I visited his shop, sitting in his lathe was an aluminum head tube of massive circumference. It has since been welded to a custom-geometry cruiser he is building for a customer who is 610 and 425 pounds. While this special project required aluminum, Stephens typically builds with chromoly steel sourced from Ventura Steel. He makes it a point to buy domestically, couching his own venture as a meaningful effort to keep manufacturing jobs in the U.S. and to showcase American-made ingenuity.
Hidden in various corners of Stephens's workspace are show bikes that, more than any of his other handiworks, demonstrate both his artistry and attention to detail. The top tube of his "shotgun bike" is the stock and barrel of an 1897 Belgian hunting firearm donated by Ramirez. His "rat rod" bike was designed around an old carpenter's level that he found in a metal scrapyard. The product of 400 hours of work, it includes so many design references ​— ​such as rivets that resemble the seams on fishnet stockings ​— ​that it could be the subject of an entire article of its own.
Stephens credits his inventiveness to his mother, who raised two kids on her own. She simultaneously inculcated him and his sister with their limitless potential but of necessity had to leave them by themselves for long stretches of the day while at work across the bay in San Francisco. "We had to make our own entertainment," said Stephens. "And what I did was build. I built in the sandbox, I built with Legos, I built with Tinkertoys."
As Stephens showed me around his shop, he paused for a minute to ponder his legacy. When people look at his creations 100 years from now, he said, he hopes they will think, "Yeah, this dude cared about shit."
4•1•1
The fifth annual King of the Cruisers bike show begins at 9 a.m., Sunday, August 9, at 509 East Haley Street. Merchandise and raffle ticket sales will benefit the Santa Barbara Cruisers Christmas fund, which defrays Kmart layaway bills for families in need.