Positively State Street
SOhO, S.B. Museum of Art Offer Fiesta Music Alternatives
Multiple State Street Venues Serve Beats and Reggae on the Side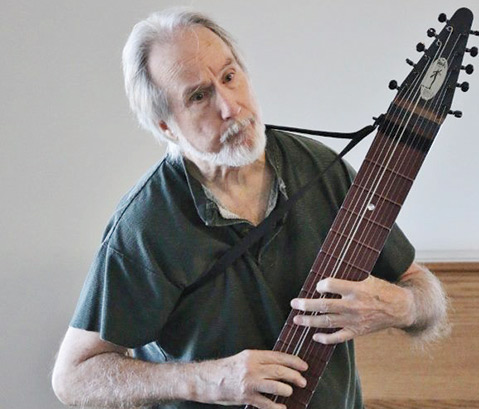 FIESTIVITIES: Music will be downright unavoidable in the coming week, as the open airs of plazas and the conditioned airs of clubs alike will be alive with music of various fiestas, fests, and fêtes. For those who prefer to hustle-bustle indoors, away from the hustle and bustle of outdoor stages, a few venues are hosting some great acts over the Fiesta days.
As the Old Spanish Days wane into Old Spanish Nights, the Santa Barbara Museum of Art will celebrate the in-between with a First Thursday (Aug. 6) appearance by Emmett Chapman, inventor of the Chapman Stick, at 5:30 p.m. For those who haven't heard of the Chapman Stick before, imagine a 10-stringed guitar neck without a body, one capable of producing surprisingly stirring and complex compositions in the hands of its player. Chapman will join two masterful stickmen, Bob Culbertson and Don Schiff, who together will improvise avant-garde compositions to accompany a video projection of Moholy-Nagy's kinetic light sculpture "Light Prop for an Electric Stage."
Later that night, the wily Los Angeles dance duo Coyote Kisses will drop many beats in SOhO Restaurant & Music Club, along with some chopped vocal samples and wubby bass lines. Considering how many confetti eggs are likely to drop upon the floor, as well, the SOhO staff may have quite a cleanup with all the colorful sounds and streamers strewn about. In a week stuffed with lively performances, the naturally neon pair's smiling, shining dance tracks could make for one of Fiesta's most festive shows. They will be joined by Choice and remix-makers of the moment Louis the Child, who produce music for the endearing cause of "simply making people happy."
Johnny Miller and the Bakersfield Boys will have a busy Fiesta week ahead of them, as they bake up some Johnny Cash–inspired tunes and covers at Benchmark Eatery on Thursday, August 6, at 8 p.m., and then the following night at Seven Bar & Kitchen (Fri., Aug. 7, 9:30pm). The dapper Miller and his well-dressed Boys have been seen round these parts before at Hoffmann Brat Haus and Pure Order Brewing Company, so they are clearly in demand for their ability to pair their tunes with brews. Must be a good sign. The same can be said for Jason Campbell and band, playing on Friday, August 7, 6 p.m., at Carr Winery. Being only a few blocks from Milpas, Campbell's country-rock set shall be a nice, oaky palate cleanser before it's time to enjoy some area food specialties.
You've heard of Noches de Ronda, but come the weekend, SOhO will welcome a pair of rootsy acts in what I deem Fiesta's unofficial Noches de Rasta. On Friday, August 7, Los Angeles' Arise Roots will lift already-heightened spirits with their classically inspired reggae. Arise have shared the stage with greats like Don Carlos, The Wailers, and Public Enemy, and draw much inspiration from the golden days of '70s reggae. Aiding Arise in the pressure drop will be Aloha Radio. On Saturday, August 8, Cornerstone will radiate some musical sun upon SOhO's tastefully dark brick interior. Cornerstone has become one of the, well, cornerstones of the present-day reggae scene in town, having laid its up-tempo roots down in town since forming a decade ago.
And should you find yourself out and about on State Street on Saturday, August 8, at 10 p.m., Dargan's Irish Pub & Restaurant will keep the citywide dancing going with funky bunch The New Vibe.
POST-FIESTA COMEDOWN: Your ears may be a bit worn out after all there was to hear during Fiesta. Nothing like a little hair of the dog to spruce them back up. Chicago's Lil Durk visits Velvet Jones on Monday, August 10, having just recently released his single "Lord Don't Make Me Do It."
Last but not least, SOhO gives tribute to rhymin' Paul Simon on Tuesday, August 11, with performances from CV Wells, Thomas Gardner Jr., Jim Conroy, Michael-Ann, Jody Mulgrew, Shane Alexander, Karen Tyler, Gary Foshee, Sonny Mone, Pi Jacobs, and Bear Market Riot. For Simon fans, it will be like a night with old friends.