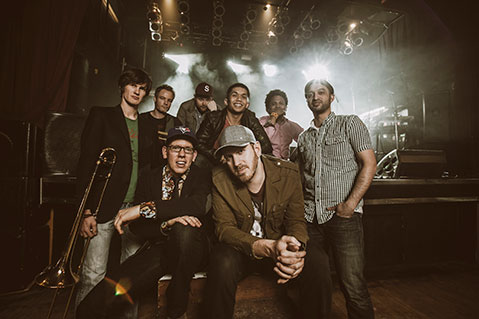 FUNK, EH? Hailing from Toronto, KC Roberts & the Live Revolution aren't your typical Canadian act. While many of their fellow countrymen try to re-create the hip heights of indie rock bands like Broken Social Scene, Roberts and his eight-piece ensemble groove to a different, funkier beat. Joining headliners True Press on Friday, August 14, at Blind Tiger, they vow to wow with a blast of northerly funk. I interviewed KC via email to discuss his current tour, funk music, and the homogeneity of indie rock.
How is the tour going so far? Any highlights? The tour has been a blast so far. Ridiculously scenic. From the big Alberta sky, driving into the mighty Rocky Mountains, the whole band is on a cloud of inspiration and purpose, as we move through these old giants. Every town has a different personality. We're playing for a lot of new faces, and it's nice to watch the surprise drift through the crowd when we start playing. The first couple songs start out with people really trying to figure what we are musically. Then they just give in, and soon we've got 'em dancing, singing, and having a time. Calgary was a definite highlight. It was a full-on, raging dance party from start to finish.
For a tried-and-true genre like funk, where does inventiveness come in for you guys? We have solo sections in at least half of our music. We try to give everyone a feature a couple times a night. It's fun to give everyone a chance to speak. We have nights when we'll just completely change moments in a song, and enter some jam and pocket that makes us all smile. We are not funk "purists" in that we are not interested in only looking back and re-creating a particular vintage sound. To us, this is an artistic and creative endeavor moving the genre forward. I discovered funk more through bands like the Red Hot Chili Peppers and Jamiroquai as a teen, and also filtered through electronic D&B. That hit me more at first than Earth, Wind & Fire and James Brown, but we've made our way back, and have a deep reverence for the lineage.
Your new album is called From the North. Are there ways in which the band is a uniquely Canadian take on funk? I was born and raised in Toronto. Toronto is a very multicultural and diverse city. I feel like I grew up in a hotbed of culture. Canada is changing, but I feel like I am a reflection of my past, the way the light we see in our sky is just a picture of the past. We are coming from the Canada we love, and I think to us it's in the lyrics, the music, the diversity of our record.
What makes Toronto such a great and diverse music scene? Where do you guys fit in as a funk piece — are you outliers, or is there a strong funk scene up there? Toronto has become very known for its "indie rock" scene, but I'm personally not so into that "indie rock sound." To me it's very homogenous, and sounds a little lazy, like it's putting style ahead of heart. It seems these days it's not cool to care too much about anything, or to say anything stark. I can't stand music like that, that's so self-contained. We have built a huge following in Toronto, and pack venues, but we are a part of a fringe group of bands that are starting to emerge. We have been getting a lot of support from CBC Radio, who dig our music and play us a lot. For the most part, though, the Toronto music industry ignores bands that are too far from a pre-established archetype. 
4.1.1
KC Roberts & the Live Revolution play Blind Tiger (409 State St.) with True Press and Beat Mosaic, Friday, August 14, at 9 p.m. For tickets and info, call (805) 957-4111 or visit blindtigersb.com.