Food & Drink
Pairing Wine with Fire in the Sta. Rita Hills
Renowned Pinot Noir Region Hosts Annual Affair with Winemakers on the BBQ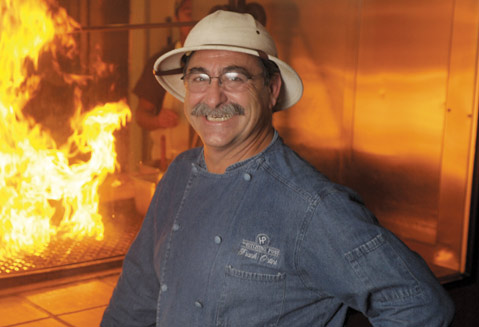 Like much of the greater wine world, Santa Barbara County is hitting a saturation point with events in which the wine itself can no longer be the only star of the show. Folks in the Sta. Rita Hills realized this back in 2006 when they started the annual Wine and Fire celebration, which pairs their world-class pinot noir and chardonnay with food cooked over open flames.
This year's 10th annual affair — which kicks off with a party at the Sanford & Benedict barn on Friday night, peaks at the La Purisima Mission tasting on Saturday, and includes open houses all weekend — emphasizes the fire more than ever before, thanks to the BBQ Blast. Taking the place of the usual Saturday-morning seminar, this grilling demo features five teams of vintners, chefs, and their supporters showing off their chops and tips and assorted bits. They'll pair finished dishes with their wines and explain which morsels go best with which sip and why.
To get a taste, I asked a few participants what to expect.
Which meat goes best with pinot?
Frank Ostini of the Hitching Post, teamed with Steve Fennell of Sanford Winery: Beef is king because that's what they eat in Burgundy [with pinot noir], and what the Hitching Post II has successfully served with pinot for almost 30 years. But Saturday, the best match will be with smoked duck — the smoky, earthy, gamy duck will pair perfectly with Sanford & Benedict pinot noir.
Peter Cargasacchi, teamed with Loring Wine Company: Woolly mammoth, because it is the only true paleo meat that is being served. We will be serving woolly mammoth sliders with purple lichen slaw. We have been working with geologists in the Arctic Circle to create a menu that is fresh from the permafrost. Siberian baby woolly mammoth. When they chiseled the young wooly mammoth out of the block of ice, it still had fresh clover and buttercups on its lips. [Editor's Note: It looks like pulled pork to us.]
Which meat with chardonnay?
Ostini: I'm pining for a Winfield Farm Mangalitsa pork chop, grown by Santa Ynez Valley rancher Bruce Steele, who is my neighbor. It is for sure the greatest "other white meat." The white part of this is the fat that is so flavorful, rich, and glorious when grilled and cuts through the acidity of the Sta. Rita Hills chardonnay, making it a perfect match. I sort of wish we were grilling this.
Cargasacchi: I would probably have to say penguin, because it combines two culinary traditions, poultry and seafood. Penguin is the true Chicken of the Sea.
Why does cooking with fire go so well with Sta. Rita Hills fruit?
Kimberly LaMontagne, whose husband, Theron Smith, is teamed with Kessler-Haak: The complex flavors wood projects with its many layers completes my pinot noir, which I create to marry with BBQ. Thank you, wood, for helping my wine be "multilayer sex in a bottle!"
Ostini: You're asking a guy who was born with a BBQ pit in his backyard. Cooking with fire is the original cooking. It is a big reason why we are Homo sapiens. It is a part of our DNA. So it goes with fruit from any valley in Santa Barbara County. With SRH fruit in particular, it is the acidity and the smoky, earthy, gamy characters that work so well with grilled food.
Cargassachi: Not all fire is created equal. A lot of our competitors will be using "strike anywhere" fire. Their fire has no soul. Our fire will be authentic paleo fire. We are bringing it from a lightning-strike-initiated forest fire. Everyone else's fire has no sense of place — soul-less junk fire — it could be from anywhere.
Is a BBQ battle treading on the toes of your friends up in the Santa Maria Valley, where tri-tip was supposedly invented?
Ostini: Born in Santa Maria, and now living in the Santa Ynez Valley, I figure I'm rather bi-valley — as a chef and as a winemaker. And my family has been grilling in Casmalia outside of Santa Maria for 60-plus years. I have tons of respect for that, and my brother respects what we have done in Buellton.
Cargassachi: Tri-tip and oak grilling is a ranchero tradition. It's authentic to all of Santa Barbara County. And as a matter of fact, the last woolly mammoths that existed were here on the Channel Islands. What could be more fitting than eating woolly mammoth in the last area that it freely roamed?
Will you be doing grilling, smoking, or BBQ?
Ostini: Yes, yes, and yes. Our duck is cold smoked first, and we will grill it over an oak wood fire, using our indigenous style that we here have always called BBQ. For me, the distinctions are blurred. The common element is the smoke flavor derived from the wood fire. What's good about this "contest" is the chance for attendees to taste four distinctly different BBQ styles with great wines.
Cargassachi: We will be using a La Caja China roasting box, using indirect heat, to create succulent, juicy meat rather than the charred carbon that our competitors will be serving. After 15,000 years in the deep freeze, mammoth is fairly delicate and requires long, slow cooking over moderate heat to be at its most tender and flavorful.
Should wine grapes be included in BBQ recipes?
Ostini: Sta. Rita Hills fruit makes such good wine; it is a waste to use it in food. Maybe Central Valley grapes?
4•1•1
Wine & Fire runs Friday-Sunday, August 14-16. See staritahills.com for details and tickets.