Arts & Entertainment
Moonalice's Magic Music for Masses
Roger McNamee's Band Spreads the '60s Gospel of Free Culture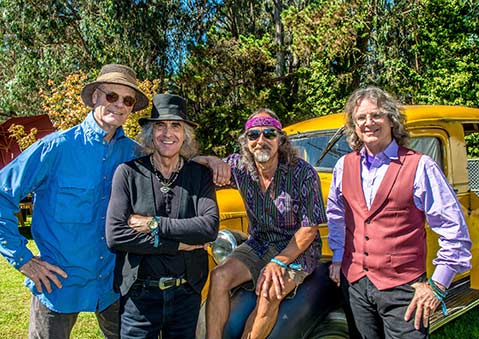 When I rang Moonalice leader Roger "Chubby Wombat Moonalice" McNamee, I was enjoying the just-posted video of his band's Union Square performance. "You can't enjoy it half as much as we did," McNamee countered. It was an epic show, by his reckoning. Under towering retailers, the band lured all strata of passersby with their countercultural psychedelia, gathering more than 1,000 listeners within the city's bustling commercial and communal crossroads.
The band is, at this point, a summertime mainstay in San Francisco's Union Square — fittingly for McNamee, a man forged of a rare union between capital achievement and populist sentiment. A wildly successful tech investor by "dumb luck," McNamee is a '60s child at heart, his belief in creativity's unifying powers unbroken, his enjoyment of altered states left unaltered. He and his band's truest investment has been into the arts. Whether it's in the commissioning of unique poster art for each show, the faithful archiving of every concert, or the fabling of the colorful characters and cannabinoids that compose Moonalice legend and lore, the band has used its lucky position to further the folkloric freedom and tribal togetherness McNamee and his friends grew up with.
"We all grew up as children of the 1960s, when music and poster art were not a business; they were forms of self-expression that were either free or really, really inexpensive," he said. He fondly remembers days when one could see Pink Floyd for a dollar, or attend the massive Summer Jam at Watkins Glen for $10.50, and feels most would prefer music had remained so accessible.
McNamee finds optimism in the possibilities of music democratization offered through the Internet, particularly in the way it has inspired a "huge shift in behavior" toward a much more creative and self-expressive populace through cheaper tools of music making. He does feel, though, that the balance of power is still unevenly held in the hands of "criminal" music businesspeople. "I find it immensely frustrating that the people who run the music industry actually like things just the way they are," McNamee said. "They have absolutely no interest in fixing what's wrong with music."
Moonalice's answer to this and other social imbalances has been to make their culture as free and familial as possible. They have played for free to families in parks and to residents at the Delancey Street Foundation (their loudest crowd ever) and are known to inspire fans to create their own art or engage in random acts of jubilation, like a mass Hula-Hooping in Union Square.
Moonalice's good-karma agenda has come back to serve them this particularly "magical" summer. With a cosmically aligned Grateful Dead farewell opening slot and shows in states with newly legalized weed, their '60s revival has perhaps never felt more realized, and with the concurrent resurfacing of undead sociopolitical tensions, it has perhaps never felt more apropos. "This is an excellent time to be in a creative field and willing to speak your mind because there are a lot of topics desperately needing attention," McNamee said.
McNamee promises a good time at their upcoming SOhO show and encourages Santa Barbarans to listen to any of their 500-some archived gigs online before spending their hard-earned cash. But he assures even the doubters a rocking and communal experience awaits. "Look, we're all on this little blue marble here, going around the sun, and we could either do it together, or we could do it alone," McNamee said of the Moonalice spirit. "We prefer to do it together." —Richie DeMaria
4.1.1
Moonalice play SOhO Restaurant & Music Club (1221 State St.) with Cubensis on Saturday, September 5. Call (805) 962-7776 or visit sohosb.com for more info.