News
From Flintstone to Foodie
When Hunger and Righteous Foodstuffs Collide
There is much to say about food in Santa Barbara, but perversely I feel compelled to begin with a smoky anecdote from Music City.
Quite a while ago I was a songwriter in Nashville, which means I was a bartender. One of the bars I tended was in a groovy music hall called the Exit/In. And one night the featured performer was Michael Murphey, who had a hit with a song called "Wildfire," about a horse that busted down its stall. Before Michael would take the stage, he insisted that all cigarettes be extinguished and that the wildfire smoke be cleared.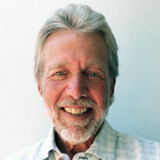 At the time that seemed kind of fussy to a lot of us in the trenches, but now that I'm no longer a self-destructive youth, I'm on board. In fact, I ended up in California partially because of the healthy food.
To be honest, the news that California wanted to ban plastic shopping bags also seemed kind of fussy, and I was a grown-up with no excuses then. Now that I live in Santa Barbara, I completely endorse the idea and surprise myself by proudly carrying my reusable cloth bags into the market.
Also, up until recently, I was the opposite of a foodie, wolfishly devouring the knockwurst, the bratwurst, all of the wurst. Pigs in blankets, double-fried fries, tailgate slabs of anything that didn't move anymore, or moved slowly, were on my menu. I had read Michael Pollan's The Omnivore's Dilemma, but my omnivorism presented me with no dilemma. I'd bypass the organic aisle and head for the cheap stuff, reassured by the occasional story asserting that a lot of "organic" is just expensively tagged conventional.
Then something changed. I started eating organic and felt better. I shocked myself by making my own granola, which, to me, meant my soul had arrived in California before my body.
On the very first day of arrival in Santa Barbara, I stepped into one of these local markets and heard a celestial choir in full throat. Walls full of every possible thing, all proudly labeled organic, non-GMO, and, if possible, local.
Eventually, I'm sure, we'll get used to it all. But for now it's a revelation almost every time we go shopping. Take, for instance, the recent visit by an East Coast friend. His needs were few. All he wanted for breakfast was a plain bagel with chive cream cheese. So Connie (nature educator, amateur nutritionist, genius pianist, etc.) dutifully sallied forth to the market, and the search was on. It went something like this:
"Hmm, cream cheese. I think I've heard of it. Let's look. Here it is."
"Yes! How 'bout with chives? Any of that?"
"Well, no but let's go to produce. Here's some organic chives. Maybe you could mix it."
Let us review the wonders of all this. Not much cream cheese, whereas in, say, New York or even Florida, there are whole walls dedicated to it, right next to the home angioplasty kits. Then the fact that there's no cream cheese with chives already in it. (Rivers of that back East too.) Then, finding organic chives to solve the problem. And not nearly least of all, a food Sherpa patiently leading the way to them.
This would not happen in my hometown.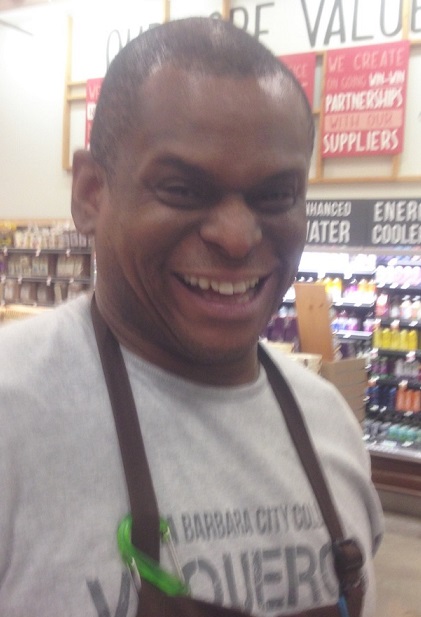 Which brings us to the trump card played a few words back. "Food Sherpa." There are many helpful people at this market on upper State (name rhymes with Droll Moods), but the chief wrangler of confused shoppers is Customer Service Supervisor David Moorman, whose unofficial title is Concierge. Of all the things that wouldn't have happened in my hometown, that may be tops.
Dave has worked there for six years, starting even before the place opened, and he knows just about every ingredient in every one of the millions of products on the shelves. In fact, if it didn't disrupt the service to other customers, a game of Stump the Expert might be fun. I did it just the other day. "Hey, Dave — how much fat per serving in this box of corn flakes?" Answer: Almost nailed it.
We met Dave during a quest for a cracker made of almond flour and quickly learned how perfect he is for his job, having overcome food issues himself, trimming down to fighting weight, and making himself insulin-free along the way.
In addition to helping lost souls like us, he also assists the disabled and celebrities who would like a serving of anonymity along with their quinoa. Of course I had to ask for famous names and of course he had to cite confidentiality, but he said, "It's fairly easy to find out who lives in Santa Barbara. We treat people like people. That's the reason a lot of A-listers live here."
Dave is a native Santa Barbaran with a good voice for FM radio. And, in fact, he had a morning show on KJEE 92.9 for five years. But now he's happily at home at the store, which is a blessing for those of us just beginning to understand the difference between tryptophan and marzipan.