Positively State Street
Headless Household and Cory Sipper Host Release Parties
La Vasa! Shoots a Video; Central Coast Live! Seeks Bands; Velvet Jones Stages Last Night On Earth
RELEASE ME: The weekend rings in a pair of release parties celebrating new homegrown music. Tonight, Thursday, September 10, Goleta's Cory Sipper invites all to dine and enjoy the gentle sounds of her new album, Make Your Magic, from which she will play songs with a full band at SOhO (8 p.m., $8, 1221 State St.). In a July 2 interview with me, she said her new album is about listening to your inner voice and trusting your inner drive. Go to SOhO Thursday, and be spellbound with encouragement.
On Saturday, September 12, the eclectic Headless Household hosts a release "wingding" for their new album, Balladismo, at Center Stage Theater (8 p.m., $17 general, $12 for students and seniors, 751 Paseo Nuevo), where the band has played ever since the theater's founding 25 years ago. Fans and newcomers can expect the unexpected, with numbers pulled from Headless Household's many-headed beast of a back catalog, nine albums and counting. Present will be some of the great jazz and experimental musicians of the area. It's sure to be a celebration not just of the new album but of all off-beat and free-form rhythms strongly rumbling just under the glossy Santa Barbara radar.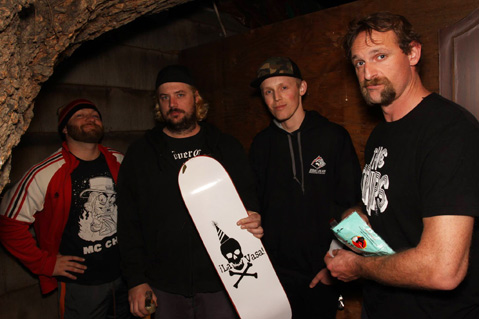 SKATE AND SHOOT: On the theme of bands throwing parties, consider putting on your calendar the ¡La Vasa! Video Shoot and Show on Sunday, September 20, at the Dos Pueblos Orchid Ranch (10:30am-8pm, free admission) for the filming of the resident punk speed-rawkers' newest music video. The event promises a Powell Invitational Skate Contest and access to a private beach, petting zoo, half-pipe, and indoor skate park, tri-tip and BBQ, with a free party bus from downtown S.B. to Goleta. Even better, the $10 VIP ticket gets you free beer provided by Pabst Blue Ribbon. Slow Children, Defeating the Purpose, Courtney and the Heathens, and The Olés will provide some musical accompaniment to the day's surely wild and crazy proceedings.
CALLING ALL BANDS: A new company is hoping to broadcast 805 music to the world at large, and they're looking for musicians to help heed the call. Central Coast Live! is a start-up beginning a quest of local exposure, fixing their lens on regional acts to stream live performances on Friday and Saturday nights. They have already hosted acts like Rio Salinas, ZZAH, and Prestige and are looking to expand their roster of performers. In an era when localization is the new globalization, this sounds like a great way to showcase the shockingly huge number of acts created within the Tri-County region. Interested artists can submit via centralcoastlive.com.
LAST BUT NOT LEAST: Of all the ways to spend your last night on Earth, a night enjoying area electronic and hip-hop sounds like a pretty good way to go. On Saturday, September 12, Velvet Jones hosts its Last Night On Earth 2015, featuring Kids Of the Moon, Dash Positive with Chapsworth and Chaye Tione, Putrid, Aryeh Cohen, and Tsujigiri (9 p.m., $10, 423 State St.). Kids Of the Moon makes lovely, astronomically inspired techno, spacey and beautiful. Dash Positive, meanwhile, goes for a more down-to-earth (or down-to-beach) vibe, rapping with simultaneous confidence and chill. Putrid will get things bumping with his instrumental hip-hop, and the lovable Aryeh Cohen assures nothing but smooth sailing with his inventive, trumpet-tinged electronic compositions. Tsujigiri rounds out the night with glitchy electronica.
In a town where guitar music usually shapes the status quo, it's great to see a venue hosting a night of music like this. Spend your last night on Earth at Velvet, and help raise these musicians' profiles beyond SoundCloud and into the wider listenership they deserve.