News
Santa Barbara Braces for Peak Fire Season
Fire Crews and Homeowners Feel the Heat
Fastened to power poles high above Mission Canyon, nine small devices ​— ​each resembling a miniature R2-D2 ​— ​have their collective eye on about 10 square miles of desiccated mountainside chaparral frighteningly close to busy residential neighborhoods.
They're called FlameSniffers. Each unit can detect fire, smoke, and excessive heat, and if it does, it snaps a pic (or, at night, a thermal image) and instantly shoots it via text and email to the county's emergency dispatch center and a handful of fire chiefs. FlameSniffers can also relay weather readings, including wind speed and direction, plus ​— ​with GPS-syncing beforehand ​— ​pinpoint firefighters on the ground.
Installed in the spring through a coordinated effort between the Santa Barbara County Fire Department, Southern California Edison (which owns the power poles), and FlameSniffer reps (who provided the equipment free of charge), the sensors are the latest in frontline firefighting as Santa Barbara's drought-parched front country enters peak fire season. During the warm days and nights of the next few months, sundowner winds typically gust with greater frequency and severity.
While FlameSniffer technology was originally developed to protect private homes from wildfires ​— ​with an advanced sprinkler system linked to deep-cycle batteries and a water tank or swimming pool ​— ​the company's nine units in Santa Barbara represent its first pilot program on a public stage. The one-year trial run will be evaluated this coming spring.
"It's very promising technology," said Michael Dyer, the county's former fire chief, now a tech specialist with the Office of Emergency Management. "But the bottom line is that it has to work."
In that respect, "at least two of the units are offline right now," according to Troy Whitman, Southern California Edison's fire management officer. Whitman explained that summer fog has hampered the units' solar-charging capacities. But, he added, FlameSniffer is bringing in a "next-generation model" with a more efficient power-saving mode and other upgrades. Whitman said the plan is to swap out all nine units by the end of the month. A true test of the technology has yet to flare up, but, according to Whitman, the instruments are very sensitive and haven't yet produced any false alarms.
Elsewhere across the county, firefighters recently wrapped up their annual push to create buffer zones on private property. Starting each May, crews inspect for high grass, overgrown brush, low-hanging branches, and other fire fuels surrounding structures in the danger zones where civilizations share space with flammable wilderness.
After inspecting some 12,000 parcels countywide, firefighters' goal each year is to have property owners in compliance with state brush-clearance laws by August. After a few rounds of courtesy reminders early on, delinquent property owners get a final warning before the department comes in with its own manpower and equipment, according to Captain Tim Himmelrich, a county vegetation management coordinator. The bill ​— ​not cheap ​— ​shows up on an offender's property tax statement.
This season, full compliance met a few delays in absentee property owners with overgrown vegetation behind locked gates, but all was sorted out just last week. "Last year we had this done earlier," said Captain Dave Zaniboni, county fire's public information officer.
Whenever a vegetation fire flares up, it's critical to jump on it as quickly as possible, said Andrew Madsen, information officer with the Los Padres National Forest, which covers roughly half of Santa Barbara County, about 2,000 square miles. "They will pull resources off an existing fire to get on a new start as soon as possible, especially if it's threatening structures," Madsen said.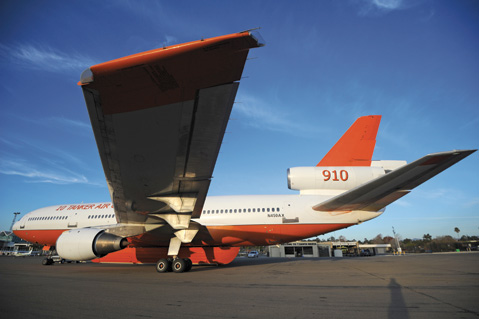 "Initial attack is also very important to keep overall costs down," he added. At the peak of the recent Cuesta Fire, which burned 2,446 acres in 12 days and forced evacuations in San Luis Obispo County's Santa Margarita and Miller Flat, the California Department of Forestry and Fire Protection (CalFire) had 1,800 personnel assigned to the fire at the cost of $1.7 million per day.
Often, first attacks in Santa Barbara originate from the Forest Service's air tanker base at Santa Maria Airport. The base, which leases space from Central Coast Jet Center, is equipped with three fire-retardant filling stations, or "pits," where 50,000 gallons of retardant ​— ​sometime described as pink snot ​— ​is ready to pump; plus there's enough dry mix on hand to whip up another 98,000 gallons if need be. Turnaround time for refueling and topping off retardant runs 12-20 minutes, depending on the size of the plane.
Madsen explained that tankers are like flying gypsies, moving around the state to wherever they're needed but always ready to change course to a new destination. And because the planes' constant whereabouts and readiness is available via real-time networks, "we can see planes here [in Santa Barbara] in 35-40 minutes," he said, regardless of the intensity of firefighting going on elsewhere.
This time of year, that's more common than not. For example, the Rough Fire, started on July 31 by a lightning strike, has burned more than 100,000 acres in Fresno County and, even with nearly 2,000 firefighters in action, remains only 31 percent contained.
"Historically, the Los Padres experiences wildfires at any time of the year," Madsen added. "However, we regard September and October as being our two prime months for fire starts."
"For the last couple years, we've been calling it fire season all year round," said the county's Capt. Himmelrich. "It just varies between low fire season and high fire season."
An Ounce of Prevention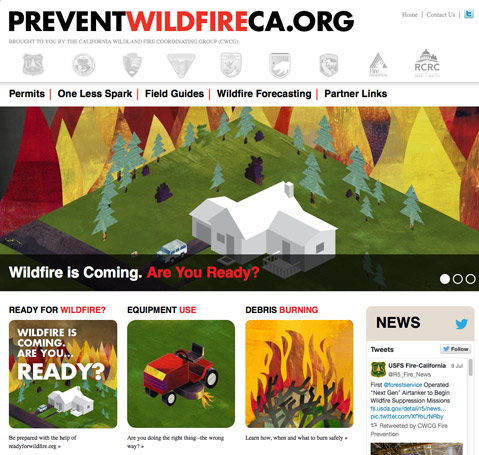 Homeowners in the city's Wildland Fire Suppression Benefit Assessment District (north of Foothill Road, and the Riviera and Eucalyptus Hill, among other areas) can get a free defensible-space inspection and pointers on brush clearance and fire safety. Call 564-5737 or sign up at santabarbaraca.gov.
For the past several years, CalFire's "Ready! Set! Go!" wildfire action plan has been the go-to checklist for those living in what's called the Wildland-Urban Interface. Fire departments across the state promote the program, downloadable at sbcfire.com.
From improperly extinguished campfires to accidental ignitions from gasoline-powered landscaping equipment, about 90 percent of wildfires are human-caused. To help knock down that number, brush up on the U.S. Forest Service's "One Less Spark" outreach at preventwildfireca.org.