Film & TV
'Un gallo con muchos huevos' Tells an Inspirational Story
Animated Film from Mexico Has Great Audience Appeal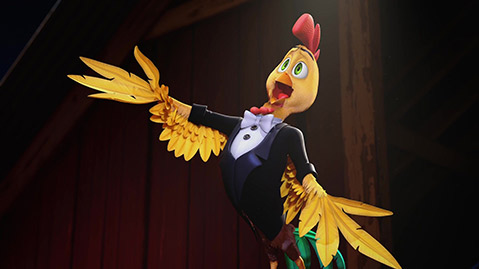 The movie's title translates literally to "a rooster with many eggs," and after you see it, you will know that the pun was intended. (A rooster with lots of huevos; get it? Oh, never mind.) Fans of contemporary world cartooning got a taste of first-rate Mexican animation work last winter with the American release of Jorge R. Gutiérrez's The Book of Life, dubbed and released here with deserved fanfare, although the spectacular art overwhelmed the long, circular plot. The same critique applies to Un gallo, except the tedium is confined to the mandatory training scenes in the middle of this tale of goofy-rooster-versus-corporate-monster clucker.
Most of it is fun. The audience deeply, boisterously appreciated the many double entendres and fart jokes ladled on top of this inspirational story. The best part is swooping "camera-work" employed by animator Gabriel Riva Palacio Alatriste, whose imagery includes long pans, arresting close-ups, and an extended canyon chase flight scene that screams Star Wars. Presented with English subtitles, it's also rich in in-joke allusions to Bruce Lee, The Karate Kid, and The Godfather.
So why didn't it get a wide release? The answer may not be obvious at first, since the cutesifying process is so thorough, we don't realize the climax refers to cockfighting. In a satirically sanitized way, granted, but inside the borders of this country, that's basically taboo material — just ask NFL quarterback Michael Vick.
Rest assured; there is nothing too graphic. Hollywood cartoons dish out just as much sex and (cartoon) violence. Yet this is promising stuff; the stylishness and sheer audience appeal suggest more of the Americas might get involved in animation's future. This one might not be eggs-actly right for gringo toon-lovers, though.