Make Myself at Home
Make Myself at Home: Funk Zone Is Funky No Longer
A look inside 218-D Santa Barbara Street, an Urban Retreat with Million-Dollar Views
Address: 218 Santa Barbara Street, Unit D
Status: On the market
Price: $1,175,000
I'm not a native Santa Barbaran, but I've lived here for more than 30 years, so I'm told that I can therefore call myself a "local." As such, I can tell stories about the way things were way back when I moved here in the '80s. I remember when Paseo Nuevo was built, replacing its predecessor Piccadilly Square. I remember when there were traffic lights on the 101, forcing motorists to wait long minutes for the lights to change, bisecting Santa Barbara, and separating the beach from downtown. That beach side of the freeway, until very recently, has been an industrial, artsy, even funky home to craftspeople and artists. But now we all know it as the upscale, entertaining, visitor-friendly Funk Zone.
This area harbors art studios, restaurants, and wineries galore, and of course it is still only steps from the beach. So what was once the "wrong side of the tracks" is now one of the hottest neighborhoods in town. Mimicking other cities that have renovated their once-blighted downtown cores into chic, upscale urban centers, Santa Barbara now has another city center with vibrant nightlife and desirable addresses.
The block bordered by Garden, Yanonali, and Santa Barbara streets houses one of the first — and still only — residential enclaves in the Funk Zone. While old-timers may scoff at a million-dollar price tag in that location, one walk through this development shows why it's worth it.
I visited an open house at 218 Santa Barbara Street straight from an afternoon at the beach. Meandering through the complex, I admired the landscaping, including fountains, currently dry of course, and climate-appropriate succulents bursting with color. I found unit D in the very back of the block, which means that it's private and secluded — and closest to the freeway. But once inside the front door, I couldn't hear, see, or feel the presence of any traffic. I was completely taken in by the home itself.
Almost everything in this condominium is white and bright. The entryway leads up a staircase to the living room, with high ceilings, French doors, and a fireplace. The living room is open to the dining room and the kitchen, which is also super bright with cabinetry, countertops, and a large center island all in sparkling white.
Up more stairs are the two bedrooms, each with its own full bath. The master bedroom suite houses a huge master bathroom with both a large walk-in shower and — my favorite feature of the entire house — a big Jacuzzi tub with a sweeping mountain view.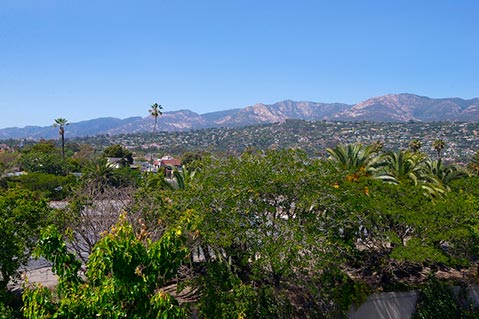 In fact, the views from just about every room of this condo are breathtaking enough to overshadow the gorgeous home itself. It offers balconies, a patio, and plenty of windows perfectly situated to take advantage of the stellar vistas, each of which epitomizes the phrase "million-dollar view."
On my way out, I decided to leave my car right where it was parked, ambling through the not-so-funky side streets on foot and debating the afternoon aperitif options of the neighborhood: a cold-brew coffee or a cold microbrew, neither of which existed in this neighborhood back in the old days.
218 Santa Barbara Street, Unit D, is available for $1,175,000. Contact Marsha Kotlyar of Berkshire Hathaway HomeServices at (805) 565-4014.