News
City Council Race: It's a Dog Fight
Sorting Out the Election District by District
Anyone tuning into this year's Santa Barbara City Council elections could be excused for thinking there's an avalanche of abandoned mattresses being dumped on city streets and curbs. This is the year of the micro issues: midnight mattress dumpers, "outsiders" parking on other people's streets, and speedsters transforming small neighborhood thoroughfares into drag strips.
Hugely absent is the usual rhetoric about public safety, the homeless, and city budgets. To the extent candidates running for office are tackling big-picture problems like the excruciatingly high cost of Santa Barbara's housing, it's by way of comment on vacation rentals. (No one's for them.) There's almost no talk at all of the drought or of City Hall's $450 million in unmet infrastructure needs. And for obvious reason.
For the first time in 60 years, Santa Barbara voters are electing their candidates according to geographical districts, not at-large seats. With the arrival of district elections, candidates are focusing far more on district problems and district solutions. If all politics are local, Santa Barbara's just went hyper-local.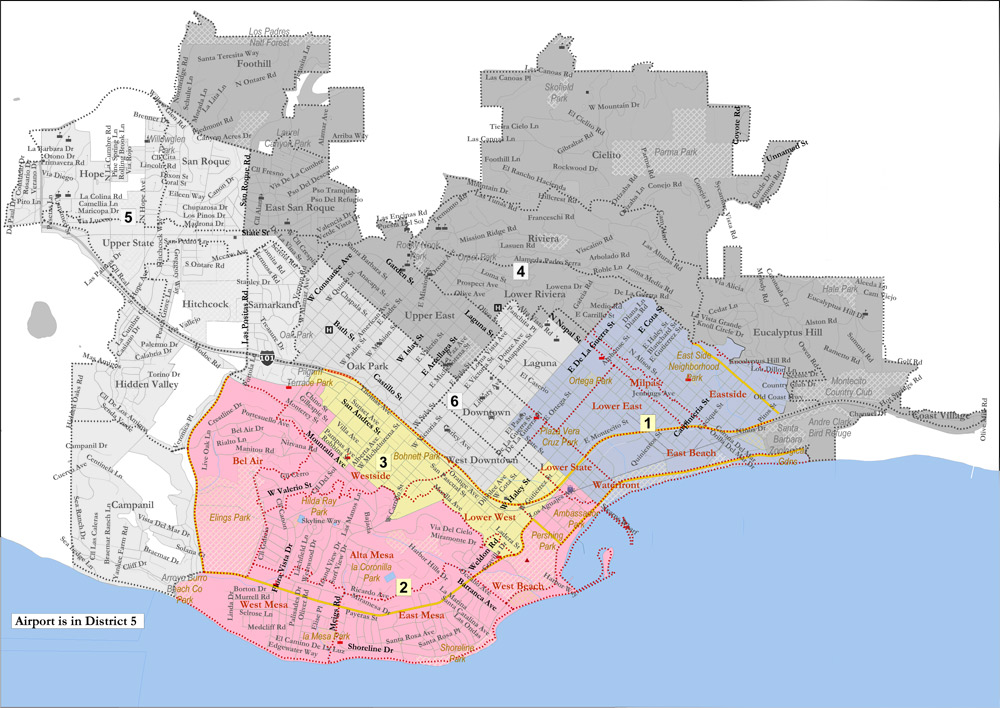 Ballots for the city's all-mail election go out October 5. Given the compressed geographic size of the freshly drawn districts, the candidates should have to spend significantly less to wage credible campaigns, thus making City Hall ​— ​at least theoretically ​— ​more politically accessible to a broader cross section of the community. But conversely, in some districts with histories of very low voter participation, City Council candidates ​— ​who would vote on matters affecting the entire city ​— ​could win with just 750 votes. That's in stark contrast to the 8,000 votes typically needed to secure victory under the old at-large system.
City Hall shifted to district elections earlier this year to settle a lawsuit alleging Santa Barbara's traditional at-large election system violated California's Voting Rights Act. It will take a few election cycles to determine if the new system will deliver more ethnically diverse councils, but that being said, the skin tone of the 10 candidates showing up at this year's forums is decidedly more bronze than usual. (Technically, there are 12 names on the ballot, but listed candidates Robert Burke and Michael Merenda have either withdrawn or are simply not running.)
Seven of the 10 have Latino-sounding last names, five speak Spanish fluently, and one can get by okay. One was born in Mexico. Another, Murillo, is an incumbent, and another, Luis Esparza, has served on two city commissions. Three ​— ​Jason Dominguez, Andria Martinez Cohen, and Cristina Cardoso ​— ​are brand new to city politics, and one, Jacqueline Inda, has a long history of community involvement.
Ultimately, politics is a group endeavor. In this year's race, an improvised coalition of Republican Party activists, business movers and shakers, and activists involved with the Milpas Community Association have joined together to back candidates Randy Rowse, Sharon Byrne, and Jason Dominguez. It's a de facto slate. Typically, this coalition's members support public safety but not public-safety unions, opposes increased housing densities, and likes fewer regulations.
On the flip side, the Democratic Party has combined with CAUSE (Central Coast Alliance United for a Sustainable Economy) and Service Employees International Union to endorse and fund incumbent Cathy Murillo for the Westside seat and Andria Martinez Cohen for the open Eastside seat. This crew supports public-employee unions and minimum-wage hikes, and is willing to push increased housing densities in hopes of achieving some modicum of affordability.
Outside the orbit of these established rivals, a new slate has emerged, that of Jacqueline Inda and Cristina Cardoso. They're positioning themselves as grassroots, youth-focused community activists fighting the neglect they contend their respective neighborhoods have long experienced at the hands of City Hall. Both are backed financially by Russell Trenholme, a wealthy, crusty, outspoken, behind-the-scenes player who actively opposed the proposed gang injunction and who supports neighborhood-centric Latino leaders not beholden to political parties, even if that means the Democrats.
District 1
Of all the districts, the Eastside's District 1 boasts the fewest number of councilmembers who've lived there or run from there. Of all the races, it's the most up for grabs. With low turnout and no incumbent vying to stay in office, anyone could win.
All five of the candidates qualify as genuine outsiders, novices, or both. One of the five ​— ​Michael Merenda ​— ​has yet to show up for a single forum, and Cruzito Cruz ​— ​a perennial candidate now on his fourth campaign ​— ​is not raising cash or engaging in the rigors of conventional electioneering.
JACQUELINE INDA: Of the three remaining, Jacqueline Inda is banking on her home-field advantage; she was born and raised, and works, on Eastside turf. Inda, now 36 and a single mother of three, grew up the hard way. At age 12, she was declared a foster child and spent time in more foster homes than she cares to recall. Along the way, many "angels" came to her rescue, which she says has inspired her to "pay it forward."
As an adult, Inda became a foster parent herself and has since become immersed in countless nonprofits seeking to create safe havens for at-risk teens. When suicides spiked among young gang members several years ago, Inda ​— ​a former Red Cross worker ​— ​was among activists who sought to cobble together a meaningful response within the Latino community. When City Hall announced in 2011 its intentions to pursue a gang injunction, she was among the first to hold community forums in opposition.
Two years ago, Inda became one of five plaintiffs to sue City Hall for district elections. She shrugs off criticism that the lawsuit violated the democratic spirit that should have guided so momentous a change, insisting it was filed as a last resort only after City Hall failed to act multiple times. If elected, Inda's pledged to make City Hall more accessible by using her Milpas Street campaign headquarters as a council office.
She's also been in the forefront of the campaign against the Eastside Business Improvement District (EBID) pushed by Sharon Byrne (herself a candidate) and the Milpas Community Association (MCA). Inda argues the EBID would accelerate the gentrification now underway on the Haley and Milpas corridors and that MCA failed to consult with many of the smaller Latino-owned businesses before announcing its plan. Inda has since unveiled a competing business improvement plan of her own.
Inda's role in the anti-EBID effort went radioactive this February when she participated in a Sunday-afternoon demonstration, led by PODER (People Organized for the Defense and Equal Rights of S.B. Youth), targeting the owner of El Bajio restaurant, who supports the EBID. The owner contended protesters, picketing and chanting outside and later going inside, intimidated his staff and customers. Police were called twice. Inda claimed she participated to provide a calming presence but that she regretted her involvement.
Inda's participation in that event is frequently cited by mainstream activists of both the left and right for their political discomfort with her candidacy. Likewise, many in the Democratic activist community, generally suspicious of district elections, expressed bewilderment that Inda and other district-election plaintiffs accepted consultant money from the oil industry to speak out against Measure P, the ill-fated anti-fracking ballot measure in 2014. Inda argued the ballot measure would have reduced revenues that might otherwise go to school districts and would have hurt jobs. Campaigning, Inda said, has not been easy. "This is the Eastside," she said. "Is there anything happening over here that's not controversial?"
JASON DOMINGUEZ: Dominguez is touted by supporters as "the rational" candidate. Of anyone in the race, he clearly boasts the most gold-plated résumé. Not only did he graduate from Stanford and later UC Berkeley Law, but he also worked for both the Los Angeles City Attorney and District Attorney offices, ran once for Los Angeles City Council, and then toiled three years for Santa Barbara's County Counsel office, where he was nicknamed "Dweezil" ​— ​after Frank Zappa's son ​— ​by his boss.
Having spent a few months in East Germany right before the Berlin Wall was torn down, Dominguez said he started politics as a Reagan Republican. In addition, he spent time in Yugoslavia and Mexico during his college years, mastering along the way three foreign languages and achieving functional proficiency in two more. After working for Santa Barbara County, Dominguez moved to The Hague, where he worked for the International Criminal Court and was involved with the team prosecuting, among others, Yugoslavian warlord Slobodan Milošević. After that, Dominguez taught law at an all-black college in Texas, put in a stint with California Rural Legal Assistance (CRLA), and most recently served as director of the Santa Barbara Legal Aid Foundation.
There he lasted just eight months, leaving, he explained, after a disagreement with the board. Legal Aid was in dire financial straits at the time, and during his brief tenure, painful layoffs were made. If bruised memories persist, Dominguez said he left the organization on firmer footing than when he started. He has since embarked on the creation of a new nonprofit, the Santa Barbara Justice Center, which will target affordable legal services for seniors in need.
For much of his time in Santa Barbara, Dominguez has lived just outside the boundaries of District 1. While he supports MCA's proposed Business Improvement District, he took no position on district elections or the gang injunction. At candidates forums, Dominguez comes across polished and professional, and he answers many questions by referring to his astonishing quilt of professional experiences. As for the strong skepticism he elicits from Santa Barbara's progressive community, Dominguez points out his work with CRLA and Legal Aid, not to mention his new nonprofit. "It's never been about the money," he said. "It's always been about the service." Dominguez, like Inda, sought the Democratic Party endorsement but didn't get it.
ANDRIA MARTINEZ COHEN: Instead, the party hitched its wagon to the brand-new star of Andria Martinez Cohen ​— ​a loan officer for a private nonprofit agency that extends funds primarily to targets women and minority businesses ​— ​who readily concedes her lack of involvement in Santa Barbara politics prior to this January. Martinez Cohen moved to Santa Barbara 10 years ago, settling into a downtown household with three classmates from UCLA. Like Dominguez, her mother is Anglo and her father Latino, and she comes from a family of teachers. Both candidates learned Spanish while in Mexico: Martinez Cohen while working in the hospitality industry and Dominguez while attending a Mexican law school.
Once in Santa Barbara, Martinez Cohen worked for years for Women's Economic Ventures ​— ​located on the city's Eastside ​— ​arranging microloans for small start-up businesses run by women and minorities. After that she took a position with the National Development Council, arranging bigger loans for similar enterprises by leveraging municipal funds made available for such purposes in 10 Southern California cities. That experience, Martinez Cohen says, gives her an up-close-and-personal vantage point for how cities can stimulate economic development.
Where such stimulation is concerned, she says, City Hall could do more than it currently does. Two years ago, she and her husband bought a home ​— ​their first ​— ​in the Eastside district. Her neighborhood, she said, "has always been underrepresented," and she vows to bring the same "passion for empowerment" to the council as she now does to her job. Earlier this year, Martinez Cohen attended a forum featuring three women holding public office ​— ​Cathy Murillo, County Supervisor Janet Wolf, and school boardmember Monique Limón. She was inspired.
About the same time, Martinez Cohen enrolled in an Antioch class on women's empowerment taught by former supervisor and Democratic mover and shaker Susan Rose. That inspired her, as well. It would be Santa Barbara City Councilmember Gregg Hart who pressed her into running for office. As Martinez Cohen jumped in, her Antioch class project would become her political campaign. "It's not necessarily a bad thing being so new," she said. "I can bring a fresh perspective, and I don't have so much baggage."
District 2
RANDY ROWSE: Unless City Councilmember Randy Rowse is abducted by aliens in the next five weeks, he should win the first race for District 2 without breaking a sweat. A decline-to-state moderate with a pro-business agenda, Rowse has relentlessly pushed for safe, clean streets and budgetary restraint during his five years on the council. Rowse successfully led the charge to deploy Community Service Officers to protect State Street shoppers from panhandlers and street people. His mantra over the years has been "Perception is reality," meaning visitors and residents need to feel safe.
As one of the council's three reliably "conservative" votes, Rowse has taken pains to avoid ideological rigidity. He declined to attend the Republican Party's pre-Labor Day event this year, wondering why he'd want to hang out with Donald Trump supporters, right-to-lifers, and anti-gay-marriage advocates. On tax-and-spend issues, Rowse demonstrated an openness to a new sales tax to help address City Hall's backlog of $450 million in unmet capital improvements. Rowse showed up at numerous community forums to gauge public sentiment for such an increase, and he was uncharacteristically angry when the council failed to vote to put the issue to city voters this November.
On the dais, Rowse comes across like the proverbial regular guy, but his emails betray a shrewder, more wicked sense of humor than his public persona might suggest. Behind the scenes, Rowse is frequently on the horn to city administrators, acting as unofficial bee in their bonnet for people and businesses caught up in City Hall's red tape. He's lived on the Mesa more than 30 years, but it was really as a voice for downtown businesses ​— ​as both restaurant owner and active member of the Downtown Organization ​— ​that he emerged as a civic player of some heft.
K. MISSY MCSWEENEY-ZEITSOFF: Although strategists with the Democratic Party insist Rowse can be beaten, they couldn't find a horse to back in this year's showdown. Of the two candidates running against Rowse, one ​— ​K. Missy McSweeney-Zeitsoff ​— ​might have gotten Democratic support if she hadn't declared it was against her principles to take anyone's money or put up yard signs. McSweeney-Zeitsoff is now starting her first term on the city's Fire and Police Commission, which makes sense given one of her brothers is chief of the Los Angeles County Sheriff's Detective Bureau and one of her sons works as a firefighter for Montecito Fire.
Now a substitute teacher for Notre Dame School and Carpinteria School District, she has also worked at the county's juvenile hall, not to mention a statewide lockup for juvenile offenders. McSweeney-Zeitsoff tempers her gospel of public safety with concerns about social justice. As for government experience, she served on the first Malibu City Council as a slow-growth environmentalist, campaigning against the installation of sewer laterals for their growth-inducing propensities.
During a recent forum hosted by arts advocates, McSweeney-Zeitsoff stood up and announced she had to leave to see the movie Black Mass with her son. He'd just gotten back from fighting one of the major fires engulfing Northern California, she said, and he wanted to see the movie. "Sometimes you have to make tough choices," she explained, garnering a round of applause on her way out the door.
LUIS ESPARZA: While Luis Esparza is not as fussy about not taking other people's money, he may as well be. Having amassed a campaign war chest of only $2,148, Esparza, an attorney in private practice for 12 years, harbors few illusions of election-night upsets. Esparza, who lives in the same Mesa house he grew up in, attributes his renewed sense of public service to the birth of his son a year ago. He's currently a member of the Santa Barbara County Grand Jury. Before that, he served on an obscure city commission overseeing a small handful of pensions for retired police officers and firefighters. And before that, he sat on a commission created to ensure marijuana possession was assigned the absolute lowest priority by city cops.
In person and at forums, Esparza speaks softly, choosing his words slowly and carefully, not feeling the need to fill his allotted time limit. He espouses a point of view gently infused with libertarian sentiment. Of all the candidates, Esparza is the least inclined to support an outright ban on vacation rentals. To do so, he cautioned, would only push them underground, thus denying City Hall the revenue they generate. Besides, he added, there are market forces driving the demand for short-term rentals. "We need reasonable regulations," he said, "not prohibition."
The same holds true, he said, for medical marijuana dispensaries. City Hall may have shut the door on storefront outlets, he said, but at least 50 home-delivery services have sprung up in their place. That may suit certain out-of-sight, out-of-mind sensibilities, he said, but it deprives those in genuine need of being able to select the medical marijuana varietal that best suits their purpose. With a statewide ballot measure looming to legalize recreational pot use, he argued, City Hall would be well advised to position itself accordingly. "It's all about reasonable regulation," he said.
District 3
On paper, this should be incumbent Councilmember Cathy Murillo's election to lose. Four years ago, Murillo ​— ​then running as an upstart, outsider candidate ​— ​picked up 65 percent of the votes in the precincts making up the new Westside district and confounded the experts by placing second citywide. Today, Murillo finds herself running for the second time against Sharon Byrne, the moving force behind the Milpas Community Association (MCA) — not to mention forceful newcomer Cristina Cardoso, whose yard signs run a full paragraph long.
Murillo and Byrne are both tough, scrappy, streetwise advocates who lead simultaneously with chin and heart. Both campaign incredibly hard. Neither is averse to throwing an elbow. Over the years, both have thrown more than a few at each other over a host of issues. When Byrne was complaining how management of Casa Esperanza homeless shelter failed to contain the unruly elements congregating nearby, Murillo ​— ​who spent three nights there while covering the shelter as a reporter for The Santa Barbara Independent ​— ​jumped passionately to the shelter's defense. When Byrne launched a campaign to start the Eastside Business Improvement District, Murillo went into red-alert mode, warning affected businesses that Byrne and the MCA were going to gentrify them out of existence.
At times, it's seemed more personal than political. Among City Hall insiders, the race is often described as "a cat fight." A more apt description, Byrne countered, is "dog fight." The real question is, she said, "Who's going to work the hardest? Who's going to work 'til they drop?" Thus far, it appears they both are. And so, too, is Cardoso, an energetic personality in her own right, having moved to Santa Maria from Mexico at age 16 to attend school and pick strawberries on land her family rented there.
CATHY MURILLO: There's rarely any ambiguity about where Cathy Murillo stands. At council meetings, she's typically the first one to express her thoughts and is quick to make a motion. A pro-union, pro-fish environmentalist even during the drought, Murillo has been exceptionally attentive to the needs of the Santa Barbara Democratic activist community. She was the first councilmember, for example, to oppose the gang injunction, arguing it unfairly stigmatized Latino neighborhoods and Latino teens. She demonstrated earlier this year in front of the Santa Barbara News-Press when the daily paper insisted on blaring the inflammatory word "Illegals" on front-page headlines. And Murillo effectively killed a ballot measure pushed by Mayor Helene Schneider because it conflicted with the pro-union values she inherited from her grandmother in East L.A. where she grew up, the daughter of a gang-banging drug dealer.
Among her more conservative colleagues, Murillo frequently elicits eye rolls and stifled groans. "You need radicals like Earth First to make the Sierra Club look reasonable," said one progressive strategist. "Cathy's played the role of Earth First." Murillo's quick to point out she also gets stuff done. She pushed to get cut hours restored to the downtown and Eastside libraries. Mindful of her role as the council's sole Latina, she held office hours at the Franklin Center, as well. She supported funding to study how to create a year-round field at Bohnett Park, lobbied City Hall to extend the contract with the Boys & Girls Clubs, and was instrumental in bringing a Westside neighborhood committee back to life.
When asked about her interest in running for mayor two years hence, Murillo bristles. "That's so rude to both me and the mayor," she exclaimed. When asked how she's evolved in four years, she said, "I think I'm a little more pushy now, but nicely though."
SHARON BYRNE: Taking Murillo on in her own backyard is Sharon Byrne, a downtown-Westside resident who made her bones as an Eastside agitator with the Milpas Community Association. (Ironically, it would be plaintiffs in the district-elections lawsuit who would lobby Byrne to run against the only Latina ever elected to the council.) The consummate neighborhood activist, Byrne ​— ​who supported the gang injunction ​— ​triggered the change of management at Casa Esperanza while simultaneously working hard to find housing for the 10 most problematic street people on Milpas. She can point to the artwork produced by local schoolkids, now adorning the trash cans along Milpas Street. Byrne insists her candidacy has nothing to do with Murillo's aggressive opposition to the EBID. "I like to get stuff done," Byrne said. "It's what I do."
CRISTINA CARDOSO: Attacking Murillo from the left is Cristina Cardoso, a Housing Authority employee who connects low-income families with a diminishing number of affordable units. A life coach who mentors 23 young women, Cardoso used to work for the school district, focusing her passion on Latino students struggling to make it. Her campaign is largely self-funded, and when she knocks on doors, she walks alone. She's running to get representation that the Westside has been lacking, she says. "I'm a leader. If I want things to change, I have to be the one to make it happen," she said.