Arts & Entertainment
The Olés' Reggae Resolve
I.V. Genre-Hybrid Band Ready to Take the West Coast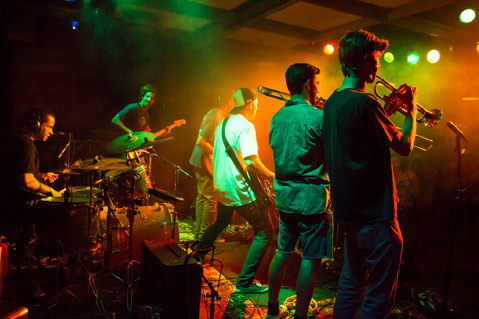 Looking to follow in the footsteps of established reggae bands Iration and Rebelution, The Olés have emerged from Isla Vista as a genre hybrid, ready to take the West Coast by storm. Led by cofounders Matt Tweed (lead vocals) and Cole Leksan (lead guitar), the band is on the verge of releasing its second full-length album, Strictly Speaking, the follow-up to 2012's Sabado Sessions.
Composed mostly of former Gauchos, the band identifies strongly with the UCSB community, which is where it drew the inspiration for its name. "It is great to hear the [UCSB] olé chant at sporting events because the word is always being used to show support for our squad," said Leksan. "Similarly, when we can get the crowd chanting 'olé' at our shows, it is always an awesome experience."
Having established a dedicated following in the Santa Barbara area, the band is hopeful that it can schedule a tour to promote its style and sound in other parts of the state and country. "Right now we are in the process of looking for a band who is touring the whole U.S. and opening for them," said Leksan. "It would be amazing to have our shot at playing music around the country. We are ready to travel and play music anywhere and everywhere, on big stages and at small bars."
With a wealth of talent at its disposal and high-energy live shows, expect for The Olés to cash in on its early exposure before long.