News
UCSB Distinguished Scholar Kicks Off Dreamer Scholarship Fund
New Program Targets Getting Frosh to Sophomore Year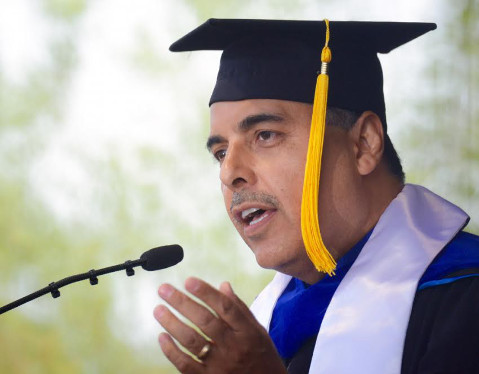 On Saturday, UCSB will honor José Hernández as its 2015 Distinguished Alumnus and also start up its Dreamer Scholarship fundraising for the coming year, a program that supports college attendance for students without legal residence documentation. Being the first in the family to go to college is a huge point of pride for high schoolers, and keeping them there is a concern for university educators. With UCSB's nomination in January as a Hispanic Serving Institution — based on enrollment of more than 25 percent of students who are Latino — the school received a $2.6 million grant to develop a new program over five years that will work with professors, tutors, and students to ensure more freshmen make it to their sophomore year.
Though Hernández was born in California, he worked the fields with his parents and siblings nine months out of the year as a child, and he didn't learn to speak English until he was 12. He makes a return appearance Saturday to UCSB — he gave the commencement speech in 2014 for the School of Engineering — from which he graduated with a master's in electrical and computer engineering in 1986. His advanced degree was part of his desire to become an astronaut, a dream he'd had since watching the last moonwalk in 1972.
Hernández often attributes his success to perseverance, noting that NASA rejected him 11 times before accepting him into the astronaut program. He made it into space in 2009 aboard Discovery on a 14-day mission to the International Space Station. But he's most proud of the lives he's helped save through mammography technology to detect breast cancer that he helped develop while at Lawrence Livermore. He'll receive UCSB's 2015 Distinguished Alumnus award, in part, for his work with kids in the Stockton area, preparing and encouraging them toward science, technology, engineering, and math careers. The lunchtime ceremony takes place October 24, 12:30 p.m., in Corwin Pavilion.
The U.S. Census of 2011 put California's Latino population at about 38 percent, and UCSB joined the UCs at Riverside, Merced, and Santa Cruz when it was recognized for its Latino student population by the Hispanic Association of Colleges and Universities. It is the only university in the Association of American Universities, a nonprofit advocacy group born in 1900 with 62 invited schools on its list, to be so distinguished. To make sure the school doesn't lose any of its gains, the university's new ONDAS program intends to use its Title V grant, awarded by the federal Department of Education, to reach students and professors in first-year classes and, through its learning programs, provide the means to success for more of the freshman class.
For students, the excitement and turmoil of the first year away at college come amid the challenge of maintaining good grades. And not all students are prepared, said Barbara Walker, UCSB's director of social sciences research development, though the school reports that incoming freshmen have a collective average 4.05 GPA and 1,939 combined SAT. "Our institutional data show that succeeding in the first year is critical," Walker emphasized. The blow to students' confidence if they find themselves on academic probation, she added, can be hard to recover from. To that end, the ONDAS program, which stands for Opening New Doors to Accelerating Success, comes out of a study of five-years' worth of data with a goal of identifying certain courses and majors in the university's divisions of Mathematical, Life and Physical Sciences; Social Sciences; Humanities; and Fine Arts that were particularly hard on first-year students. The ONDAS Success Center has developed numerous strategies to help students succeed in them, or at least encourage them to bounce back.
Available help from tutors and mentors will be announced in those classes, which will also add peers and graduate students to offer assistance directly. And the program plans invitation-only workshops for professors to shake up some disciplines a bit with new ways to see and think, to engage students, and to research methods that work. Walker gave as a for instance the different ways marine biologists, English professors, and students might think about a concept like "ocean." Enabling faculty to push beyond their customary methods of expression and reach freshmen, new to the differing modes of thinking among academics, is a hoped-for outcome of the workshops.
Among the online tutorials ONDAS has available is ALEKS (Assessment and LEarning in Knowledge Spaces) which, in a more straightforward manner than its acronym, plans tailored lessons for students, moving them forward as quickly as they succeed on previous material. Education programs like ONDAS provide a back up to the systems UCSB has put in place to help new students financially, like the Dream Scholars Resource Team and Graduate School for Dreamers, references to California's Dream Act which allows financial aid to qualified nonresident college students.