Positively State Street
Hope and Justin, The Wild Reeds Put New Twists On Folk
Hope and Justin, The Wild Reeds Put New Twists On Folk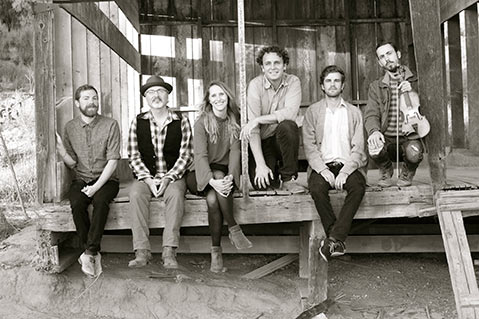 MUSIC BETWEEN FOLKS: Hope and Justin, the Carpinteria folk band centered around songwriting husband-and-wife duo Hope and Justin Schneir, are unafraid to tackle some of the larger questions of existence.
On their upcoming album, Love & War — for which they will host a pre-release party at Carpinteria's Plaza Playhouse Theater on Saturday, November 7 — they adapt traditional styles and instruments to craft contemplative, contemporary folk-pop. The title track collapses together the personal and the political. "This song was really written about a friend going through a relationship split, trying to work things and make peace," Hope said. "I wrote it in light of how the world was seeming so charged with aggression and war, on how to find peace on a large scale and on a small scale, and wondering if it's even possible."
It's that wondering that adds a special gravity to Hope and Justin's music. The Schneir duo strives to write music that's honest and openhearted. Spiritual without being preachy, they grapple with questions of doubt and faith through reimagined roots music. Yet at the music's heart is a level of joyousness, a music born of love — Hope and Justin have been playing music together since the first time they met. The pair began initially as a duo but morphed into a six-piece after calling upon a group of friends to perform earlier material live. Love & War is their first release as a full-on band, and if the lead single is any indication, it's going to be a very strong one.
The band gained recognition in years past, being voted New Folk finalists in the Texan Kerrville Folk Festival, semifinalists in the International Songwriting Competition (beating out more than 20,000 contestants), and winners of Best Folk Song in the West Coast Songwriters Competition. What began as a shared hobby has become a bigger project, one still gaining momentum, but their folk music has not strayed from its roots. "I love that at the base of it, folk music is very simple and easy to re-create and share, and I think with fame-or-nothing shows like American Idol, we've gotten away from what music is supposed to be," she said.
Sharon Silva of The Wild Reeds similarly appreciates the approachable quality of folk and American-roots music. "I haven't seen anything in the Americana scene that's too good for anyone else," said one of the singers of the L.A. folk outfit, which plays SOhO on Thursday, November 5, with Hot Buttered Rum. Americana musicians, she said, "are trying to make something real that's in their heart, and there's something so wonderful and authentic about that."
NPR recently picked up on The Wild Reeds' own authenticity when they declared the three-female-fronted band one of the Top 10 Americana bands of the moment in September. On a recent East Coast tour, where the band visited the ancestral home of the music they make, the band was so true to form that "a lot of people thought we were from Nashville," Silva said.
Yet make no mistake: The Wild Reeds are certainly progressive. Deeming their sound "heavy folk," the group sings deep from the heart with a big and sometimes inventive, rule-bending sound. Besides their obvious talents, The Wild Reeds stand out with their dedication to kindness. Though the newfound fame has thrown their way the difficulties of a more hectic schedule, Silva said the band is focused chiefly on remaining grateful and kind amid the new attention. "I would say that above all, between the five of us, we're just trying to keep being good people," Silva said.