News
Eating Crab Off-Limits
Dangerous Levels of Domoic Acid Measured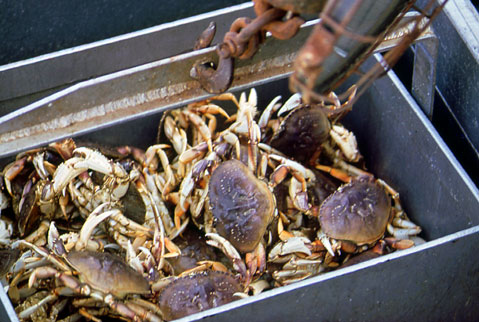 Crab aficionados should lay off the Dungeness and rock crab until a bloom of Pseudo-nitzschia plankton stops producing domoic acid in the crustaceans, advises the California Department of Public Health. Both body meat and viscera – or crab butter – of the eight-legged creature from the Santa Barbara-Ventura county line to the Oregon border have been measured to hold dangerous levels of the acid, which can cause vomiting, diarrhea, cramps, headache, and dizziness within 30 minutes to 24 hours of consumption. Severe cases can lead to coma and even death.
The closure of recreational rock crab fishing has been ordered, and recreational Dungeness fishing, which was to start Saturday, has been delayed until conditions ameliorate. State Fish and Wildlife has closed commercial rock crab, as well, and is also delaying commercial Dungeness season, which was to start November 15.
The Public Health press release attributes the algal bloom to El Niño's unusually high ocean water temperatures, and media reports around the state raise hopes that winter's cooling waters will bring the bloom under control. Susan Klein-Rothschild of county Public Health recalled annual closures of the mussel beds because of domoic acid, but the crab fishery closure is a first, she said. The state has been testing crab for the unhealthy acid levels since September, she added, and no incidents of poisoning have been reported.
Though it appears at its website, the harbor's Santa Barbara Fish Market has stopped selling Dungeness. "No way," said James Fuller, the warehouse operations manager, "we are not selling it." Large-scale rock-crab buyers have cancelled their orders and asked for refunds from crab fishers, the Pacific Coast Business Times reports, potential hard times for the $1.9 million market.