News
Speak Now About Bicycle Master Plan
Or Hold Your Peace for the Next 15 Years
Speak up now or forever hold your peace. In the case of Santa Barbara's next Bicycle Master Plan, now is the time to speak loudly or hold our peace for the next 15 years.
Over the past year, Santa Barbara residents, cyclists, and supporters of safer streets have rolled out in record numbers to public meetings and write letters and complete online surveys. At the October 29 Transportation and Circulation/Planning Commission (TCC/PC) joint meeting, the two city groups approved some serious improvements to the draft Bicycle Master Plan. The committees asked planning staff to:
• Add a green Micheltorena bike lane back to the bike plan and study extending it one block further to Anacapa Steet.
• Study all of the bikeway gaps in the plan (such as the Castillo underpass).
• Re-study a bike boulevard on Olive Street.
• Study additional treatments to strengthen streets with sharrows, such as educational signage.
Today I want to focus on one project: Micheltorena Street. Micheltorena has been proposed in the draft Bicycle Master Plan as the east-west bikeway connector across the city. We have north-south bike lanes on Castillo and Bath, but there is no cross-town connector.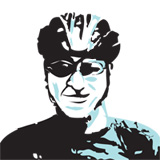 I live on the Westside. Every day I make the trip from West Valerio Street to the Eastside. The Westside has been physically separated from the rest of Santa Barbara since the construction of 101 reduced the number of cross streets to three: Mission, Micheltorena, and Carrillo streets. If you want to travel to or from the Westside by car or bike, those are your only three choices. None of them have a continuous bike lane. I'm a very experienced cyclist, but each of those streets presents challenges and barriers that make them inaccessible to many less confident cyclists.
In the draft Bicycle Master Plan, Micheltorena Street would have received green-backed sharrows. Can you image a mother riding with her kids to ballet class along Micheltorena with sharrows? I can't.
The TCC/PC echoed the community's sentiment that Micheltorena needs a bikeway not just sharrows. With Micheltorena bike lanes, the plan would serve the Westside community, an area where 8.5 percent of people ride bikes to get to work. Many more cycle when you count trips to school, errands, and rides to the beach or to visit friends.
Eve Sanford, the Santa Barbara Bicycle Coalition's advocacy coordinator makes three major points when discussing the importance of Micheltorena to the Bicycle Master Plan:
• This project will make the corridor safer. There have been 38 bike-involved collisions on the street in the last seven years, and that's not acceptable.
• The location is a common sense solution because it doesn't make sense to send bicyclists down Mission or Carrillo (both dangerous alternatives with freeway entrances), and the Sola Street option would cost $2 million for traffic signals and take 15 years to build.
• The city is finally giving the Westside bike options after it's been ignored for so long. Micheltorena has been in the bike plan for 17 years since the '98 plan.
Bike lanes on Micheltorena will give more people an affordable transportation option. The street is a key part of a complete bicycle network, but approving it will be difficult. Why is it so difficult? Because high-density rental properties, which lack adequate off-street parking, make implementing bike lanes on Micheltorena a political hot potato for City Council members. I'm a cyclist not a traffic engineer so I don't know what is the best solution. But I know it's not some of the ideas that I've heard and read such as a separate bike bridge over 101 on another street, making Micheltorena and Arrellaga one-way couplets, turning a sidewalk into a bike lane, or restricting cyclists to only riding on several north-south and east-west routes.
I also know that parking has been removed or limited on other Santa Barbara streets, and residents and businesses have survived and thrived. Other cities across the country have found practical and balanced solutions to the needs of residents, businesses, and road users. Change is difficult, but surely Santa Barbara can take one small step forward to make our streets safer for all. Ranting, stereotyping, or threats won't help find the answer. Solving the problem in a way that respects both cyclists and residents will take creative problem solving, political will, and, most importantly, leadership.
Cyclists must continue to tell our city officials how essential Micheltorena is to the bike plan. Everyone will the opportunity to be heard at a series of public meetings over the next few months. Be there. Be heard, propose creative solutions, and let's respect each other. Here's the schedule:
• Planning Commission public hearing on December 10 at City Council Chambers (735 Anacapa Street) 1 p.m.
• Transportation and Circulation Committee Public Hearing on December 10 at Gebhard Public Meeting Room (630 Garden Street) 5:30 p.m.
• City Council in early January
I was recently challenged to name the three major elements that I'd like to see in the Bicycle Master Plan. Rather than naming three streets that need a bike lane, an intersection that isn't safe, or a gap in our existing network, I have a simple request. Santa Barbara's city planners, engineers, committee members, and elected officials should write and approve a plan that makes them proud to have their names on it and that all Santa Barbara residents deserve.