News
Mental Health Hearing Gets Hot
And the County ADMHS Director Loses Her Cool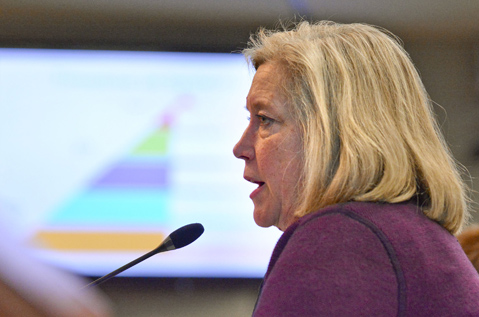 There was much talk about "the elephant in the room" during the Board of Supervisors' lengthy discussion of major reform efforts underway the past two years on how mental-health services are delivered in Santa Barbara County. There was even some discourse on the proper way to eat an elephant, which according to Supervisor Steve Lavagnino is "one bite at a time."
Lavagnino was referring to the approach necessary to turn so vast a bureaucracy as the county's Alcohol, Drug and Mental Health Services, otherwise known as ADMHS, around. But the other references to elephants functioned as a political Rorschach test of sorts, with allusions to the majestic pachyderm referring alternately to the mentally ill locked up in County Jail, to the lack of beds set aside in Santa Barbara for the mentally ill, and finally to Laura's Law, which empowers local judges to order the service-resistant mentally ill into treatment.
Tuesday's hearing was supposed to be an in-depth progress report on the strides made by ADHMS since 2013, when private consultants issued two massive reports detailing the myriad ways in which the department's acute dysfunctionality undercut its ability to provide services. But mental-health advocates upset at the slow pace of reform relative to the miserable experiences endured by their loved ones upstaged ADMHS chief Alice Gleghorn's detailed presentation, weighing in emphatically and passionately on behalf of Laura's Law, urging county supervisors to opt in as 15 other counties have already done.
New to their ranks was a letter of support from the Santa Barbara Downtown Organization, upset about the mentally-ill homeless who congregate on State Street. Lompoc Police Chief Pat Walsh stated 30-40 percent of all calls for service in Lompoc involved the mentally ill. Former County Fire chief Tom Franklin described the agonies of navigating treatment for a troubled family member. While he praised ADMHS chief Alice Gleghorn for making "amazing progress" in implementing reforms, it was still too slow. "For many of the people speaking here," he explained, "this is an emergency." Like Franklin, Dave Saunders ​— ​right-hand man to District Attorney Joyce Dudley ​— ​testified the time to implement Laura's Law is now. Specifically, they urged the Board of Supervisors to spend the $121,000 they budgeted this last summer to enact the regulation.
The last time Laura's Law was before the supervisors, Gleghorn made it clear she regarded it as a serious distraction to the improvements she was hired a year ago to make happen. In the back and forth this week with mental-health advocates, tempers flared and nerves unraveled. Supervisor Lavagnino lashed out at those who argued against new jail cells in favor of mental-health beds, pointing out there'd been 11 homicides in his hometown of Santa Maria this year. "For some people, it's never going to be enough," he said.
Even so, other supervisors were inclined to make the effort. When they asked Gleghorn to report back in 60 days with another progress report on "Systems Change," plus some design plans for the Laura's Law pilot program, her voice cracked and quavered. "With all due respect, supervisors, I've spent the past two months, 80 hours a week, working on this report." To be asked to file another one in two months, she said, was "not very promising."
Three of the supervisors gushed in their praise of Gleghorn's work thus far. Supervisor Peter Adam was especially lavish, exclaiming that Gleghorn has learned how to "herd quails." And by many measures, the department has made significant efforts to become more welcoming to clients, more responsive to their needs, and far more collaborative with the nonprofit organizations that provide the lion's share of the clinical services dispensed with ADMHS dollars.
Although bed spaces remain at a premium, the department recently opened a new eight-bed facility where patients recovering from acute crises can get up to three months of supervised care. It's about to open a "critical service unit" offering 23 hours of care for those on the verge of posing a threat to themselves or others in Santa Barbara, and it has just purchased the land to build another such facility in Santa Maria.
Ultimately, the supervisors modified their request for new info, asking Gleghorn to show up in 60 days with a much-abbreviated update on the pace of reform and in 120 days to discuss Laura's Law.