Columns
A Community Measured by Its Parks
Isla Vista's Parks Express the Community's Zeitgeist.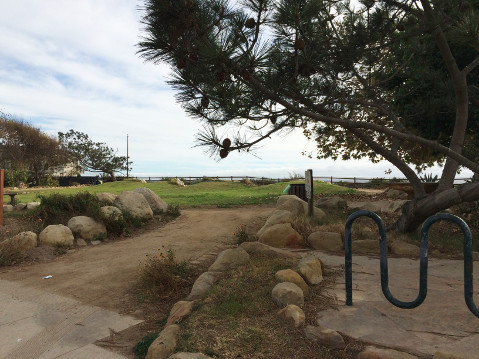 Geodesic domes glow with strings of lights, local artists jam to their own tunes, and community art is displayed along the lawns. On the first Friday of every month, one of Isla Vista's parks — typically around the bottom of the "Loop" downtown — hosts an Isla Vista First Friday — a community-oriented, arts-focused block party that originally emerged from a UCSB class focused on hands-on, I.V.-based projects. As the university and resident groups have begun taking a more active role in influencing I.V.'s culture and directing its ongoings, the town's parks have once again become the stage upon which the community expresses its zeitgeist.
I.V.'s 25 public parks and open spaces, primarily clustered around the Loop, the northwest quarter of town, and along the bluffs, are a stark contrast to the dense and omnipresent urban build-out, yet are as varied in their own arrangements and manicure as the community's residential lots and edifices.
Overseeing the 58 acres of parkland is the Isla Vista Recreation and Park District. Established in 1972, the IVRPD is I.V.'s only elected body and currently the closest thing the town has to its own government. The five-person board, with the help of a grounds-keeping crew and administrative positions, regulates development, oversees park upkeep, and has the power to establish park ordinances that address everything from alcohol consumption to slacklining to pet waste. With its income based on property taxes, the IVRPD operates under a roughly $1.3 million budget.
The first preliminary steps to I.V.'s current park arrangement came back in the 1920s, when the mesa was first subdivided into lots by landowners, and then in the '50s with the town's original land-use zoning. Yet, only one park had been developed by 1970, according to Christina Ziegler-McPherson's detailed history of the IVRPD, 'More Than Just Parks': The Isla Vista Recreation & Park District, 1972–1998, and it wasn't until around then that I.V.'s parkland began to see an uptick in recreational use.
With the sudden growth of environmentalism and civil unrest in the idealistic and countercultural years of the late '60s and early '70s, Isla Vistans took to their parks to express themselves. Little Acorn and Perfect Park witnessed stare downs between disgruntled students and law enforcement, while a number of parks became the homes of community gardening projects. For a time, a pair of horses aided small-scale farming efforts, and during the '70s, at least a dozen students at a time lived in tipis on the 6700 block of Sueño as they practiced a "non-consumptive alternative lifestyle."
As much as they're utilized for human recreation and expression, however, I.V.'s parks are also geared toward supporting local flora and fauna. The IVRPD plants native species and employs organic maintenance methods whenever it can, and Anisq'Oyo' and the three undeveloped open spaces' pond and vernal pools support a variety of birds and aquatic fauna.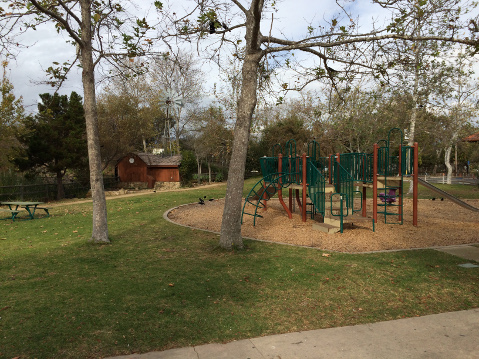 With community members and the university's renewed efforts to sand the rough edges of I.V.'s wild culture, the parks have increasingly become the focus of I.V.'s uptick in organized artistic expression and alternative activities. Isla Vista First Fridays serve as both an opportunity for musical and visual artists to showcase their work as well as a substitute for partying. The IVRPD initiated Meet Your Neighbors Day, a block party of recreational activities and arts intended to knit closer the often-disparate demographic patches of the I.V. quilt. Each spring, the Chilla Vista concert dominates Anisq'Oyo', People's, and Perfect parks, and Earth Day still commands a sizable festival.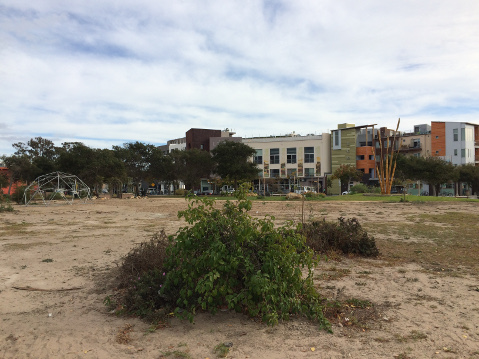 "Access to open space is a quality of life issue and critical to the health and well-being of the community," Rodney Gould, IVRPD's general manager, told me in an email. "In Isla Vista where housing is so dense, there are many residents who would not have adequate access to outdoor space if not for the parks."
Despite their necessity, however, I.V.'s parks face a considerable and intensifying threat from the drought. According to Gould, the extremely dry conditions are especially hard on the parks' trees, which are left more vulnerable to disease and pests. Even after cutting water use considerably, Gould said, the IVRPD still expects to see its water costs double given the Goleta Water District's new rate structure.
The increasingly severe conditions, though, haven't halted community efforts to continue transforming the parks themselves. One of the latest projects coming out of a collaboration between the IVRPD, the American Society of Mechanical Engineers, and other local organizations looks to install solar-powered lighting in Greek Park to combat safety issues and promote alternative activities.