Arts & Entertainment
Mariachi Los Camperos de Nati Cano Moves Forward
¡Viva el Arte de Santa Bárbara! Presents Legendary Band with New Leader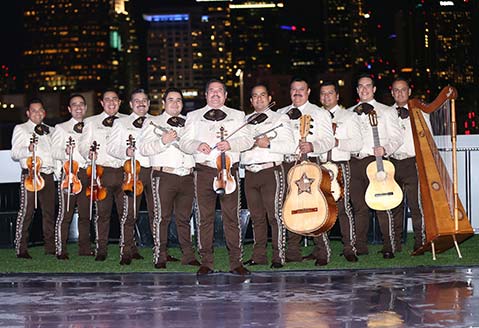 This weekend, the cross-county, collaborative cultural program ¡Viva el Arte de Santa Bárbara! brings legendary band Mariachi Los Camperos de Nati Cano to Santa Barbara stages north and south. The Grammy Award–winning ensemble will present its world-renowned mariachi in a series of free community-outreach performances, beginning Thursday, January 7, with a mariachi workshop at Isla Vista's St. George Family Youth Center, followed by a Friday, January 8, performance at Isla Vista School and a pair of matinees and evening shows at the Guadalupe City Hall Auditorium and Santa Barbara's Marjorie Luke Theatre on Saturday and Sunday, January 9 and 10.
The group arrives in a state of revitalization and transition following the 2014 passing of its namesake founder, Nati Cano, who began the group in the 1960s. Taking the leadership helm is Jesús Guzmán, who joined the group in 1989 and has served as its music director for decades. Guzmán has assumed the role just as the group is planning to reopen its famous La Fonda restaurant in Los Angeles, where Cano is largely credited for introducing mariachi to a worldwide audience through mariachi dinner theater performances starting in 1969. Guzmán will oversee the restaurant's reopening after being closed for almost 10 years. Through his famed dinner theater, Cano's twist on the mariachi tradition made a massive impact on the musical culture, spreading the Mexican music to new audiences.
Guzmán has upheld this balance of progression and preservation on the group's newest album, Tradición, Arte y Pasión, released on Smithsonian Folkways, which encapsulates a century's worth of musical histories and genres, from folkloric melodies to military music to movie soundtracks. As leader, Guzmán says he hopes not only to "preserve the tradition" but also to "renovate and sophisticate."
Cano's shoes are huge ones to fill, but it's a daunting position that Guzmán has taken on with pride. "Nati Cano, he saw a strength in me," says Guzmán. "It's a lot of responsibility, but I'm really happy."
He hopes to carry on Cano's words of encouragement and says the group is moving ahead with optimism. "He told me to always play with your heart, and don't be concerned with the rules — to play with pride and go forward. That is what I'm doing, and that is what I will do."
For set times and more information, visit facebook.com/VivaelArteSB.