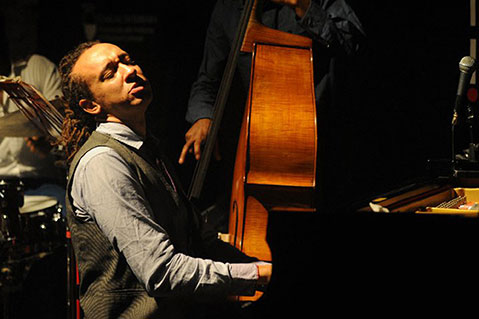 For nearly six decades, the annual Jazz Festival has put Monterey's County Fairgrounds on every jazz lover's map as a premier destination. Beginning in 1958, and continuing unfailingly every year since, the festival has featured both the best-known and the most influential musicians in jazz. From legends such as Billie Holiday (1958) and John Coltrane (1961) to the hordes of hip high school students who compete there, Monterey attracts musicians and audiences of all ages to the eight venues of its 20-acre site, and just being there lends an added sense of excitement to every performance.
But what if you can't make it to Monterey? Or what if you did go to the festival, and now you don't want to wait a whole year for your next fix of jazz heaven? Either way, you can relax, because the Monterey Jazz Festival on Tour (MJF Tour) is bringing the music to you. On Thursday, January 14, UCSB Arts & Lectures presents the Monterey Jazz Festival on Tour band at Campbell Hall. It's an all-star outfit with a mission, and that is to tell the story of Monterey Jazz with a shot of the festival experience to fans around the world. This edition of the band includes Raul Midón, Ravi Coltrane, Nicholas Payton, Gerald Clayton, Joe Sanders, and Gregory Hutchinson, with pianist Clayton serving as music director. I spoke with him about the band, the festival, and the upcoming tour, which kicks off with the UCSB gig, and he helped me imagine what to expect when these distinguished artists mount the stage.
As a student at the Los Angeles County High School for the Arts, Clayton made his first appearances at Monterey in the high school competition, and surprisingly for someone in the responsibility role of music director, that wasn't all that long ago. Clayton, who is just 31, has already made six albums as a leader or coleader and received a clutch of Grammy nominations. The rhythm section of the MJF Tour band, Sanders on bass and Hutchinson on drums, also plays together as the Gerald Clayton Trio. At the moment, Clayton's other gig happens to be with Santa Barbara's own Charles Lloyd, who has a reputation for discovering and supporting incredible keyboard improvisers, from Keith Jarrett and Michel Petrucciani to Jason Moran and, now, Gerald Clayton.
"The thread of the music that we play in this group is that it celebrates the people who have appeared at the Monterey Jazz Festivals over the years," Clayton said. "For example, I'm arranging ''Round Midnight,' 'Lush Life,' and 'What Is This Thing Called Love?' right now," he said. "There will be something associated with Miles Davis for sure, and since all the guys in the group are stars in their own right, each arrangement will be designed to be an eclectic intro to what one or more of them can do."
Saxophonist and composer Coltrane is of course the son that Alice and John Coltrane named for Ravi Shankar, another performer with important ties to Monterey. Likewise, trumpeter Payton comes from a distinguished jazz background, having grown up in New Orleans as the son of legendary bass player Walter Payton. The most unpredictable member of the lineup, blind singer/songwriter and acoustic guitarist Raul Midón, may also prove the most delightful. His Stevie Wonder/Donny Hathaway–influenced originals channel the joy that is a warm afternoon in Monterey nicely.
4.1.1
UCSB Arts & Lectures presents the Monterey Jazz Festival on Tour at Campbell Hall on Thursday, January 14, at 8 p.m. For tickets and information, visit artsandlectures.sa.ucsb.edu or call (805) 893-3535.