Science & Tech
Wave Energy Exploration Continues
Dehlsen Associates Gains Over Half-Million Grant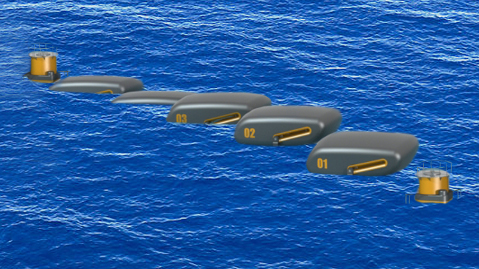 A floating concept to reap wave energy offshore just received a $600,000 Next-Generation Marine Energy Systems grant from the U.S. Department of Energy. With successful sea trials under its belt, the Centipod system being developed in Santa Barbara generates electricity as its 30-foot buoys rise and fall, driving generators in the tubular backbone structure, explained Alan McCall, project engineer.
Developer Dehlsen Associates envisions that Centipods floating offshore could deliver utility-scale electricity for cities. The company was one of six nationwide awarded a total of $10.5 million in December for marine energy design and operation systems by the Energy Department.
The fresh influx of funds allows Dehlsen engineers to test the Centipod's durability and survivability in simulated rough seas, McCall said, using a Naval Surface Warfare Center wave tank in Maryland and a 1/20th-scale miniature. The toughness tests and further computer modeling will lead to ways to reduce the loads and stresses on the structure for better and potentially more economical design, McCall added. One of the key goals of wave energy converters is to produce energy at a competitive cost.
Dehlsen Associations — led by James Dehlsen, a cofounder of Clipper Windpower — has been working on the concept since around 2008. The working model has evolved from a long line of buoys, hence the name Centipod, to a prototype design with five. The sea trials were held in 2013 off the coast of Oxnard, and the device is destined to operate two to five miles offshore.