Film & TV
'One More Time'
Director Robert Edwards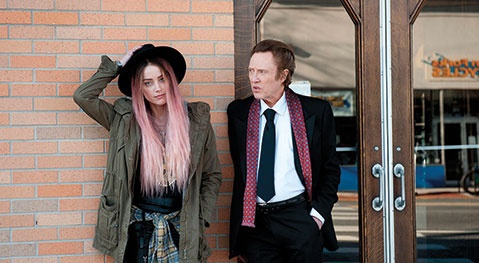 Christopher Walken stars as an aging crooner whose struggling yet talented daughter, played by Amber Heard, leaves New York City for their old home in the Hamptons to wallow and get her life straight. Family tension, new tunes, and awkward therapy ensue.
Why make a movie about the home life of a fading musician?
I was interested in the idea of an artist whose personal life is at odds with his professional reputation. I seized on the idea of a crooner famous for his deeply romantic love songs but who in his own life was an absolute trainwreck to be romantically or otherwise interpersonally involved with — the kind of world-class narcissist who left a trail of emotional wreckage in his wake with everyone who ever got close to him. There are a number of real-life examples that come to mind. From there I began thinking about what it must be like to be in the orbit of someone like that — specifically, to be in the family, and even more specifically, to be his daughter.
What drew Christopher Walken to the project?
I had numerous meetings with him before he signed on, including, at his request, acting out the entire script one-on-one where he read his part and I read all the others. That was certainly a little intimidating. Later we also did a full-blown table read with him and a dozen actors before he agreed to do the film.
He's very methodical about how he approaches his work, which I completely respect. I think his great intelligence is an aspect of him as actor that gets short shrift because it's obscured by his famous eccentricity. But he's razor sharp, not only about his role and a given script but about every aspect of the filmmaking process.
From my perspective, I knew we need someone to play Paul Lombard who could bring immense charm and charisma to the role, because on paper Paul can read as pretty harsh. But of course Christopher Walken brings those qualities in spades. So much so, in fact, that in early cuts of the film we had the opposite problem. No matter what Paul did, the audiences loved him and forgave him everything and blamed his daughters on every occasion. We used to joke that we could have Paul whip out a chainsaw and cut off Jude's head and the audience would still say, "Oh, he's so lovable!" So it took a lot of delicate, surgical adjustments to bring the balance back into whack. That's the immense power of Christopher Walken and how much people love him.

Though this film is about musicians, do you think the family dynamics are paralleled in more "normal" families?
Absolutely, and a lot of audience members have said that to me, in terms of relating to the Lombard family. Apparently Tolstoy was wrong: every unhappy family is NOT unhappy in its own way. I don't come from a show business family, I have no background in that world, I don't have any sisters, so none of this comes out of my own personal experience (apart from being a terrible narcissist myself). So forget that old saw that you should "write what you know." I live by the guideline: "Write about things you know absolutely nothing about."

Were the song written especially for the film?
It's a mixture. The title track was written into the script; I wrote the lyrics and later asked Joe McGinty to write the music. Joe is a genius piano player who used to be in the Psychedelic Furs and who's played with everyone under the sun and leads the famous Losers Lounge revue in New York. We had a lot of fun doing the different versions of that track: the solo one Paul sings for the family, the fully orchestrated big band version (arranged by Joe and the saxophonist Mike McGinnis); and the jazzy version Jude sings alone at the piano at the end of the movie.
Joe and I also wrote the song "You Temptress You" which opens the movie and is meant to be an early Paul Lombard track from the beginning of his career, and we wrote the radio jingles, which were fun. I wrote the song "Montreal" that Jude sings late in the film, and Joe appears on camera at the beginning of the open mike scene singing one of his own songs ("This Song Is Three Days Old"). The song Jude sings in that open mike scene is called "Ludicrous Heart" and was written by Christina Marrs of the now-defunct Asylum Street Spankers out of Austin. I was a big fan of that band and first heard them play that tune right before they broke up. I don't think they ever recorded it. It's a beautiful song and since it was almost unknown I thought it was a perfect track to play the part of an original composition by Jude.
Of course, there's the famous 1967 Frank and Nancy Sinatra duet "Somethin' Stupid," written by C. Carson Parks, that Paul and Jude sing together. That song helped inspire the whole movie and was a pivotal scene in the writing of the script: this moment when Paul the performer overwhelms Paul the parent and he can't help himself from upstaging his daughter. In that moment she ceases to be his child and just becomes a rival, which is emblematic of their whole dynamic.
The source cues are also very near and dear to me, including the Tom Tom Club, the Bonzo Dog Band, and the Nina Simone rarity that ends the film, "22nd Century."
The family table banter is great. Did you pull from your own experience for any of that?
Only in that I love dialogue, and I love Robert Altman, and I love movies where everyone is talking at once and you have to work to pick out pieces amid all the layers, much of which is just texture anyway — just like real life. I'm not a fan of the stilted, pristine dialogue you often hear in movies and TV and onstage: it just feels very artificial and unlike the messiness of actual conversation. I wanted these characters to talk over each other and interrupt and go off on tangents and talk about things that had nothing to do with the plot….exactly like real families do, and real people in general. I come out of a documentary background so that kind of verbal chaos is very comfortable for me.
Along with Altman, "Diner" to me is the wellspring of all that in modern American cinema. Without "Diner" there is no "Seinfeld," no "Reservoir Dogs," no mumblecore, no nothing. Ironically, it was logistically very hard to create that kind of pseudo-naturalism in terms of planning how to shoot it, directing the actors, and then later editing the scenes. It was super hard to construct the illusion of realism. But those are my favorite parts of the movie.