Arts & Entertainment
Felly Gives Hump Day Reprieve
L.A. Rapper Joined by 805's Young Mish, Dosia, The Mbreo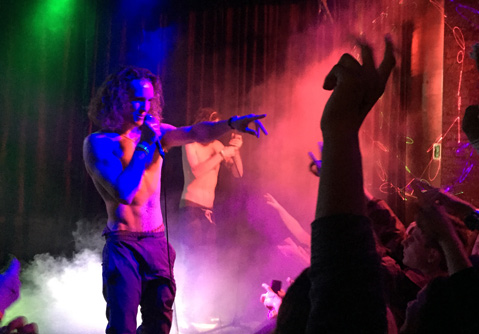 On Wednesday February 17, Velvet Jones played host to a lineup of four hip-hop acts, with L.A.-based rapper Felly being the main draw. Opening with The Mbreo, who was later joined onstage by friend and fellow rapper Sashini the Samurai (and whom I had the pleasure of speaking to before the show started, while he attempted to calm his nerves about what would be his debut performance). The show's message of positivity was clear from the outset, with songs such as "All About Rhyming" (because "life's all about rhyming, baby") keeping things uptempo. The audience of largely under-twenty-one-yera-olds was then treated to two local Mcs, Young Mish and then Dosia, all seamlessly woven together by the skillful stylings of DJ Kush.
Felly's own performance was exactly as the title of his latest single ("Sun and Good Loving") would suggest, which is to say that the show was all about good vibes and sunshine, an attitude he truly exuded in songs like "Horchata (Waves)," and "7th King," which is a song "all about feelin' good, nothin' else." Felly's drummer Gyyps, a producer/rapper himself, occasionally took over the mic with his own chilled-out numbers such as "Candy Flip" and "Drumma." At one point, Felly stopped to appreciate that we were all there on a Wednesday evening, admitting that it may not be the most convenient night of the week for us to go see a rap concert.
Even so, ending every song with a warm "Santa Barbara, what's poppin'!", followed by multiple exclamations all similar in form to "this is fun!" the positive energy and smile the rapper wore on his face throughout seemed to be a pleasant midweek reprieve.