Theater
The Comic Strippers Take it Off at the New Vic
Show Turns Traditional Sexuality-via-Stripping Inside Out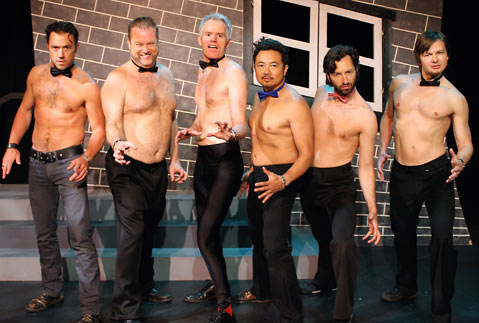 From the sticky floors of the Spearmint Rhino to flashy films like Magic Mike, stripping is a performance genre that appeals to a wide variety of people. It has, however, the inevitable seedy association with women on poles high-kicking for dollar bills. The term "stripping" doesn't necessarily conjure the hilarity of slapstick comedy — until The Comic Strippers come to town.
Fresh off hit shows from Vancouver and venues down the coast, The Comic Strippers (and their shirts) are hitting the stage at the New Vic. But this is no hen party for thirsty singles: The Comic Strippers is a male stripper parody and improv comedy show that turns the traditional ideas of sexuality-via-stripping inside out.
The cast includes Roman Danylo, Ken Lawson, and Chris Casillan — all veteran comedians and improv artists. You'll also recognize David Milchard from his hysterical viral Youtube videos, "Conversations with My 2 Year Old." As The Comic Strippers, these artists prove that "sexy" and "funny" are two completely different means of presenting a teasing burlesque. In fact, this show comes with a warning: No Extreme Nudity!
Milchard, who's produced a number of touring comedy shows, said he's always looking for concepts with a new twist. "One night my wife came home from a real male stripper show and told me how packed and crazy it was," Milchard said of his inspiration to create The Comic Strippers. "I was like, we have torsos. We can do that." The guys took a photo in poses meant to be sexy, and as expected, the results were more hilarious than sultry. The group first produced the show at the Adelaide Fringe Festival in Australia. They've toured Canada, and have now brought their "sexylarious" show to the West Coast.
The troupe teasingly refers to itself as having "comedy bodies"; but with "dad-bods" being the current rage, maybe comedy bodies are sexier than expected. Milchard uses the phrase "comedy bodies" to convey that these guys don't take their physiques too seriously. "The term came from a comedy writer friend of mine who recognized that not being in traditionally perfect shape when removing your shirt in the comedy world is actually an asset," Milchard explained. "Conveniently for us, our parody of male strippers doesn't come with the requirement to be in great shape — although, sometimes you'll see some of our comedians back stage doing one push-up in a last-minute, futile attempt to buff up."
The improv aspect of this show is like a shirtless "Whose Line is it Anyway?" with audience interaction and suggestions. Billed as "semi-undressed and completely unscripted, The Comic Strippers take off their shirts and take on your suggestions to create a whole new genre of comedy." Milchard even promised a bit with Ping-Pong balls that you'll have to see to believe.
4•1•1
The Comic Strippers play Friday, March 4, 8 p.m., at The New Vic Theater, 33 W. Victoria St. Call (805) 965-5400 for tickets ($30 general; $25 for groups of six or more).