News
Water Doomsday Averted
Emergency Deal Reached to Pump Last Lake Cachuma Supplies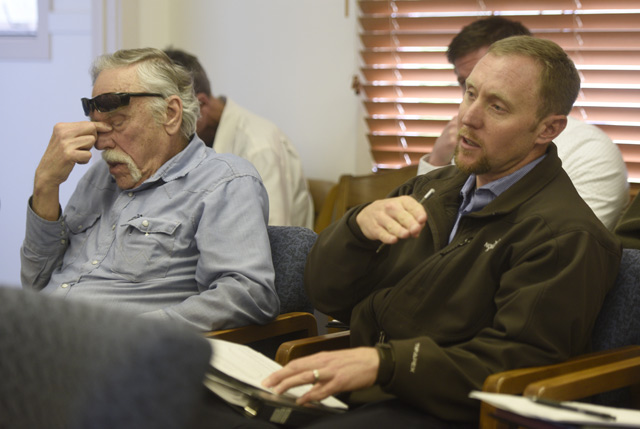 What could have been a do-or-die showdown between feuding water agencies over the last few gulps of water in Lake Cachuma was averted Monday afternoon, meaning South Coast agencies will soon be allowed to move an emergency pump and barge to a deeper part of the reservoir.
The practical effect of the unanimous vote by the Cachuma Operation and Maintenance Board (COMB) is that South Coast managers ​— ​who rely on Cachuma for 50 percent of their total supplies ​— ​will be able to continue pumping from the lake for at least a year longer than if the barge wasn't moved. Had the Santa Ynez water agencies serving customers living downstream blocked the move ​— ​as had been threatened ​— ​some South Coast departments warned they would not be physically able to deliver water to customers living on upland terrain.
A few Santa Ynez managers had objected that by moving the barge, the South Coast would be effectively stealing water that belonged to downstream agencies. They demanded guaranteed safeguards that South Coast purveyors would not poach their water. Given that a unanimous vote appeared to be required for COMB to approve moving the barge, the Santa Ynez water interests appeared to hold veto power. (The word "appear" is used because legal opinions on those questions appear to shift from day to day.)
The heat generated by the two sides of this debate had almost been enough to boil what water's left in Lake Cachuma. That cooler heads eventually prevailed was the result of desperate, nonstop, backdoor diplomatic efforts, including a three-hour break-bread-not-heads lunch at Cold Spring Tavern between Santa Barbara water warrior Bendy White and Santa Ynez chieftain Kevin Walsh.
While many of the bones of contention between north and south date back nearly 100 years, there's new and angry urgency because the dam has dropped so low that for the first time ever, no new water deliveries are being made this year. (The water being pumped from Cachuma now is either carried over from the previous year thanks to conservation efforts or water bought from Central Valley rice farmers and funneled into the lake courtesy of the state water pipeline system.) Or as one senior water planner said, summing up the predicament facing the five water agencies drawing from Lake Cachuma, "Zero divided by five is zero."
Santa Ynez water agencies have come to rely on massive downstream discharges ​— ​about 6,000 acre-feet's worth ​— ​every other year to replenish the groundwater basins upon which 80,000 customers rely. Santa Ynez interests worried that if the barge was allowed to pump in deeper waters, the lake level could drop so low that this year's discharge wouldn't have enough "head" ​— ​pressure created by the weight of water—to make it all the way downstream. For any deal to pass muster, this concern had to be addressed. It was.
COMB boardmembers voted 5-0 in favor of language that will allow the barge to be moved as early as this June. The contractor needs 90-days advance notice, so for that to happen, the vote had to occur this week. Even with this reprieve, the water agencies drawing from Cachuma have plenty to worry about. Currently, the lake's water level is at 664 feet, but once the dam drops to 643 feet, no more pumping is allowed. Period. At that elevation Cachuma will have dipped down into what's ominously referred to as the Dead Pool. Because it's so close to the lake bottom, the Dead Pool poses serious water-quality problems. It's also necessary to maintain so that the state water being pumped into Lake Cachuma can actually get near the barge and pump.
Even with moving the barge, engineers estimate Cachuma will drop to the Dead Pool around November 1. At that time, the only water that can legally be pumped from the lake will be the state and rice-farmer water. How much of that will be on hand remains a dicey question. South Coast agencies have been loath to put as much state water into the lake as they could, preferring to store much of it in reservoirs elsewhere.
That's because federal rules require water districts to deduct the amount of water that evaporates off Lake Cachuma from any water stored in the reservoir. But for reasons arcane and mystifying, the same evaporation losses are not assessed at water stored in other reservoirs. That makes sense for individual districts attempting to maximize limited resources. But for those concerned about the dam going dry, it creates an undeniable sense of suspense.