Opinion
Young and Homeless: Who Cares?
Noah's Anchorage Does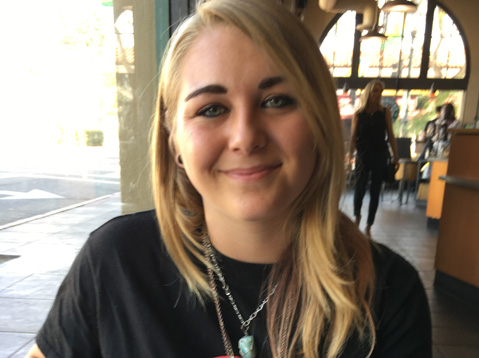 NOAH'S ANCHORAGE DOES: At 19 and already a mother, Santa Barbara–born Daniella is a veteran of surviving on our streets.
Homeless off and on since she was 15, she's grateful for help from the Noah's Anchorage center, which tends to the needs of a group of young people who gather downtown, as well as kids on the road, just passing through.
Since the birth of her son, Lukas, now 7 months old, Daniella has been back living with her mother, but she's keeping in touch with her homeless friends while job hunting with the help of Noah's Anchorage and preparing for school at Santa Barbara City College.
Her ambition: to become an EMT (emergency medical technician). She's well-spoken and shows a healthy measure of self-confidence.
On a daily basis, Noah's Anchorage outreach and support specialist Jaan Landheer and other workers head out to contact homeless youths who live on the streets, often not knowing where their next meal is coming from or where they'll sleep. Some are couch surfers, moving from place to place or briefly crashing with friends, squeezed into an apartment or car, always on the move. Others sleep in the bushes by the freeway.
"Most want to get off the street," Daniella told me. "Some have drug problems."
Noah's is well-known among them and runs a drop-in center at 301 West Figueroa Street, a few blocks from downtown. They go there when hungry or thirsty, or clothes are dirty or soaked from a rare rain and would benefit from a washing machine. Need time on a computer to check on a job application? Could use a bed for the night in an emergency or help finding housing through a reduced-cost program? Go to Noah's.
I dropped in myself one afternoon for a chat with Landheer and then met Daniella for coffee at Starbucks. Her story? "I always had problems with my mom," to the point where she had to leave home. Now that she's back with Mom, she hopes to move out in a few months and become self-supporting.
The life of the homeless comes down to the basics, she said. "Where am I eating tonight? Where am I sleeping?" At 18, she found herself pregnant and her boyfriend gone. A onetime Dos Pueblos High student, she then enrolled at La Cuesta continuation school but found it "super hard" to manage school, pregnancy, and life on the streets.
"I'm trying to get a job so I can move out," she said, and in the meantime is on a long waiting list for Transition House family shelter. "I have a savings account, and I'm living on my tax return." She also has a cell phone and says she's computer-savvy.
Although she's well aware that life on the mean streets is dangerous, the young men in the group "kind of protect" the girls so they "get back to their camp space" safely at night, Daniella said.
She paints a picture of a brotherhood and sisterhood among the homeless youth, tending to look after one another, "making sure everyone has a blanket and has eaten."
While homeless, "You meet lots of people and hear their stories," she said. "I don't judge people."
Outreach specialist Landheer is local, too: La Colina, San Marcos High, and then UC Santa Cruz. At Noah's Anchorage, "We're looking for young people who are homeless or at risk of becoming homeless. We know most of the homeless around town and get to know their needs. It's a slow process.
"A majority of the local homeless are either looking for employment or working," he said, and having trouble holding a job while living outdoors.
Those drifting in from out of town are encouraged to get in touch with their distant families or get in contact with an organization that in some cases provides a free bus ticket home. They're also advised on safer ways to travel, such as avoiding hitchhiking, Landheer said.
"A lot of the time, they are running away from abusive situations or are just done with traveling and want to go home."
Noah's Anchorage works with youth up to age 24, supported by the Channel Islands YMCA Youth and Family Services program and a federal grant.