It's 10:30 a.m. on a beautiful weekday morning, and I'm sitting with Alan Macy just out of the reach of the hot sun in an old warehouse at the back of his property on lower Garden Street. I'm looking out at the courtyard toward the several impressively modern buildings that compose the Santa Barbara Center for Art, Science and Technology (SBCAST), but Macy is staring up at the ceiling, or more precisely, at the new conduits that carry the structure's recently installed electrical wiring. "Look at those benders" he says, referring to the curved sections of pipe that house the shed's power lines. "That work was done by Huddleston Electric, and it is so beautiful that when the guy who came to install our new gas meter saw it, he asked if he could take a little more time to plan his contribution because he felt the urge to up his game."
Attention to detail and pride in craft are recurring themes at this new facility, where artists, scientists, and technologists are destined to live and collaborate on an ad hoc basis. With nine affordable housing units designed to accommodate both permanent residents and visiting artists, along with a variety of community spaces and state-of-the-art workshops, SBCAST is unlike anything Santa Barbara has seen before. Modeled on facilities in San Francisco, Amsterdam, and Rotterdam, SBCAST promises to provide the emerging Garden Street arts corridor between Cota and Haley with a much-needed shot of international aesthetic energy. Already in use by a troupe of international aerial dancers, the project will continue to host a diverse cast of innovators for many years to come.
With his casual attire, light-colored mop of tousled hair, and hipster/nerd eyeglasses, Macy looks every bit the part of the successful 21st-century entrepreneur, but the more he talks about what led him to create SBCAST, the more he reveals an idiosyncratic vision that separates him from the run of business-oriented tech executives. A grad of Cal Poly and UCSB, Macy trained as a scientist and an electrical engineer before founding Biopac, the biotech company he launched in Goleta back in 1984. His passion for innovation lives on in this new project, which will be both an incubator and an educational center. An attentive listener and a gifted mentor, Macy has found a way with SBCAST to translate the deepest insights he has gained through his scientific research into a social project, the scope of which goes far beyond nurturing start-ups or inventing the next gadget.
Macy's intense dedication to distinguishing signal from noise is perhaps his leading characteristic. As an electrical engineer and a physiologist, he has made several key advances in the field of medical software. The sensors, filters, and displays he designed for Biopac allow doctors and medical researchers not only to acquire important statistics concerning an individual's heart rate, breathing, blood pressure, eye movements, and mental activity but also to separate that data from the static that accompanies it and to turn it into useable information. The mission of SBCAST reflects this predisposition, and the center will succeed to the extent that those who use it share in Macy's ingrained habit of focusing intently on those aspects of a situation that really matter.
New Ways to Fly
Thanks to the recent revolution in personal technology and global connectivity, the creative landscape of the 21st century will look quite different from anything we've seen before. For example, at places such as SBCAST, traditional distinctions between such public venues for art consumption as the theater and the gallery and private spaces of production such as the workshop and the studio are fading fast. With its emphasis on collaboration in low-cost "light industrial" working spaces and a green vision of the new urban infrastructure, SBCAST aims to deliver an experience to every visitor that's fully participatory, personal, and communal. Glowing with solar-powered light, SBCAST stands as a beacon on the new Garden Street arts corridor, signaling the potential for Santa Barbara to become an important destination for creative people from all over the world.
This week, the visitors to the space's temporary residences are aerialists who are in town to participate in the 2016 Santa Barbara Floor to Air Festival. The gorgeous living studios at SBCAST are brand-new and fully furnished, making them havens for these performers, some of whom have traveled from as far as France to be here.
"It's unreal," said Natalie Oleinik, who will demonstrate her extraordinary talents on the corde lisse next Friday, March 25, at the Lobero Theatre. "I've lived in caravans without running water or heat in order to do this work, and I've willingly made all kinds of sacrifices in pursuit of my art. To come here, and to be put up in such a beautiful place, is a dream come true. As soon as I got here and looked around, I felt the urge to create." New art forms like aerial dance seem to thrive in this environment, where there are not only warm beds and lovely kitchens but also industrial-strength hooks high off the ground from which to suspend all kinds of aerial apparatuses.
For Santa Barbara artist Ethan Turpin, who has a video-feedback piece playing in one of the ground-floor rooms, SBCAST is "all about emergence." The dancers who saw his piece, which is a collaboration between Turpin and sound designer Norm Reed, immediately recognized the fact that it registers changes in the room, and they set about to enter into a creative dialogue with it by moving around. This is what STEM, the much-hyped educational movement that emphasizes science, technology, engineering, and math, would look like if we started putting art first instead of adding it in as an afterthought. With his background in detecting, amplifying, filtering, and analyzing the vital signs of the human body, Macy has restored the concepts of taste and beauty to their rightful places at the center of innovative thinking.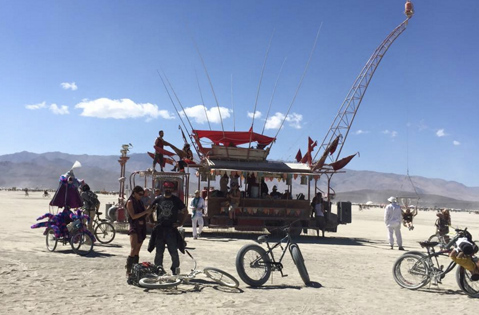 From Burning Man to the Funk Zone
Although he acquired the property on Garden Street in 2009, Macy traces the genesis of his project much further back, to the years when he and his wife, Cindy Macy, first became part of the Solstice Parade organization and then to what became known as the Fishbon collective. After a period of intense work running his company that lasted through the 1990s, Macy felt the urge to get out and play. Turning his engineering skills to solving a different set of problems, he began experimenting with interactive sculpture, creating big machines that shot flames into the sky when people approached them. A big hit at Burning Man, Macy's DIY fire-breathing techno dragons could sometimes be found on Helena Street in the Funk Zone, lighting up the night outside studios occupied by friends Tracy Beeler and Clay Bodine. Along with Dominique Reboul, Corinna Maharani, Mark Goerner, and several other key players, the folks who gathered on Helena became the "cast" who inspired the CAST, putting on a series of at once carefully orchestrated yet zany events in an earlier space that Macy acquired on Quarantina Street and named the Pescadrome.
While honing their skills at costuming, set design, scripting, and lighting, the group became a magnet for creative types from all over Santa Barbara County. Students at UCSB's Media Arts and Technology graduate program started showing up for events, and pretty soon Austin Richards, a k a Dr. Megavolt, began coming around with his amazing giant Tesla coil. Santa Barbara has always had an underground, from the days of the Mountain Drive community and even before, but it was the catalyst of Burning Man trips and the conviviality provided by Muddy Waters Café and the Pescadrome that gave this particular wave of activity its unique flavor. Perhaps the most potent symbol of the era is the Pyrobar, an art car with a dozen seats, space for a mixologist and a deejay, and of course the potential to spout flames. The Pyrobar has been built and rebuilt over and over for more than a decade. It still travels to Burning Man on a regular basis, and can often be spotted at other festivals such as Lightning in a Bottle and Lucidity.
Macy's technical expertise with electricity brought him into the sphere of Bamboo DNA for two successful installations at Coachella, and it was soon after those that he spotted the property on Garden Street and began imagining what something more permanent might be like.
Collaborating with the Architectural Board of Review
After purchasing the 0.3-acre lot at 513 Garden for $1.2 million in December of 2009, Macy turned to his brother Mark, an architect in the Bay Area, for advice about how to develop the property. At the time, the warehouse at the back was the only structure on what was otherwise a third of an acre of dirt. But it was downtown, located near both the Solstice Workshop and Art From Scrap, and within sight of a building where many fateful meetings would soon be taking place, the headquarters of the city's Architectural Board of Review (ABR). Initial plans called for a shipping-container village modeled on similar successful projects in Northern California and in Europe. Despite some initial resistance, Mark Macy's sophisticated designs and the vivid presence at ABR meetings of Alan Macy and his Fishbon cast of characters eventually paid off when the board approved plans for the development of the container village.
This made the obstacle that the project encountered next all the more unexpected. "It was approved, but when we put it out to bid, we discovered that no one in town could figure out how to plan the project," Alan Macy told me. "It was effectively unbiddable, and that was what shut down the container version, not the ABR or anything else, but just the lack of a way for contractors to quantify it." Two years into the planning, and with a hard-won approval from the board of review sitting by uselessly, Macy and his brother Mark took the whole thing back to the drawing board. Approximately 18 months later, they were ready to apply again with project version 2.0. "It was not that different, except that in place of the shipping containers, we had drawn in more conventional structures. The goals were still the same and so was the footprint," said Macy. A second round of discussions took place, and the relationship between the nascent SBCAST and the architects of the ABR blossomed into a full-blown collaboration, with ideas passing in both directions. "We learned a lot about the sensibility of the city and about the nature of what had been planned back in the 1980s for the Garden Street entrance," Macy told me. "Barry Winick, who had been working on the Coral Casino, was very supportive of what we were doing, and the whole thing became a great kind of education in new urban design vocabulary for everyone involved."
Once the necessary approvals for version 2.0 had been obtained, Macy took a rendering of the project he had made with a 3D printer to his first lunch meeting with Young Construction, the contractors who ended up doing the work. When asked what he was interested in building, Macy pulled the plastic model out of his pocket and plopped it down on a table at the Santa Barbara Yacht Club. That gesture set the actual building of SBCAST in motion. Macy has nothing but praise for what the Youngs brought to the work, offering their enthusiasm for the project as another example of the momentum created when strong craftspeople work as a team. "When people are as invested as we all were in this, good things happen," he said.
The Way Forward
Which brings us to the big question of what's next for SBCAST. Several significant players in the Santa Barbara art scene are already committed to spaces there. Lynn Hushion Holley is curating the galleries, and Maiza Hixson, the visual arts coordinator/curator of collections for the Santa Barbara County Arts Commission, lives there and is a "chance encounter specialist" (yes, that's her real title). Under the watchful eyes of Alan Macy and his wife, Cindy, other artists are beginning to take studios. The indefatigable Nancy Gifford, who has done so much for the Arts Fund and for Lotusland by curating multiple group shows, and whose giant sculpture "Lament" now graces the main room of the new library at UCSB, is another charter member of the SBCAST studio club. When the space threw its official opening party back on February 27, Dr. Megavolt showed up in his special suit and threw giant sparks 30-40 feet into the sky.
But don't expect that every night. In the meantime, what you can look forward to is a constant stream of interesting people from all over the world getting a chance to experience Santa Barbara in a new and special way. The SBCAST ethos is all about sustainability, and as a result, cars are discouraged in favor of public transport, bicycles, and walking the two or three short blocks over to the Farmers Market. Regardless of what happens next, one thing is certain ​— ​Garden Street between Cota and Haley will never be the same.
SBCAST Specs
• Nine living units priced $1,500-$2,000 a month
• Net zero solar heat and electricity included
• Studios, galleries, meeting spaces, tools, and storage available to both SBCAST residents and members of the community on an application basis
• Future public events, including open-house hours during 1st Thursday, announced at sbcast.org