News
Smart Phones = Dumb Kids?
Panel Discussion Follows Showing of Screenagers Doc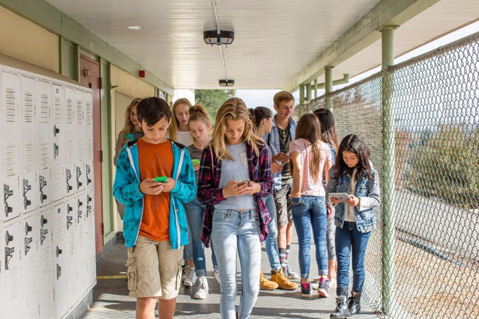 The ubiquitous smartphone, already a common accessory for high school and middle school students, is quickly making inroads among grade-schoolers, raising plenty of questions for concerned parents: What's the right age for my kid to get a phone? How much screen time is too much? And what's the best way to regulate?
These tough-to-answer questions, and many more, will reach an audience Thursday evening, March 24, during a panel discussion following a free showing of Screenagers: Growing Up in the Digital Age, at Santa Barbara Junior High's Marjorie Luke Theatre. The newly released 70-minute documentary explores filmmaker Dr. Delaney Ruston's own messy struggles with her teenaged kids' all-too-common obsessions with connecting online with friends and to the wider world in general. "The worst thing a parent can do is hand over a smartphone and hope for the best," Ruston said.
About 12 years ago, as more and more high schoolers started talking and texting on campus, Santa Barbara Unified School District banned cell phones. Since then, there's been "an evolution of policy," according to Frann Wageneck, the district's assistant superintendent of Student Services. "Now it's really a matter of students using them appropriately. In class, [phones] are supposed to be kept away unless the teacher says it's okay."
While Ruston's film does explore how schools tackle the issue, its main focus is on the impacts of screen time on young brains and the challenges faced by parents, including herself and her husband. In her capacity as the Filmmaker in Residence at Stony Brook medical center in New York, Ruston filmed family battles and bargains over smartphones, tablets, computers, and TV time at home, at school, and in the car. As a primary care physician concerned with the rapid rise of screen-time trends, Ruston decided to use her own family's story as a narrative thread on which to hang startling statistics and unsettling face-time testimony from experts in the field.
As it turns out, lab mice bombarded with flashing lights and sounds typical of today's rapidly edited content lose big-time in the maze race against their non-bombarded brethren. More startling, however, was when Dr. Nino Ramirez and his team at Seattle Children's Hospital's Center for Integrative Brain Research found that the stimulated group produced fewer newly developed brain cells on a permanent basis. Ruston also discovered similar studies much higher up on the food chain, as little humans soaked in screen time turned in duller results during cognitive tests than those who spent an equal amount of time coloring.
Another poignant segment covers how a straight-A college freshman's all-night gaming sessions cost him a scholarship and led to a rehab center for Internet addiction. Looking back in the movie, he says he's haunted by regret: "I've been playing piano for 12 years, and I never felt that I had achieved my full potential. If I had dedicated all my computer time to mastering an instrument or reading or exploring, I would be way above where I am now."
Immediately after the screening, the movie's major themes will be discussed by a panel of students, teachers, parents, a psychologist, Ben Romo of First 5, and Todd Ryckman, the district's technology director.