News
Scholarship Foundation Funds Undocumented Students
Board's Vote Opens $2 Million to AB 540 Students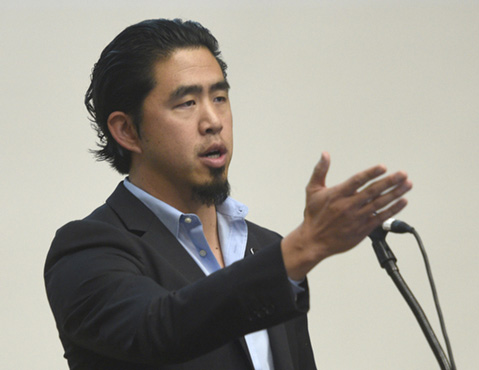 One lunch meeting this February, the Scholarship Foundation of Santa Barbara Board of Directors voted to make $2 million available to college-bound students without legal status. It was the second time the 40-member board formally voted on the controversial issue ​— ​this time with less debate.
"It's the long-awaited move we've been encouraging our community for quite some time," said Jonathan Wang, president of the Adsum Education Foundation, an all-volunteer group that raises money specifically for the estimated 2,000 or so undocumented high school students in the county. More dollars will be available to these highly qualified students, he explained. "From a broader standpoint, it's what's right."
The climate in California has grown more favorable toward undocumented students in recent years ​— ​first in 2001 with the passage of AB 540 (allowing undocumented high school students to pay in-state tuition) and 10 years later with the California Dream Act (allowing them to receive state grants). Since the Obama administration unveiled the Deferred Action for Childhood Arrivals (DACA) in 2014, education leaders nationwide have taken steps to expand affordability.
But the highly regarded Scholarship Foundation, administering awards to students seeking anything from a vocational degree to an MD, has long wrestled with whether or not to unlock its pot of unrestricted dollars (meaning donors did not specify recipient criteria).
"When we looked at what our peers were doing in higher education, it just made sense for us to align with how the state of California is treating AB 540–eligible students," said Candace Winkler, the foundation's CEO, who came on last July.
Now, the Scholarship Foundation's $2 million is not earmarked by a donor for a particular student ​— e.g., a Dos Pueblos high school student planning to study engineering. The money is open to eligible undocumented students; essentially donors now need to "opt out" rather than "opt in."
Ten years ago, Maritza Mejia-Wilson ​— ​then a foundation outreach manager ​— ​recognized a gaping omission in educational equity. "Many educators were not even aware of AB 540," she said. So she, Wang, and two friends founded Adsum.
In 2011, the Scholarship Foundation voted to take Adsum under its wing, accepting its money and matching eligible applicants as it does with all of its donors. But last year just $313,000 of its $8.7 million annual grant went to undocumented students. Of the nearly 3,000 scholarships granted to all students, 107 went to undocumented students.
"On this issue [the Scholarship Foundation] really hasn't been leading as much as following," said former Scholarship Foundation board president and current advisory boardmember Ken Saxon. He pointed to the five-year-old California Dream Act and the decisions by the Santa Barbara Foundation and the Orfalea Foundation a couple of years ago to open funding to eligible undocumented students. Of the February vote, which was unanimous, Saxon said: "It was quick."
"There are a lot of things that have changed in the four- or five-year time period since we made that decision to administer the Adsum funds," Winkler said. In that time, Wang said, they funded three high school valedictorians, "plenty of 4.0" students, and even one student who had a 5.0 grade point average (GPA) ​— ​"our academic superstars." But what this change does, Wang said, is to give all students —"not just the ones who have a 5.0" — a real chance at college. On average, Adsum high school recipients earned a 3.92 GPA and came from a household of five living on $30,296 a year.
Asked why the Scholarship Foundation took this issue up now, several sources spoke about a fear — ​perhaps an unfounded one ​— ​that this move could alienate their donor base. In addition, critics have long charged granting scholarships to undocumented students takes availability away from U.S. citizens. "There are a lot of misconceptions about who our students are," Mejia-Wilson said. "They are hard-working, incredibly talented, and can succeed academically. What would you want for that student to do with their life?"