Arts & Entertainment
Freddie Gibbs Turns Pain into Parties
Hip Hop Singer Plays to Amped Up Crowd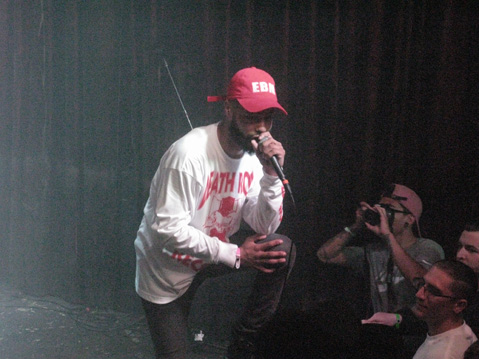 Freddie Gibbs is no stranger to the cold realities of the American music industry. As a young standout in the Gary, Indiana, hip-hop scene, Gibbs signed to Interscope Records in 2006, becoming the first rapper from that city to sign to a major label. However, a dent in Interscope's finances attributed to illegal downloading caused them to drop him a year later. The next year was an uncertain hiatus to the crime-riddled streets of his hometown, a period in his life where he developed an addiction to oxycontin and fell into a life of lawlessness. Gibbs emerged from this desperate lifestyle by channeling his experiences on the streets into music, and managed to bounce back into the game with 2008's Midwestgangstaboxframecadillacmuzik.
After his show last Thursday at the Velvet Jones, Gibbs signed pictures and vinyls passed onstage by fans after his set, showing the humility of a man who has lost everything, only to retrieve it now attached with greater personal value. Far from bashful, his songs boast triumphant lyrics in the face of adversity, spitting expansive hip-hop platitudes like, "I feel like fuck the law/Got diamonds on my rollie face I'm 'bout to cop an Audemar," and far-reaching metaphors like, "If the devil die today I'mma treat it like a holiday."
Gibbs exuded the same laid-back turn up-friendly atmosphere as his recorded songs, starting out the set with "Rearview," the opening song off his latest album, Shadow of a Doubt, released last November. The next song "Still Livin" off his 2012 mixtape, Baby Face Killa, the first of his to achieve Gold status on Datpiff, sufficiently amped up the crowd.
With the momentum in his grasp, Gibbs took a few drags off a blunt, asked the crowd if they wanted some "gangsta shit," and launched into "Thuggin'," off 2014's Piñata, which he co-created with Oxnard producer Madlib. A slew of Piñata tracks followed, including "High," "Harold's," and "Deeper." At times, Gibbs would start a song without an instrumental, as if he were lecturing instead of performing, adding an endearing personal tone to dramatic effect. Also, there's something satisfying in cutting out the middleman and hearing "Thuggin's" provocative climactic line, "Why the Feds worried 'bout me clocking on this corner/When there's politicians out here popped in Arizona?" straight from the source.
Other highlights included his verse on Young Thug's party anthem "Old English," as well as the high-end drug dealer theme song "Mexico," and "Fuckin' Up the Count," an ode to drug dealing that samples scenes from the pilot episode of The Wire. After he played his last song, Gibbs lingered onstage to greet fans and dance along to the DJ's exit music.
Opening for Gibbs was up-and-coming Maryland rapper Chaz French, who played an animated, inspired set. His hooks' intense vocals were reminiscent of trap, as was his jumping-up-and-down stage presence, which did an excellent job maintaining the crowd's pumped up energy. Many of French's songs are based on a topic that isn't easy to discuss. "Remember," off 2015's These Things Take Time, is based on a time when he was homeless in Arlington, Texas, when food was hard to come by but liquor was always available. "IDK" is dedicated to people who try to change him and his friends, saying, "Yeah, from the sleep in the cars/Not eating in weeks, family giving up a child I never got to meet/But a real nigga I remain one," and ending with French's advice to "Answer your purpose." Together, Chaz French and Freddie Gibbs are standing at the light at the end of the tunnel, turning pain into parties, and encouraging others to join in their success.