Briefs
Vandenberg Peace Protestor Sentenced to Four Months
Dennis Apel Goes to Federal Prison for Trespass
Dennis Apel, longtime peace protestor at Vandenberg Air Force Base, was sentenced to four months in federal prison this week for refusing to abide by the terms and conditions of a previous probation sentence for trespassing on base property during a commemorative demonstration protesting the first wartime detonation of the atomic bomb at Hiroshima. Apel, a committed practitioner of civil disobedience, acknowledged he refused to comply with his terms of probation because, he said, it would be "immoral" to do so. When he was initially sentenced to probation on March 6, Apel said he told U.S. Magistrate Judge Louise LaMothe that he could comply "as a matter of conscience." In this case, Apel refused to call his probation officer and make an appointment.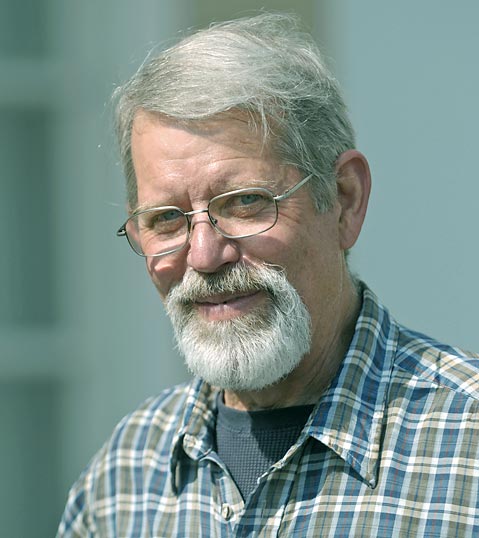 Apel is a member of the Catholic Worker movement and has providing medical care and other social services to farmworkers in Guadalupe for the past 20 years. For nearly the same amount of time, he's been protesting in front of Vandenberg. He was sentenced to two months in 2003 after squirting his own blood out of a syringe at the air force base sign five days before the United States declared war in Iraq. In the intervening years, Apel filed multiple legal challenges contesting the constitutional authority of the base brass to limit where protest activities could and could not take place outside the base. He won a key legal victory with the U.S Court of Appeals, but the Department of Defense appealed the case to the Supreme Court, where Apel lost last year.
At issue is the green line painted in front of the base entrance, across which protestors are not allowed to step. Over the years, Apel has crossed that line so many times that base brass issued him what's known as a "ban and bar" letter, meaning for several years he could be arrested even if he protested in the areas base commanders have designated for such demonstrations. Last August, Apel crossed the line with six other protestors and was promptly arrested, cited, released, charged, and on St. Patrick's Day this year, was sentenced to probation. He and two other demonstrators — both members of Catholic Worker, refused to abide by terms of probation. All three got jail terms.
Apel, however was stunned by the length of his sentence. "The probation officer recommended 30 days; the prosecutor recommended 60. Then the judge said 'I'm sentencing you to 120 days,'" he recounted. "I said, 'Wait a second; that's four months.' She said, 'That's right.'" Apel said he's been ordered to turn himself in on May 9 and that he will be sent to whichever federal facility is most convenient.
Apel has targeted Vandenberg because five times a year the base launches test intermediate range warheads, sending them 4,200 miles across the Pacific to an atoll in the Marshall Islands. These test missiles are not loaded with actual nuclear warheads, but they do contain spent uranium. Over the years, Apel objected, that one atoll has been subjected to the sustained environmental violence that a continuous bombardment of spent uranium can inflict. Because Vandenberg is the launch site for these missiles, Apel stated, the Central Coast is at risk of being targeted for first strike in the event of nuclear war. Military strategists argue the credible threat of nuclear retaliation will act as an effective deterrent — with warheads similar to the test ones launched Vandenberg — to any such strikes. Apel doesn't buy it. "If they attack, we're going to die. We can't stop it," he said. "But we have the satisfaction of knowing we can take out about a million innocent civilians with us."
Apel noted that August 7 marks the anniversary of the Hiroshima nuclear bombing; August 9 that of Nagasaki. And on August 8, he pointed out, the United Nations declared the killing of innocent civilians a war crime. "Is it a war crime only if [Russian President Vladimir] Putin does it?" he asked.
Apel is the first to admit his many years of protest have had little to no impact. "I don't think we've had much effect," he said. "But that's no reason to throw in the towel. I'm doing this because it's the right thing to do for the human community."