Arts & Entertainment
'Suor Angelica' and 'Gianni Schicchi'
Maria Kanyova Triumphs as Sister Angelica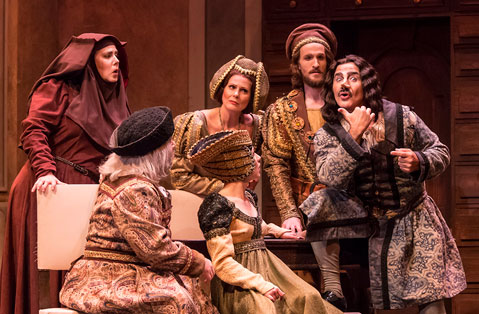 What a splendid night this was for Opera Santa Barbara. The double feature of Suor Angelica and Gianni Schicchi succeeded in conveying two crucial features of the operatic form—the lightheartedness of make-believe and the soul-searing intensity of a grand passion.
In Schicchi, Puccini thematizes the double spectacle of opera as public event by playing off the real privilege traditionally displayed by opera audiences against the pretend aristocracy of the figures on stage. As the poet James Merrill wrote of his first experience of a matinee performance at the Metropolitan Opera in New York, "with pulsing wealth the house is filled,/ No one believing, everybody thrilled." In this production, thanks to superb direction by Fenlon Lamb and excellent scenic, lighting, and hair and makeup design, the peculiar thrills of make-believe were out in full force.
The ensemble rose to the challenge of this fast-paced farce by displaying a seemingly effortless but no doubt hard-earned cohesion throughout the work's multiple shifts in mood. The search for Donati's will was particularly entertaining, with every character but one engaged in turning the set upside down and inside out in an avaricious frenzy. Stefano de Peppo was a marvelous Gianni Schicchi, and Monica Yunus and Jason Slayden brought out the secondary theme of young love effectively as Lauretta and Rinuccio. With Brooks Firestone in the role of Buoso Donati, this was sophisticated fun for the funders of Santa Barbara's trust funds.
Suor Angelica was a quite different, though complementary, story. Opera's deepest well of feeling resides in the heart (and throat) of the diva and those who adore her, and Angelica delivers that feeling unalloyed. It's Puccini's ultimate statement on the complex relationship between the sacrificial soprano and the Madonna, and as such it is essential listening for any serious opera fan. Maria Kanyova gave a fabulous, multilayered performance as Angelica that was lit from within by incandescent vocal prowess and emotional commitment to the role. In the final sequence Kanyova broke through the conventions of polite discourse and took the audience with her on a wild ride to the outer reaches of tragic emotion. Alissa Anderson, as the Principessa, achieved an equal dignity even in an unsympathetic role, lending significant gravitas to the proceedings. The meeting of these two unstoppable forces—social censure and spiritual yearning—issued in transcendent music.