Arts & Entertainment
Pentatonix, Us The Duo Wow In A Capella
YouTube Stars Headline Very Now Concert
In what could have been billed YouTube: The Concert, Pentatonix, Us The Duo, and AJ Lehrman played at the Santa Barbara Bowl on Saturday, April 30. All acts have found fame through the video-viewing service on the strength of their vocal chords, covers of famous hits, and abundant charisma, powerful enough to transcend fourth walls and computer screens both. And the concert, with each act singing a medley of their favorite tunes and taking moments to rep their social media accounts and engage the audience in them, was as truly and non-judgmentally now a pop concert as one could ask for.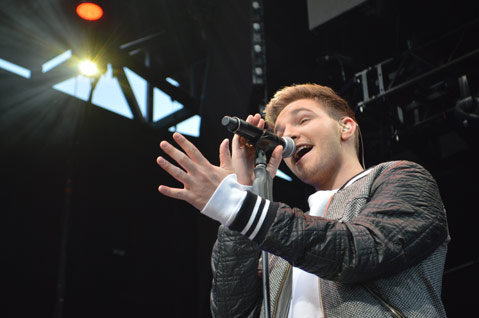 It also, in terms of talent and ability, was like one of those evolution-of-man drawings from opener to headliner, beginning on a relatively low note and ending on a very high one. 17-year-old opener AJ Lehrman started the night with a big stage version of a bedroom YouTube performance, belting out hits and originals in a game of karaoke with himself and his two-piece band. The like-grabbing elements were there ­– the Bieber-like fresh young looks, the pop star poise – but not quite the occasion warranting the attention-getting. "Right after the next song, I'll be out signing and hope to see you there," said the young sprite, who has tens of thousands of followers on social media. It's the American Idol take on fame: if you can cover a song and are good-looking, you deserve the world's attention for it.
Things changed with Us The Duo, an irrepressible duo whose heartwarming chemistry, inventive pop twists, and melodic oomph show a band whose digital fame is for very palpable offline reasons. Evoking Stevie Wonder in their songwriting, like the call-to-hearts "Stop, Just Love" and the wedding song "No Matter Where You Are," they are poppy with an edge, and slyly melodic. Their Top 40 medley, which was a trawling of interwoven lines from Adele, One Direction, Hosier, Taylor Swift, and Fifth Harmony, among others, was a compositional accomplishment, impressively seamless and varied. While they may not have had quite the five-piece wow factor of headliners Pentatonix, Us The Duo packed a ton of wallop for their two-piece performance, and gave almost as memorable a set.
But Pentatonix were something special indeed. From their Daft Punk medley to Kevin Olusola's astounding beatbox-cello solo set, the five friends showed almost supernatural abilities of cohesion and pop pep, their voices and mouth-made beats rising and falling silkily like a human mixing board. With the grace of aerial acrobatics, the voices of and Avi Kaplan, Scott Hoying, Kirstin Maldonad, Mitch Grassi, and Olusola emulated electronic sounds and evoked the layering of orchestras with irresistible pop exuberance on songs like "I Need Your Love" and "Cheerleader."
But what also made theirs and Us The Duo's performances was the very YouTube sensation of watching someone relatable soar, the joy of watching a human like you or me doing way-above-average things. Grassi, at one point in the set, wanted to include us all in a Snapchat, as if to say indicate his celebrity must be as much a surreally shared spectacle for him as it was for us. Mega-talented and polished though the acts were, they were easy to love and down-to-earth, singing songs we loved, just like them. No wonder they have so many views.