Eat This
Egg-in-a-Jar @ Bob's Well Bread
Santa Barbara County's Most Instagrammed Breakfast?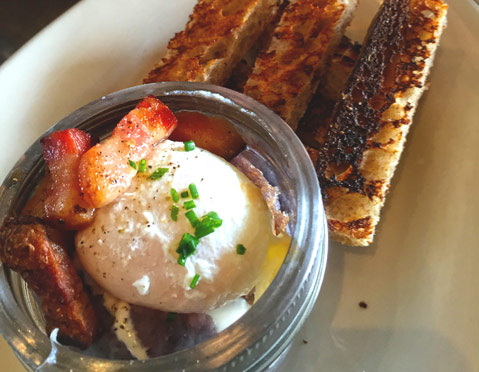 The deceptively simple "egg-in-a-jar" from Bob's Well Bread in the sudden foodie mecca of Los Alamos doesn't even hint at its most spectacular ingredient: the purple potatoes, pureed into a lovely lavender and whipped to a consistency that's smooth yet still hearty, and then veined with melted Gruyere. Somehow they stay steaming in the time it takes you to eat them — not too hot despite the visual cues but welcoming and warm, keeping the cheese from going globby.
It might seem a slight portion at first glance, with the jar less than a hockey puck in size, but this is about as rich as potatoes get, for there's crème fraiche, too. And I don't mean to slight the egg; it's a perfect poach, so when pierced, it doesn't so much run as ooze, rich as caramel. Of course there's some bread given it's Bob's Well Bread, little toast points crispy and light to dip into the jar like an edible utensil.
$8.75, 550 Bell Street, Los Alamos; (805) 344-3000; bobswellbread.com