Arts & Entertainment
Margaret Glaspy's Got Gratitude
Lucius Opener Speaks About Debut, 'Emotions and Math'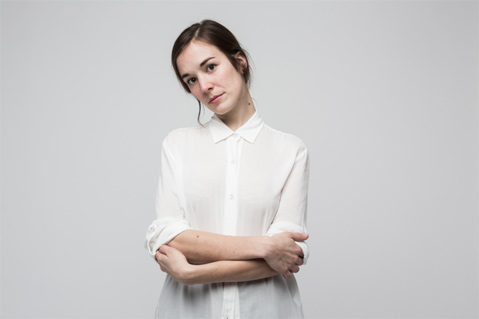 Margaret Glaspy, the rising singer-songwriter who opens for Lucius on Friday, May 6 at SOhO Restaurant and Music Club, is a force to be reckoned with. Her voice is as powerful and authentically rock as a Mick Jagger, and her sparse tunes go straight to the heart. I spoke with Margaret over the phone about the immense gratitude she feels for her new record, as well as the songwriting process and her favorite go-to foods.
How has the year been going so far? It's been going really well. I've been touring quite a bit. I'm excited to be on the road and excited to be on the road solo and with band for the second tour, which is more the sound of the record, and I'm thrilled. I'm feeling really lucky. It's just really fun to be out on the road and playing this record. ATO Records is this awesome label, which is really, really great I'm feeling like a lucky girl.
Everything feels great. The timing makes a lot of sense and everything came together in a way that I'm really excited and proud of. I've been playing music for a while, I'm 27, and I suppose I've been writing songs since I was about 18 or so, and so although I'm young it feels like I've been doing it for a little while. I've always been waiting for the right moment for the bigger move, it's very serendipitous, and I'm feeling like it all hit at the right time.
What made this the right time for you to make your individual statement and put out this record? I think that … I was touring with other bands and kind of really wanting to be playing my own music. I had already made the record once on an iPad, all the demos for it, and after that my boyfriend and I went out and got a bunch of gear. I decided I was just going to make this record and learn how to use it produce it in my room. And then right when I was about to kind of wrap that up, ATO got in touch with me. I was excited but I knew it had more potential than what I was able to give it in that confined space, so when they got in touch I knew this was kind of what I'd been waiting for. It was a really quick record to make because I had already made it twice essentially, yet the whole process feels like it took 26 or 27 years to make the record. There's been a couple songs that were from when I was 20, 21, and I knew they were supposed to be on first record.
You describe yourself as going with the flow but found your creative process to be analytical, hence the title 'Emotions and Math.' Could you speak to how you discovered this about yourself in your process? I suppose in making this record, I learned a lot about this songwriting process. I feel like it's a craft, less than an emotional process I feel like it's kind of a job description as well. I find that in my song writing process it's certainly driven by almost like a puzzle or mathematics in a certain way; there's a geometric quality to it, where you're kind of moving blocks around. I kind of hit my songwriting stride when I understood the process. With a good amount of the songs I wrote more recently, that's the more analytical side.
Were there any in particular the proved challenging in the process? There were some songs that I certainly worked on harder than others. Some kind of taught me how to be a better songwriter. One is "Somebody to Anybody," that song definitely challenged me and I worked on it really, really hard, and it taught me a lot about my own process and taught me about why records are made. It made me want to give it a home. I saw my own potential in a certain way. I think that in doing this song, it became this challenge for me to write better songs, it pushed me to want to essentially make content that was even more compelling after that, and how I could up my game, I suppose.
So it sounds like you surprised yourself with your own abilities on this record. I feel like I surprise myself constantly, sometimes in bad ways, sometimes in good ways. You can never have complete control of something, and that's the beauty of the creative process. Right when you think you're hilling it or writing the best song you've ever written, the next day it's not that great, or one day you think you wrote a not-great song and it sticks with you and you keep on humming it… I'm constantly surprised
I'm really proud of the record, I'm so proud of it. I think it's the first time I've made a recoded body of music and j I feel like I've done all that I possibly could to make that a good piece of work. My hope is that essentially is that it can move people, that's all I really care about. I have no clue what people will think about it, if it does anything, I hope it moves people.
Were there any other artists or sounds influencing you during the recording process? I think I'm influenced no matter which way I turn just because I'm alive. There's so much that went into [the record], essentially I was listening to a lot of Elliott Smith, so much Elliott Smith. That was a big influence for me, and I think that yeah I've always been a student of Joni Mitchell. She has taught me so much and I continue to learn from her songs. There were some other bands like the Breeders I started to get into, and I'm a big Ray Charles fan. Those were some of the tops, I suppose.
You're a New Yorker now, right? Do you have a favorite pizza? I'm vegan and gluten-free, so I can't eat a lot of pizza. My go-to thing for food I would probably say is, gosh, fries and potato chips. I'm gluten-free so on the road if I need something to eat I'm often allergic to whatever they have at a gas station, so potato chips. I'd almost say potato chips over fries, because they fill me up, it's not healthy at all but it's the only thing to eat. I go through different phases, usually I just stick to normal salt potato chips, but sometimes I can also get into salt and vinegar.
What's been the craziest experience on this tour? Oh, I mean, the craziest experience is having people know the songs. That's pretty wild, and just being able to do it is kind of the craziest experience to me. I feel really fortunate and it's all just the act of playing music, it's just wild. I feel so lucky every day, that's the big win for me. Also just when people are passionate about the music, it kind of blows my mind when people really take the time out of their day, it's like exactly what you do it for is to reach people. It's so gratifying when people get it and take time out of their own day to see it – that's wild to me.
Margaret Glaspy plays with Lucius on Friday, May 6, at SOhO Restaurant and Music Club (1221 State St.) at 9 pm. For more information, visit sohosb.com.