Arts & Entertainment
Quire of Voyces Sings the Past to Life
S.B. Choir brings centuries-old music to contemporary ears May 7-8.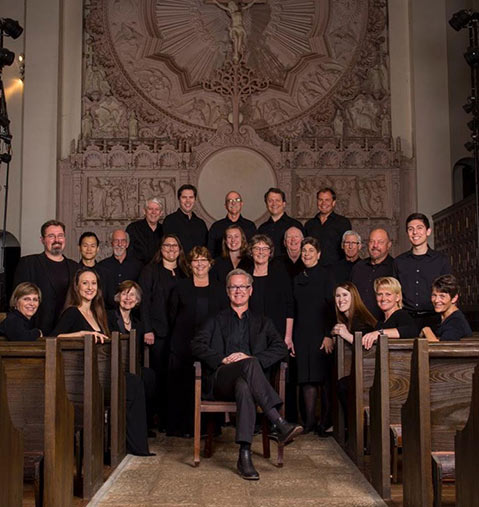 Imagine that you're in the cool interior of a 16th-century chapel, surrounded by the ethereal sound of voices singing Renaissance music — when choirs sang a cappella with a straight-toned clarity that befit the era. Despite the passing of five centuries, that music and style, which heralded the emergence of the polyphonic form that became the preferred singing method internationally, haven't been lost. The Quire of Voyces, led by director and founder Nathan Kreitzer, performs both Renaissance and contemporary unaccompanied choral music, and the singers have honed their technique to a fine degree. Sung in St. Anthony's Chapel, Garden Street Academy, and abroad on tour, their performances echo what could be heard in the 1500s by such composers as England's William Byrd and Thomas Tallis and France's Josquin des Prez.
In addition to a cappella Renaissance pieces, the Quire of Voyces repertoire includes 20th- and 21st-century composers, the latter including Los Angeles–based Grammy-winning Eric Whitacre and Santa Barbara–based Michael Eglin. Why the pairing of such seemingly different types of music? Kreitzer explained: "The greatest volume of music written for a cappella chorus is basically early- or late-16th-century; everything anywhere near late-Renaissance becomes accompanied. And anything Classical or Romantic — that's all accompanied. [It's] hard finding any a cappella stuff at all. Even the Bach motets will occasionally be done without accompaniment, but they're originally scored with [accompaniment]. It's my favorite kind of music, so in a very selfish way, I just do music that I like."
Kreitzer's been doing his favorite kind of music since he came to Santa Barbara in 1993, just out of UC Irvine graduate school with a master's in choral conducting and without a job. "When I moved to Santa Barbara, there was just nothing going on like [Quire of Voyces] at all," he explained. "I just put an ad in the paper and did it on my own. I put a rider on my parents' homeowner's policy for the concert. It was nuts. I paid for everything myself." But singers responded to his ad, and before long, Kreitzer had 15 vocalists for his new choir. He'd wanted the group's name to reference early music, and the Oxford English Dictionary provided apt alternate spellings, and so the Quire of Voyces was born. The young director had in his sights performing at St. Anthony's Chapel, and by 1994 it had become their performance home, as it is to this day.
Currently there are 20 choir members, all of whom are professional singers. Auditions have a heavy emphasis on sight-reading because of the sheer volume of music the choir performs. And, as Kreitzer commented, a cappella music is 10 times harder than singing with accompaniment because the absence of instruments means the singers are musically completely exposed, making accuracy and blend that much more vital.
Besides performing in Santa Barbara, the choir has toured Europe and Scandinavia. Several years ago, they sang in churches in Italy, including St. Peter's Basilica in Rome. Another year, it was off to Sweden to sing at the Gotland Medieval Festival. This July, they'll be one of only four California choirs traveling to what is said to be the largest choral festival in the world, the Llangollen Eisteddfod in North Wales. The Eisteddfod has its origins in the 12th century, and this year will be a 70th-year celebration of its current incarnation, so it will be an especially auspicious year, with the Pavarotti Prize given to the winning choral group.
Nowadays, the choir is partly funded by Santa Barbara City College, where Kreitzer is an assistant professor of music. In addition to directing the Quire of Voyces, he has a student chamber singers group and a large community chorus, which anyone with a desire can join.
Although turnover in the Quire is low — and so then the chances of joining — hearing them in their recordings and online, and best of all in a live concert, is an experience not to be missed. It's a splendid way to inhabit the world of sacred choral music performed in a most meticulous manner.
4·1·1
The Quire of Voyces will perform their program, a preview of their set list at the Llangollen Eisteddfod in Wales, Saturday-Sunday, May 7-8, at St. Anthony's Chapel, Garden Street Academy (2300 Garden St.). Call (805) 965-5935 or see quireofvoyces.org.