Travel
Glamping Made Easy
Living the Cabin and RV Life from Jalama to Carpinteria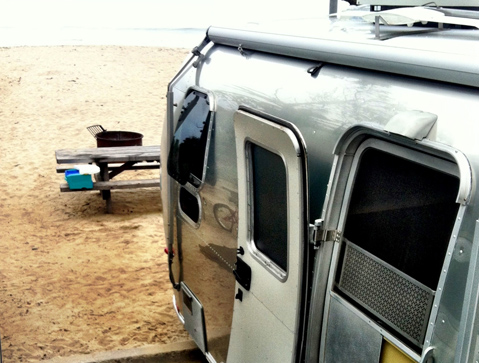 Take it from me and my better half: When you have a kid or two and you're just looking to unwind in the great outdoors without having to set up a tent in the dark and share its un-cushioned floor space with multiple snorers, glamping is the way to go. While the tent-cabins and yurts of El Capitan Canyon (elcapitancanyon.com) instantly come to mind, there are plenty of outfitters that can provide a semi-luxurious campout at an affordable price.
Next door to El Capitan, for example, is Ocean Mesa (oceanmesa.com). We drove through recently to discover well-kept, pet-friendly, Wi-Fi-connected tent and RV campsites surrounding a swimming pool and Jacuzzi. We also spied a laundry room, playground, and horseshoe pits, and I heard they screen outdoor movies on Thursdays. If that's not enough to shed the stress, you can treat yourself to a hot-stone massage. For reals.  
We also spent a few days at Jalama, where die-hard glampers can enjoy homelike amenities in the seven cabins on the little hill above Jalama Beach County Park's traditional sea-level campsites. Switching views from ocean to lake, we found a handful of similar cabins at Cachuma Lake Recreation Area. "Simply pack your sleeping bags/bedding, pillows, towels/toiletries, and groceries," according to the Santa Barbara County Parks website (countyofsb.org/parks). "Your effortless vacation begins the moment you arrive at your cabin." Effortless vacation? Sign me up for two.
About 20 minutes from Cachuma, the privately run Rancho Oso Resort (ranchooso.net) features cabins, safari tents, covered wagons, and tepees ​— ​all big hits with the kids, and, depending on how far you'd like to get away from it all, they offer various levels of electrical connectivity and insulation from the elements. There's also horse camping and guided trail rides, among other perks.
Glampers looking for geographic flexibility can arrange RV delivery from 101 RV Rentals (101rvrentals.com) to Santa Barbara's state beaches, from Gaviota to Carpinteria, plus Ocean Mesa and Earl Warren Showgrounds. They also deliver to private residences (for a family reunion, for example), depending on accessibility. It's a pretty simple program: After you've reserved a campsite ahead of time, 101 RV delivers a trailer from their fleet of 16, sets it up, and gives you a rundown on its features; when your stay is over, they come pick it up. They also have a trailer that's handicap accessible, with a wheelchair lift and roll-in shower. Nice touch.
This sort of RV glamping on the go became my family's preference when we purchased a 19-foot Airstream International about 10 years ago. Over the years, it's been a fully self-contained home base between rentals, a comfy campground crash pad, and, parked in the driveway, a detached guest room and office. Recently, via trailer19.com, we've rented it to Airstream fans for campouts and special occasions, and just like us, they've been very happy glampers.