Arts & Entertainment
How to Find Quality Guys Online
Author A.J. Nelson Discusses His Book 'Not Here for Hookups'
Have you ever wondered how to find a quality match on Tinder? Have you ever wondered why more people aren't swiping right? Have you ever looked through potential matches and come across a group photo and thought, "Which one is he?" Author A.J. Nelson claims to have all these dating app answers and more in his new book, Not Here For Hookups: A Guide to Finding Quality Men on Dating Apps without Compromising YOU!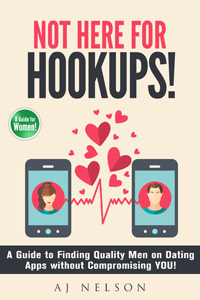 Nelson, who splits his time between Santa Barbara and Santa Monica, decided to research dating apps, specifically Tinder, after having "incredible success" using them himself. One of Nelson's particularly good Tinder experiences ended up in a one-year relationship with a woman after a one- to two-month courtship over the app. "I know people that are getting married this year that met on Tinder, so we have to understand that the tides are changing," Nelson said.
The book is broken down into six parts, including sections where Nelson argues against the "bad rap" that dating sites get and others where he advises how to makeover your profile. The book also describes what kind of profiles you should avoid if you are looking for a relationship rather than a hook up, and then suggests how to navigate an in-person meeting with a partner that you met online.
"I am trying to champion the use of these apps," said Nelson. "They are intrinsically superficial, but I also think that's why they are kind of perfect and also why this book has resonated with 20-somethings." Millennials move at a faster pace and have a lot more going on than past generations, said Nelson. "People are busier than ever," he explained, "so it's pretty important that we become comfortable leveraging technology to accomplish the things that are important to us, whether it's finding a deal on something, booking a trip, or finding a worthwhile partner."