Arts & Entertainment
Rainbow Girls Play Raucous Record Release Show
Mondegreens and Handmade Moments Join in on Sweaty Fun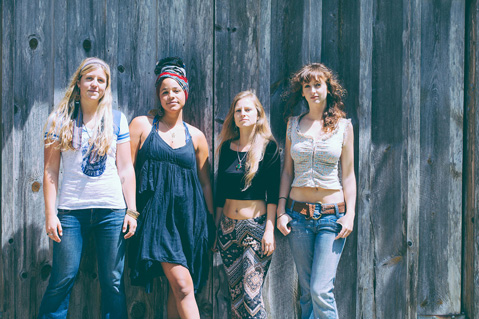 This weekend suited the wild and free spirits when Rainbow Girls, Mondegreens, and Handmade Moments came together to perform a solid batch of extremely energized music on Friday June 10, at SOhO for the Rainbow Girls Vinyl Release Show of their newest album, Perceptronium. It was nothing short of incredible, really. And it definitely got weird. To whoever the guy was who wore the faded gold booty shorts – you looked naked and you might have freaked a lot of people out, but I guess that was your point, to get freaky!
Handmade Moments started the show off with Anna Horton's pure and soothing voice. She had that classic Cat Power tone that could make anyone fall in love at a moment's notice. Her songs of love and bliss held onto the audience's tune-tenderized hearts. She beatboxed and strummed her guitar with passion, even though her usual musical partner and bandmate, Joel Ludford, was not able to perform with her because he was involved in a pretty bad car accident, to which we would like to offer our support and positive thoughts on his recovery. But Horton did her thing, and the audience was enamored by her undeniable skill and style. Handmade Moments is an eclectic band that is definitely worthy of attention.
Next up was the Mondegreens, my personal favorite of the night. Something about the heaviness of the guitars and combined with a bit of pop sensibility really fits with my musical tastes. Their harmonies were reminiscent of the Fleet Foxes, but they also imbued their music with a tad of Weezer angst and Grizzly Bear lo-fi, which created this great duality. I hope this band holds on to their grungier aspects – balancing the polarities of rock and pop suits them very well. This style was most accentuated on their song "Oh Me Oh My," where they played heaving power chords over lyrics about two men competing for a girl. It was raw, yet completely palatable.
Rainbow Girls finished off the shows with a nice long set. The audience squeezed every last drop out the band by screaming for encore after encore. Word around town was that the girls were getting back to their folksy roots. If this is true, their set certainly did not reflect that intention – this set was fully rocked out. Their show had so much fire and electricity that the whole place was smiling, sweaty, and half naked. Rainbow Girls harmonies were on-point and they stunned attendees with their full sound and radical dancing and jiving. With drums kicking and smashing, these girls were a sight to behold. At the end of the show, the band hopped off stage with instruments in hand, and instinctively the hippies and flower children sat down and made a circle surrounding the now acoustic band, they played the music club a few harmonic lullabies and then sent the listeners on their way home. Rainbow Girls sure knew how to bestow their love on their hometown, needless to say everyone walked away in the best of spirits.
Rainbow Girls' next stop will be in Santa Ynez, CA at the Live Oak Music Fest.