News
Will Bernie Supporters Align Behind Hillary?
Local Democratic Leaders Talk Uniting the Clans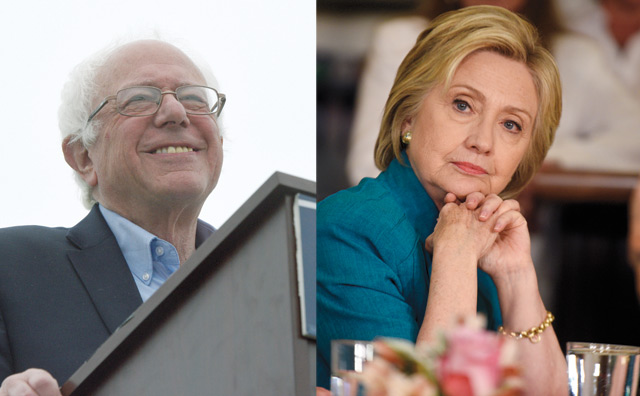 Three days after the June 7 primary election, Santa Barbara County's election office reported Democratic presidential candidate Bernie Sanders edged past Hillary Clinton by 108 votes. As vote-by-mail ballots were counted, Sanders's lead grew Tuesday to 1,349 votes, with 7,000 provisional ballots left to count. As of press time, Sanders had won 23 counties in California.
"They are being counted as we speak," said Sanders campaign field organizer Kyle Butts. "You can't stay up all night to count five million votes. You need a couple days."
Sanders supporter Daraka Larimore-Hall, chair of the county's Democratic Party, was among those to introduce the Vermont senator to more than 6,000 jubilant supporters rallied on the lawn at Santa Barbara City College on May 28. Though many Dem party leaders and most area elected officials supported Clinton ​— ​and joined her event at Jill's Place on June 4 ​— ​Larimore-Hall said Central Committee members slightly favored Sanders. "We're adults," he said. "We can disagree."
Such disagreement magnified to a significant degree this election season, particularly in the blogosphere. "Social media is so much more developed," Larimore-Hall said when asked how this primary season compared to 2008's. "We got everybody's opinion 24 hours a day. So it felt more contentious." Eight years ago, though, it didn't take long to pull Clinton and Barack Obama supporters together, he said, which he also expects to happen this year.
"It's going to take some time," said Jonathan Abboud, an SBCC Trustee and Isla Vista activist. "It's only been a week." Abboud expressed gratitude that Sanders has stayed in the race as his candidacy drove liberal turnout.
In particular, the Isla Vista/UCSB area ​— ​where turnout was previously predicted to be lackluster as Election Day fell during finals week ​— ​had a fairly good showing. In fact, 5,151 people voted, which translates to a roughly 60 percent turnout rate. In the county, the turnout rate was 48.4 percent. The Sanders-to-Clinton ratio among I.V. voters was 8 to 1. Asked about the impact of the Associated Press declaring Clinton the presumptive nominee the night before the election, Abboud speculated it "actually got more people to vote."
Many are new to politics or to campaigning. "Some of them are quite bitter," Larimore-Hall said. "I see my job and the job of the party to reach out to them and provide a platform and space to continue working for progressive change. I think we can do that."
But Kay Bowman, a Sanders supporter who worked to register people to vote, disagreed. At an election-night party of 70 Sanders supporters, she said, just one person indicated she would vote for Clinton in the fall for fear of Donald Trump. "People didn't support her in 2008," she said. "Why would they support her now?" A recent USC Dornsife/Los Angeles poll showed 25 percent of Sanders supporters ​— ​particularly men who were not registered Dems ​— ​said nothing could persuade them to vote for Clinton. Sixty percent said they would vote Clinton, with many saying they could be swayed.
UCSB sociology professor Dick Flacks stressed the need for America to overwhelmingly beat Trump and the Republican Party. "I'm an old guy," he said. "Hillary is no worse than any other Democratic candidate." He gave Japanese internment camps under Franklin D. Roosevelt and the arms race under John F. Kennedy as examples.
Ultimately, Larimore-Hall added, "People who want Bernie Sanders policies to be enacted have to see Clinton voters as allies. Clinton supporters need to take a real hard look at those 8-to-1 [Sanders ballots] among young voters and see that to win the future we have to be a lot bolder."
A number of people contacted The Santa Barbara Independent with complaints about the vote process, including changes in polling places or incorrect party registration on their ballots. Joe Holland, the county election chief, said he was not aware of any legitimate complaints regarding ballot party preference. "There are always some voters who don't recall the party they registered with," he said in an email. Though California is an open primary, voters must be registered as a Democrat or Republican to vote for that party's candidate for president.
Though there have been accusations online of Sanders ballots being lost or misplaced, Sanders campaign staffer Butts expressed no indication that problems occurred here, calling the Santa Barbara elections office "incredibly active."