Briefs
Sheriff's Canines Search Erskine Fire's Wasteland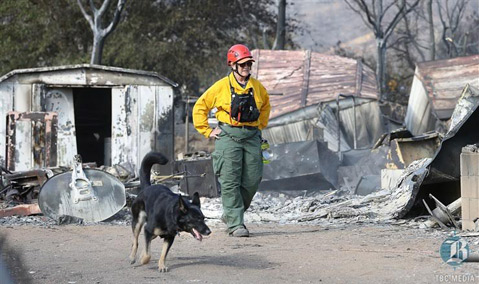 As part of a statewide response to the Erskine Fire, three canines and their handlers — all of the Santa Barbara County Sheriff's Search and Rescue (SBCSAR) Team — traveled over 150 miles east to Kern County this week to aid continuing search efforts in the flames' aftermath.
Twelve canine search and rescue teams from across the state gathered at approximately 5:45 a.m. Tuesday morning to search through acres of ash and debris. Of the 285 homes destroyed by the Erskine fire, Santa Barbara County canines and their handlers assisted local response teams in the process of searching many of the remaining residential properties — including mobile homes and sheds — for potential victims.
"It was great to see the training we put in week after week pay off whether it be for our Santa Barbara County community or in other communities in need across California," said SBCSAR Team dog handler Juanita Smith in a statement released Thursday. This was the first fire-related mission for Smith's two-year-old Border Collie, Chaos.
Kern County, ravaged by the Erskine Fire that has so far burned over 47,000 acres since June 23, faces the destruction of 285 homes and the deaths of two residents. As of Friday morning, the fire burns at 80 percent contained.