Film & TV
Patagonia Joins Food Revolution
Outdoor Retailer Explores Conscious Agriculture in New Film 'Unbroken Ground'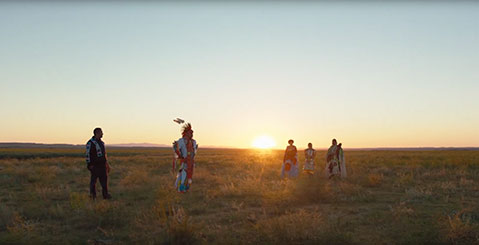 At the start of Unbroken Ground, a new film from Patagonia, the nasal drawl of the company's beloved founding father Yvon Chouinard cuts with familiar bite and grandfatherly wisdom, but on a topic not widely known to be his bailiwick. "If you want to feed your family healthy food, you have to ask a lot of questions," he said, and just like that, the Ventura-based titan of the outdoor adventure industry entered the food business.
Cinematically delicious and lush with a special type of romanticized authenticity, Unbroken Ground is technically a short documentary by Gaviota filmmaker and Patagonia coconspirator Chris Malloy about conscious agriculture and some of the people currently involved at the forefront of these efforts around the country. The son of a rancher turned pro surfer turned filmmaker (with a serious back-to-the-land bent), Malloy brings an appreciation to the topic that celebrates just as much as it educates. "I spent all of last summer in full immersion with some of my heroes," explained Malloy recently when talking story about the making of Unbroken Ground, "It was an incredible experience for me, finding these farmers and fishermen and ranchers who have a real vision for the future."
As the movie makes its way from the Great Plains of South Dakota to the roiling waters off Lummi Island in the Pacific Northwest to the wheat fields of Washington State University's Bread Lab, a picture emerges of an agricultural underground, one where visionaries such as Wes Jackson of the Land Institute are bucking the one-size-fits-all monochromatic view of mainstream ag and working tirelessly for a cleaner, healthier, and markedly more sustainable food future. It's called "regenerative agriculture," and by the end of Unbroken Ground, you will know it intimately, and you will want to support it — and, well, I reckon that is the point.
But none of this fully explains, as Malloy put it, why "after 40 years of selling jackets, [is] Patagonia suddenly into food?" The quick answer is: Chouinard is a foodie. The more accurate answer is: Chouinard is Chouinard, and it was only a matter of time until his big-picture, Earth-minded sensibilities came home to roost in the agriculture world. This is a man who nearly lost his company over two decades ago when he bucked the outdoor-industry trend, flipped off his bean counters, and made the values-based decision to use only organic cotton for his products. He was prioritizing the health of the planet over profits with that move, and now, decades later, the entire garment industry has begun to shift — organic cotton is sold at Walmart, and grossly denuded soil around the world is thankful for it. "When you understand this, then you begin to understand that Patagonia has already been involved in agriculture for over 20 years," said Malloy.
Now, with their modest Patagonia Provisions food line (think smoked salmon, soup and stew mixes, buffalo jerky), Chouinard and company are in the first stages of trying to effect a similar shift within the food industry. There is no doubt that Patagonia has risen to great heights in the outdoor retail world with a strategic rallying call against the "faster and cheaper" mind-set of our culture. But will this work with food, an area even more sick with the plague of modern times? Unbroken Ground is where the answer begins.
4·1·1
Unbroken Ground screens Thursday, July 7, at 8 p.m. at Patagonia (235 W. Santa Clara St., Ventura) and Wednesday, August 10, at Full of Life Flatbread (225 Bell St., Los Alamos). Both events will feature food from Patagonia Provisions, a filmmaker Q&A, and live music from Todd Hannigan and Sleeping Chief. See patagoniaprovisions.com for more info.