Film & TV
Fine Arts Film Festival Returns to S.B.
SBCAST and Jewish Federation of Greater S.B. Host Films, Discussions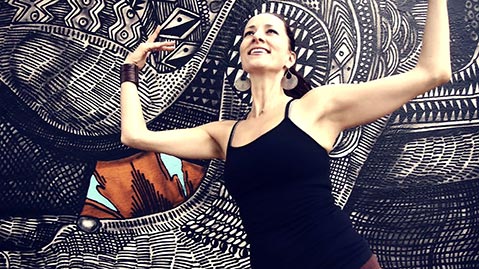 Santa Barbara, it is well known, has a bit of a bohemian heartbeat. Beyond the balm of beaches and balustrades, there's always been a healthy appreciation here for the thought-provoking, the complex, the off-beat, and the unusual. For those who ride those counterculture currents or admire them from afar, the S.B. Fine Arts Film Festival has returned with an eye's feast of films on multiple art disciplines. From powerfully wordless movement pieces to new illuminations on historic subjects to perspective-shifting assortments of visual gestures and half-minute bursts of abstract beauty, the works of this festival are guaranteed to pique curiosities and spark imaginations.
This year's festival, back after being staged in Venice Beach last year, will take place at the S.B. Center for Art, Science and Technology (SBCAST) on its first two nights and at the Jewish Federation of Greater Santa Barbara on the third. The festival was curated by writer and resident SBCAST curator Lynn M. Holley, who said she conceived the festival as a film lover's festival. "It's a combination of education, reflecting, and enjoying," she said of the roster.
Whereas other film festivals of note, like Sundance, have become corporatized and popularized to the point of being indistinguishable from theme parks, or focus solely on the celebrity statuses at hand, the S.B. Fine Arts Film Festival focuses its lens on the most filmic and artistic of qualities, Holley said. From 70 submissions sent from all over the world, Holley curated a schedule of 28 independent films covering the topics of visual art, dance, and experimental disciplines. The films were judged by dancer and teacher Julie McLeod, who is an original West Side Story cast member, and filmmaker Daryl Henry, writer of the TV series Emergency!
Fittingly, Holley chose a setting that's as creative and inspired as the pieces projected therein. With its open-air, freely collaborative spirit of flow and modular architecture, the SBCAST grounds will make for a perfect venue for the first two nights of festivities, to be held outdoors in the residence's courtyard. Unbounded by stuffy rules and dynamically receptive, the space, said Holley, is "the ultimate cool" for a film festival. "It's something you can't experience at the Arlington Theatre," she said.
The remaining films will be shown on Sunday afternoon in the intimate, enclosed setting of the Bronfman Family Jewish Community Center (JCC), another artistic hub of downtown S.B., with its gallery currently exhibiting abstract works. The JCC will host one of the standout films of the whole festival, Kantor's Circle, a documentary on the underground theater and arts youth in Kraków, Poland, under the occupation of the Nazis. Codirector Adrianna Ksiąźek will be present to introduce her work. Holley says the piece sheds new light on an under-told story of arts thriving during the oppressive occupation.
Other films of note include September Sketch Book, composed of 5,400 individually drawn frames, a refreshing reminder of visual arts in a pre-digital world; Molat & Molat, a dance film about San Francisco Ballet principal dancer Pascal Molat, narrated by his 5-year-old son; and Catherine Bennett's short piece The Funk Zone, featuring dancer Lisa Beck. "I like films that can say everything with little to no narrative," Holley said.
On Saturday afternoon, the festival will host The Art of the Trailer, a panel discussion on movie trailers. "Some trailers offer you exactly what you expect to see; others are so off the point you don't know why they bothered to bother you. We need to explore the purpose of a trailer; there are different reasons," Holley said in a statement.
With so many film festivals now mechanized by profit margins and celebrity swarming, the S.B. Fine Arts Film Festival will offer a chance to expect the unexpected and explore the purpose of festivals, as well as films, and those who make them. It will be a very eye-opening event.
The S.B. Fine Arts Film Festival plays at SBCAST (513 Garden St.) Friday, July 15, 9-11 p.m., and Saturday, July 16, 8:45-11 p.m., with a panel discussion on Saturday from 12:30-2 p.m., and on Sunday, July 17, at the Jewish Federation of Greater S.B. (524 Chapala St.) noon-3:45 p.m. Tickets cost $20-$80. Call (805) 450-3799 or see fineartsfilmfestivalsantabarbara.org for more information.